What Is cPanel?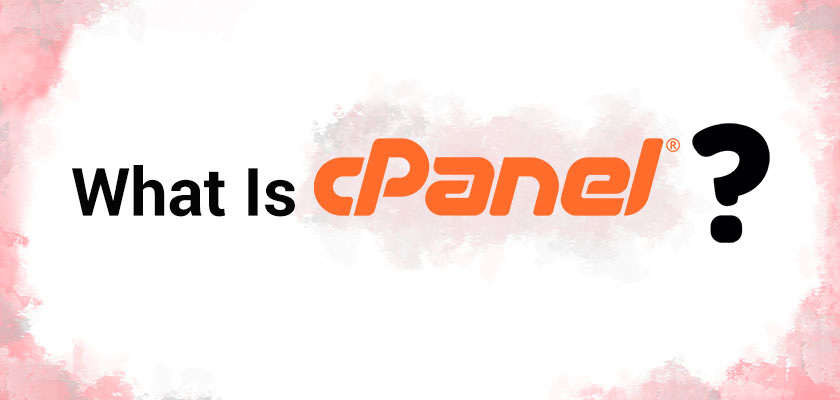 Essentially, cPanel allows you to manage your hosting account from a single dashboard. It functions in a similar way to your desktop computer. There are icons and a range of programs that you can use to complete certain tasks.
Managing your hosting environment without cPanel would be difficult. Using a dashboard such as cPanel, complex tasks can be done in just a few clicks. This software allows complete beginners to manage their hosting accounts.
Many web hosts use cPanel, so it is a good idea that you understand how it works to maximize your hosting experience.
In this article, we would like to discuss VPS hosting with cPanel, cPanel advantages and hopefully by the end of this article, you should be able to make your mind and buy cPanel VPS hosting.
What Is cPanel?
cPanel, as mentioned in the introduction, is a control panel that allows you to manage the backend of your VPS hosting. It makes hosting management easy and allows you to complete tasks in just a few clicks.
cPanel's beauty is that it was designed for beginners. It's easy to use and can do complex tasks.
Here are some examples of tasks that you can do in cPanel.
Just a few clicks to install WordPress or another CMS
A visual interface allows you to organize your server and manage files
Create domain-specific email accounts
Check your current server usage statistics
Install new software and applications on your server
Security tools can be managed
Schedule or run website backups
This is only the beginning. There are many other cPanel advantages that we're going to discuss.
Don't be intimidated by this. To use cPanel efficiently, you don't have to know how each feature works. There are only a few tasks that you will need to be able to perform. You can either learn the rest over time or leave it as it is.
Is cPanel Free?
cPanel, a third-party program, is not available for free. cPanel is included in most hosting plans and comes at no additional cost. Some providers will provide cPanel for free the first year and charge an additional fee for each subsequent year.
Why You Need cPanel
It would be very difficult to manage your server without cPanel. To accomplish simple tasks, you'd need to have advanced technical knowledge. If you don't have the technical knowledge to understand the commands, it will be difficult to manage your server or launch a website.
cPanel, one of the most popular control panels in the web hosting industry, is a very popular choice. This control panel is most commonly found on shared hosting plans. However, it can also be used for a variety of other hosting types. You'll find it on more advanced hosting options like WordPress managed hosting, VPS, and cloud hosting.
cPanel is a tool that helps novices manage their server environments. There's no learning curve. Although the feature set may seem overwhelming to beginners.
How to login to cPanel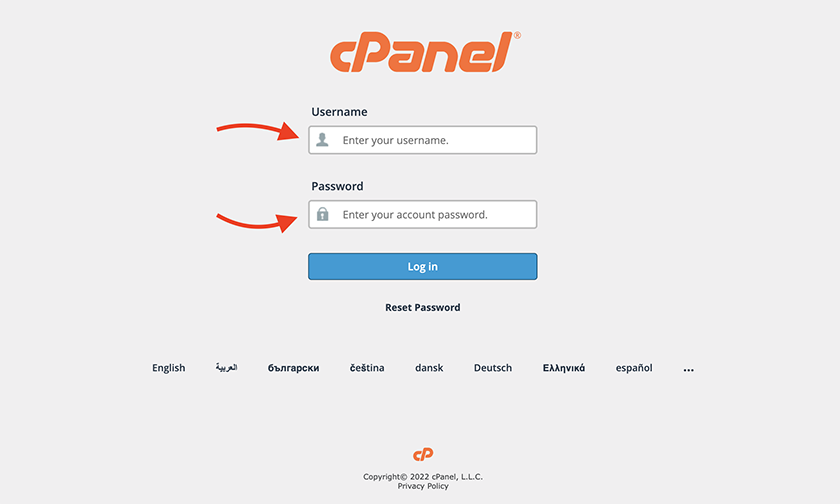 cPanel is already installed on most hosting providers. To activate it, you don't need to do anything. After you buy cPanel VPS hosting, you will receive an email with your cPanel URL and your username.
If you are new to cPanel, you may feel overwhelmed by all the options. cPanel becomes very intuitive once you have spent some time with it.
There is a tab called software that will allow you to access the programs that you use most. These apps allow you to access the website builder, install WordPress and manage files and folders on your server. You can also add site-specific email addresses and install subdomains.
You'll find other applications such as in-depth domain and server management, database management features, security tools, and more as you scroll through cPanel.
Best cPanel Hosting
As mentioned above, most hosting providers offer cPanel for the first year and charge you for the next years. However, we offer cPanel completely free when you buy cPanel VPS hosting, from the beginning and you don't have to pay anything fees for the upcoming years.
What You Can Do in cPanel
As you can see, you have a lot of options with cPanel for hosting-related tasks. Below, we won't cover everything that cPanel can do. Instead, we'll focus on the most common tasks that you'll be doing with cPanel for VPS.
1. Manage and Add Domain Names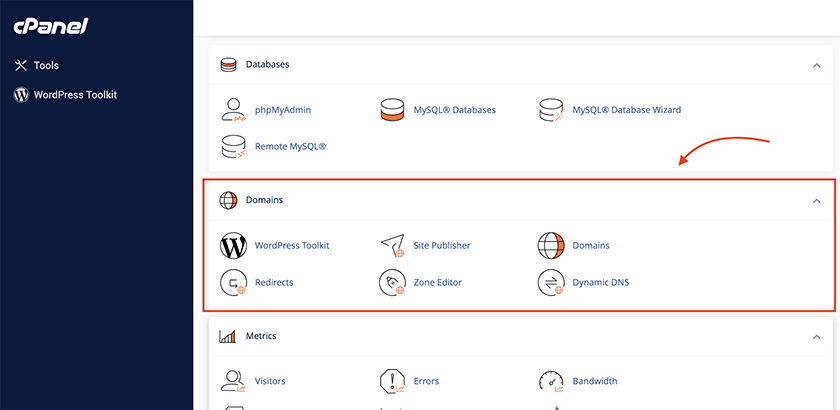 You can host multiple websites and domain names on one account, depending on the hosting plan. This is useful for those who want to manage multiple websites or try out new ideas and projects without creating a new hosting account.
This is how to add domains to your server. Before you can add domains to your account, you must first have them registered.
Once you are in cPanel, you will find an icon titled 'Addon Domains'. This icon will be located either at the top of the section under 'Popular Links' or under the section titled 'Domains'.
Next, click 'Addon Domains' and then enter your domain name. You can also create subdomains or a folder. Most users simply type the domain name into the box titled 'New Domain Name' and then click 'Add Domain'. After you have added the domain, you can begin building a website.
2. Setup and Manage Email Accounts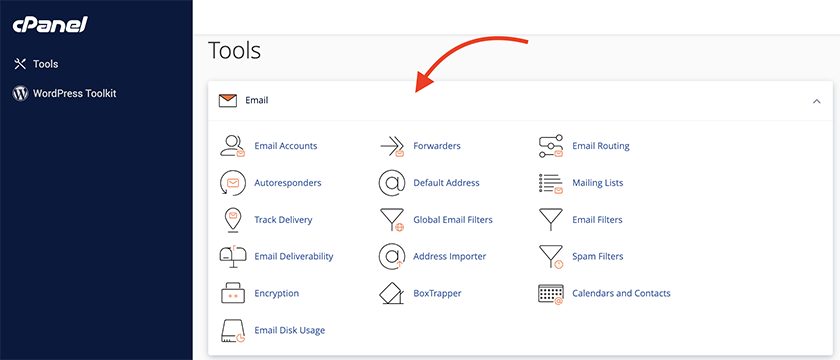 One of the best features of cPanel allows you to create email accounts that can be associated with your domain. Instead of your standard Gmail address, this allows you to create a professional email account.
Many hosting plans allow you to set up multiple email accounts so that you can create email addresses and contact information for each member of your team.
The application called 'Email Accounts' can be used to create new email accounts. Next, you will create an email handle and choose the domain to associate the account with.
You can also adjust your mailbox quota, which is the maximum number of emails that an account can receive in its inbox. Once you are satisfied, click 'Create Account' to create your new email.
Your cPanel account can be used to manage, send and check your emails. Click on 'Webmail' and choose the application that you wish to use. You can use your email account just like any other email client.
3. Manage and Access Server Files

Although not every user will be required to manage files on your server servers, it is helpful to have a basic understanding of the process. The visual file manager, 'File Manager', will be used.
A series of files are created when you use cPanel to create new websites or install software on your server.
You can view the files in File Manager within cPanel and make changes or delete any files that you don't need anymore. You should find it similar to your desktop file system or laptop's file system.
4. Create and Manage Website Databases

Modern websites use databases to store content and manage them behind the scenes. This is especially true when WordPress websites have lots of content or user data.
These databases are usually created automatically. It's helpful to learn how to manage and create existing databases.
Click on the 'MySQL Database Wizard' to create a new database. The tool will guide you through creating a new database. All you have to do is answer some questions.
5. Install WordPress on cPanel
Softaculous Apps Installer is one of the most popular pieces of software in cPanel. This useful application is a bundled installer that allows you to quickly install different software on your site.
This tool allows you to install virtually any software on your website in just a few clicks. This tool will allow you to install WordPress, other popular CMSs, eCommerce software, chat software, forum software, and many more.
Each application that you can install comes with a setup wizard. This means you only need to fill in a few fields, and the software will take care of the rest.
How to Install WordPress with cPanel

Many hosts offer access to an 'auto-installer' within their cPanel dashboard. You can install WordPress and other software with just a few clicks.
Softaculous is the most user-friendly of these auto-installers. However, it's possible that your host uses a different solution.
You can install WordPress through cPanel by simply looking for the section on auto-installer and clicking the WordPress button.
Follow the steps to install WordPress.
Check all the cPanel features visiting cPanel Demo page.
What Is Managed WordPress VPS Hosting
We've previously discussed the various types of hosting plans. For example, shared hosting is an entry-level plan that allows you to share a server with multiple users. A Virtual Private Server (VPS), on the other hand, gives you your own server space and access to more resources. You can also get dedicated hosting at the top level. This is more expensive, but it provides you with a whole server for your site.
These hosting plans can be managed or unmanaged. Hosting is usually unmanaged. This means that once you have purchased space on a server, you are largely responsible for maintaining it. Although your hosting provider may give you some tools, you are responsible for the site's security and performance (and customizing certain plans).
Read more: What Is WordPress VPS Hosting? Best VPS for WordPress Websites
Should We Used cPanel in Managed WordPress Hosting?
Managed WordPress hosting is, as its name implies, a plan in which your provider 'manages' your website and server. It will handle many key tasks, such as updating your website, so that you don't have to. However, it comes with cPanel and you can manage simple tasks yourself and if you face something crucial, you can ask the hosting provider to help you.
Conclusion
In this cPanel tutorial, we discussed what you should know when it comes down to VPS hosting with cPanel and advantages of cPanel. This will help you understand why you need to support your website using this software and what kinds of hosting-related tasks it can perform.
The best news is that you don't need to be an expert in cPanel to manage your website. You can launch your website, create an account, build it, and schedule backups with just basic knowledge.