What Is WordPress VPS Hosting? Best VPS for WordPress Websites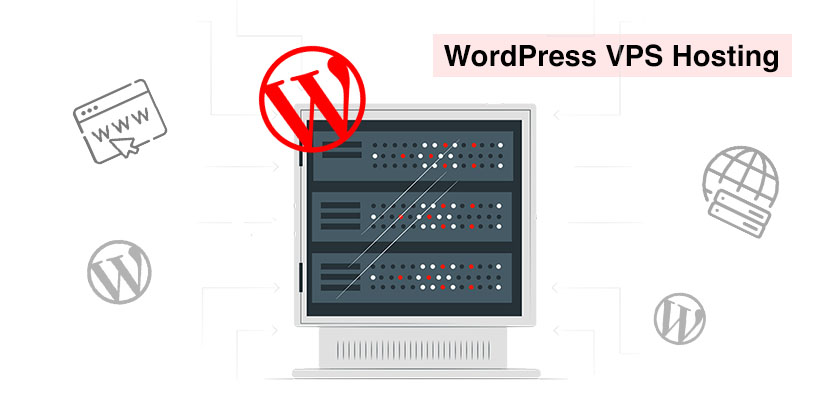 If you're trying to find the ideal type of hosting to host your WordPress site, you'll have many different options available to you. The most likely place to start will be shared hosting; however, when you've exhausted the benefits shared hosting can do for your site, you're likely to need to decide what you're going to do in the next step.
After shared hosting plans, the most popular choice would be WordPress hosting via VPS, specifically for those who run WordPress websites due to the number of advantages of WordPress VPS hosting.
This type of web hosting lies between shared hosting for beginners and a more sophisticated dedicated server.
Here we will look at the features of WordPress VPS hosting, as well as its advantages and disadvantages for you to decide if this kind of hosting will be the ideal option for your website.
What Is WordPress VPS hosting?
We'll begin by defining the definition of VPS hosting. VPS is a shorthand for Virtual Private Server. It functions like a dedicated server; however, instead of having one physical server, you draw resources from it and pull server resources from several physical servers that are linked to form a single Virtual Dedicated Server.
VPS hosting, as well as shared hosting, is alike in certain ways. But, with shared hosting, you share an actual server with hundreds or thousands of websites. Therefore, if one website is using resources that are beyond its capacity, then there's a possibility that it could be affecting other websites that are on this server.
With VPS hosting, you're able to pull resources from many different physical servers, which means that your server's resources and other features are fully assured. In addition, there are extra options that will allow your server to remain totally private.
In essence, VPS hosting plans act as a blend of dedicated hosting and shared hosting. It provides you with more control over your site but also allows you to keep the cost of hosting affordable.
When using the best WordPress VPS hosting, the same concepts above remain in place. But, instead of a standard VPS server, each website that utilizes VPS hosting will become a WordPress website. This implies that the server environment is fully optimized for WordPress hosting.
This can increase the level of security and performance of the services you provide for hosting your website. Additionally, your hosting team will be more knowledgeable regarding any issues that may arise with your WordPress website.
If you're a WordPress website owner who has outgrown shared hosting but doesn't have the funds or traffic sufficient to warrant a dedicated server and a dedicated WordPress VPS, the WordPress VPS may be the ideal solution for you due to the many advantages of WordPress VPS hosting that there are which we'll get into later on.
VPS Hosting vs WordPress Hosting
The main difference between VPS hosting and WordPress hosting lies in the configuration. Regular VPS hosting is configured to run any sort of web-based applications (WordPress included); however, WordPress hosting is configured specifically for WordPress websites. Additionally, if you peak live users on a VPS hosting, your website may crash, but in WordPress hosting, since it is configured specifically for WordPress, it could easily handle it with its dedicated IP and 99.9% uptime.
Who Is the WordPress VPS Hosting Good for?
VPS hosting is particularly beneficial for people who are technically proficient and in need of a custom-designed hosting base but don't have the resources to buy dedicated servers.
WordPress VPS hosting performs the same features as regular VPS hosting with one difference: it's designed specifically for the requirements of WordPress.
Although shared hosting is sufficient to fulfill the requirements of small-sized blogs and websites, VPS hosting also targets large and medium-sized websites, differentiating websites with greater expectations when it comes down to the functionality of the website and expected traffic.
Additionally, with VPS hosting, you'll enjoy access to more features of the server, giving you the chance to expand your capabilities by incorporating new software. You won't be able to do it with shared hosting due to the fact that you don't have connectivity to the servers.
Overall, due to the affordable hosting options and the ability to scale up, VPS is the ideal option for medium-sized enterprises, particularly because virtual servers are easy to use and speedy for upgrading.
If you realize that you need more resources than originally anticipated, it is possible to alter your hosting price. As opposed to dedicated servers, the upgrade of virtual servers does not require data transfer since the additional resources can be authorized through the hypervisor.
But, remember that since VPS offers a broad range of capabilities, we suggest that you buy WordPress VPS hosting when you've got basic knowledge of administration of servers or when you're looking to purchase the unmanaged edition. More on that in the future.
Pros and Cons of WordPress VPS Hosting
This type of hosting could be ideal for your website due to the Advantages of WordPress VPS hosting. Let's have a look at a few pros of this type of hosting before you actually buy a WordPress VPS hosting plan.
1. Improvement in Performance and Speed
A slow-loading website can be extremely detrimental to your business's success. You'll not only provide a bad service to users but also get a lower rank in the results of search engine optimization. Moving the service to the best WordPress VPS hosting is among the most effective methods of speeding up your site.
Simply put, poor performance can adversely impact your bottom line.
Additionally, With VPS hosting, you are able to easily change the resources on your server. Therefore, if you'll experience a month with higher traffic, you can just upgrade your server's resources. If your website is growing over time and you want to scale the server resources to meet your evolving needs.
2. Higher Security Levels
If you're looking to safeguard your site from hackers, then you can be confident that the WordPress VPS server will be extremely safe. This is, of course, one of the advantages of WordPress VPS hosting.
In VPS hosting, every hosting account is equipped with a hypervisor. This software aids in splitting the server resources and also prevents any leaks or crossing of resources between the two. This adds an additional layer of protection to your online server.
Additionally, as only WordPress websites will be using the VPS server, additional security protocols may be set up to enhance security more.
3. Extremely affordable, especially when you consider the features set
In light of everything you can get from the benefits of a VPS, server cost is actually quite reasonable. Of course, this cost will rise as you use more resources needed by your website; however, hopefully, by this point, you'll be in a position to justify the cost of hosting.
In comparison to the level of security and performance you could get from shared hosting, VPS hosting can be considered an investment.
4. Higher Levels of Customization for Servers and Control
If you use shared hosting, you're restricted by the default configuration options the hosting company offers you. If you're looking for an entirely unique hosting system or want to have more access to the server, the WordPress VPS is worth a look.
A few WordPress VPS hosts may even provide managed services, which is basically a way of saying they handle all server technical tasks so that your time is free to concentrate on expanding your site.
The Cons of WordPress VPS Hosting
However, VPS hosting isn't perfect for every type of webmaster. In certain cases, dedicated shared as well as cloud hosting could be better suited. Here are a few of the most frequent drawbacks of WordPress VPS hosting.
1. More expensive than Shared Hosting
If you've been putting off your budget to purchase shared hosting, you may not be ready to move on to VPS hosting right now. There are less expensive VPS plans; however, most of them are more expensive than a basic shared hosting plan.
But, when you compare the cost of VPS hosting in comparison to Dedicated server hosting, the latter is very affordable. In particular, considering it's a server-based environment is similar to dedicated servers.
2. Problems with Resource Allocation
A proper allocation of resources will assist in ensuring that your website is able to access the resources it requires to run properly. But, as VPS hosting relies on the allocation technology to build the virtual server, it could not function as expected. This is usually an issue when you're using a cheap hosting service. However, it's something to consider.
If you are considering buying WordPress VPS hosting, be sure to do your research, read reviews from users, and find out what time the hosting provider has been operating. This is a reason why you should not base your choice of hosting on the basis of price alone. If the price seems too promising to be true, then it most likely is.
Rackset's WordPress VPS Hosting service ensure you that your WordPress website performs as well as possible. let's choose the plan which best matches to your website.
WordPress VPS Hosting Vs Shared Hosting
In the end, VPS hosting and shared hosting are identical to each other. Both use the resources of a physical server to meet the requirements of a variety of users.
The major distinction is that in shared hosting, you'll have less flexibility in expanding the resources available to you. Since shared hosting means that the users share all of your resources, you'll need to accept that you can't just share all the good stuff but as well the negative. So brace yourself for bad neighborhood effects.
If you do not know what the bad neighborhood impacts are, imagine you've bought a shared hosting service that can handle up to 10k monthly visitors.
Another user that depends on the exact server hosting your site suddenly experiences a spike in traffic that exceeds the limit. This user's actions will result in a negative neighborhood impact on your website by slowing down the performance of your site and resulting in long loading times or an outage.
The negative effects of the bad neighborhood are particularly crucial when it comes to the safety of your site. In shared hosting, if an attacker hacks another user, you'll likely experience the negative neighborhood consequences of this attack. In this case, a problem shared will not be reduced by half.
With VPS hosting, however, your neighbors are separated from you, making the chance of suffering from the actions of other users next to zero.
As mentioned earlier, VPS hosting, while also providing shared usage of a single physical server, gives more freedom to VPS users.
This means you'll be able to tailor the plan you choose to suit your requirements. In short, this means there will be greater resources to choose from, and the structure of these is able to be modified anytime and in line with your requirements.
It would be a mistake when we talk about shared hosting without talking about the cost-performance ratio. Today, it is the norm for shared hosting to be the best choice for website owners with small budgets due to its unbeatable price.
WordPress VPS Hosting Vs. Dedicated Hosting
As a general principle, here's what you should remember:
If you use shared hosting, you'll have little or nothing over your server.
In VPS hosting, you'll have access to your server, but to only a limited degree.
Finally, with dedicated hosting, you're in complete authority over your server since you do not share it with any other person.
If you find it helpful, think of VPS hosting as is shared hosting plan with the features of dedicated plans.
The dedicated host, as its name implies, is a server exclusively committed to you and your requirements. You have the rights you like with the server. You can add as many programs as you'd like and then customize them to suit your personal preferences.
However, it needs to be noted outright that dedicated servers are only worthwhile when you anticipate an influx of high-volume per month (around 500k). Additionally, you'll require the required financial resources and the required technical know-how or, at the very least, technical experts to customize the server to your needs.
For the security aspect, both dedicated and VPS hosting offer high security.
Of the three choices, dedicated hosting is comparable to the fortress. With dedicated hosting, you'll own the server yourself, and you'll be physically removed from any other "infected" server.
In general, VPS hosting can be seen as dedicated-hosting-light. This is evident in the cost. VPS hosting plans are more affordable than dedicated host plans. It is evident that when a hosting service provider is able to share the resources of one server with multiple customers, they can provide these resources at a cheaper cost.
WordPress VPS Hosting Vs Managed Hosting
A factor that should not be overlooked when looking at hosting plans is the possibility of buying managed hosting services in addition to controlled ones.
Which option is most suitable is entirely dependent on you and the amount of money and time you're willing to invest in hosting your site.
On the other hand, there are managed plans with all the control connected to the software of your server. In the VPS version of hosting, the provider will limit the resources you can access. But this is where their involvement ends, and the rest is up to you.
Also, it is hosted hosting that is managed services. This option is especially beneficial for those who don't have the time and resources to handle technical issues by themselves.
Managed hosting can provide various applications that are already installed for you. Additionally, through the use of automation, a vast array of website management procedures are made easier and are able to be completed with just a few clicks.
Additionally, you'll also have 24/7 support from a customer service representative should you require assistance or face technical difficulties.
Perhaps the most significant thing is Managed hosting companies have developed in the sense they provide an array of options to meet customer requirements.
In the same way, managed hosting has evolved to be less expensive than hosted hosting and comes with the added benefit of having a greater range of services and greater flexibility in personalizing your virtual server.
Is WordPress VPS hosting the right choice for you?
If the budget does not stretch to the cost that you can get with a VPS or managed WordPress hosting, and you're looking for shared hosting, it is the only option. This type of hosting is more prone to downtime and reliability, but that does not mean your website will not be down for days and days each week.
In the event of downtime, it is a risk that can be costly for the business. Suppose you're working with a limited budget and don't wait until you are able to afford a VPS. Take advantage of a shared account right now and change it when you can afford it.
If you own a low-traffic, generally unimportant website, shared hosting is a great and cost-effective method of keeping them up and running. Personal blogs, client test websites as well as archived projects currently being tested are all suitable for shared hosting.
Sharing hosting is also an ideal choice for newcomers who don't require a lot of performance. When you start your business, you're likely to find that there will be no visitors to your site in the initial month, and you'll see your traffic increase slowly throughout the months to come. It's possible to start with the shared host option to save some cash, then switch to a shared host once you see more people visiting your website.
If you're just beginning to explore the world of the internet and your website isn't particularly important, I would suggest you go with the lowest price plan you could get just to have the advantage of getting to know something new. It's a great way to learn and prepare for future times in which you'll need to choose between a $50 or 100 VPS plan.
Conclusion
The kind of hosting service that you select could decide the success of your website. When your website's performance begins to slow down, you're not just impacting the user experience but the profits of your business too.
In comparison to web hosting, WordPress VPS hosting can provide you with greater capacities of server resources as well as offer you better security and greater customization options.
In general, WordPress VPS operates similar to a dedicated server; however, it is an environment that is virtualized. This is all at less than the cost of dedicated server hosting costs you.
I hope you have an in-depth knowledge of the benefits of WordPress VPS hosting and how it compares with other forms of hosting in the marketplace, and you'll be able to make the right choice that will efficiently propel your website toward a bright future.