The Benefits of VPS Monitoring for Your Business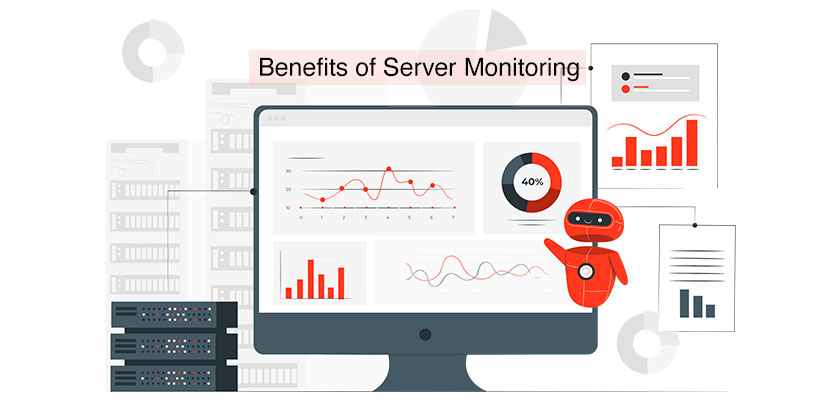 Virtual Private Servers (commonly called VPS) behave as dedicated servers; however, they serve multiple users. Each user has the option of running different Operating Systems and their own server monitoring tools. Hosting programs for VPS could include an email server, web server, as well as file transfer protocol (FTP) software.
These programs allow for your website to be "interactive," so to speak. eCommerce sites and blogs rely upon hosting VPS software to function as. Additionally, virtual private servers are ideal for companies that need an online presence that is customized to their specific needs but are unable to afford the expense of a dedicated server, which is why we have another aspect: monitoring of VPS. Let's not forget about managed VPS hosting solutions for developers.
However, in this article, we would like to discuss server monitoring advantages and why it is necessary for big and small companies to be using server monitoring tools.
What Is VPS Monitoring?
Suppose you manage an eCommerce website. If you're a small company, is it really possible to have the capacity to monitor the website 24 hours a day? Perhaps not; however, what do you do if your checkout site is down unexpectedly at the time of 2:30 am? It is likely that you won't be aware of the issue until the following morning.
If a user decides to buy something from your site and is unsuccessful, they'll eventually quit. While this is an unlikely scenario, such scenarios are commonplace on eCommerce websites. That's exactly where the VPS monitoring service can help. Certain VPS devices will record system errors that allow you to identify the issue.
Certain VPS providers offer a 24-hour uptime guarantee, which basically means that in the event that your website is down, they'll be able to fix it a.s.a.p. Third-party software may issue an auto-text message to your phone every time it notices the server is down. Although this might not be an ideal way to be awakened late at night, the quicker you know, the faster you will be in a position to get it back up and running.
There is no requirement to be a web developer in order to monitor your VPS during office hours also. However, there are the best VPS for developers that you can buy if you are a developer. Typically, they are optimized for your needs and requirements if third-party monitoring software does exist that you can install on the VPS server. Begin monitoring the following things:
Processing orders
Un-sent email
Files system storage
Status of the process
CPU use
Disk I/O
What's your server doing at the moment? What is the load it's experiencing? How much RAM is available? Do you think it is running out of storage space? These are all appropriate questions to ask anytime you are running servers, particularly during times of high traffic where resources can be scarce. Continuously monitor your servers to make sure that everything is working smoothly for your users. Fortunately, there are tools for monitoring servers to assist you in terms of monitoring the actions of your server and alerting you of an issue. But what is server monitoring?
Server Monitoring
Server monitoring software is created to monitor your server. The information is compiled in a central place that can be displayed using graphs and visuals to provide an easy and quick overview of the way your system is operating. Monitoring tools are diverse in terms of their capabilities based on their functions, ranging from simple tools like the most basic command that provides live information on the way the Linux system is performing to sophisticated software like Nagios, which is designed to operate within its own servers and monitor other systems simultaneously while offering an all-encompassing monitoring platform. Monitoring tools display live information about the server; other tools can keep historical information that lets you see the performance of the server over time.
Server Alerting
The alerting programs and the services are usually connected to monitoring tools. The difference is the monitoring software for servers will give you details about the server, but alerting software looks at the information and then sends you a message to inform you that the threshold for monitoring has been met. This could be connected to processing load, processes running or users who are logged in, or to inform you that the software is no longer running.
As you might envision, having alerts about issues with your server could reduce your time since it eliminates the requirement to constantly check to see if your server is running. Also, it means you can react to problems sooner, possibly fixing the issue before users even realize that the issue is present. Depending on the alerting system you select, you can receive alerts through text messages, email, or phone calls.
Monitoring and Alerting Options
There are numerous open source, proprietary monitoring, and alerting programs that are available. For instance, Monit is designed to notify you whenever your server is in compliance with certain specifications. In addition to the software tools you own, it is also possible to purchase monitoring software as a subscription where another company offers a central platform to monitor the servers you run. An advantage to the use of a third party's platform for VPS monitoring is that if you're operating an alerting and monitoring service for all of your servers, If that server fails to function and you can't continue to receive alerts. Keep in mind, if you buy managed VPS hosting service, the hosting provider is typically in charge of monitoring your server, and should anything go wrong with your server, they are the ones receiving server alerts.
The Benefits of Server Management Systems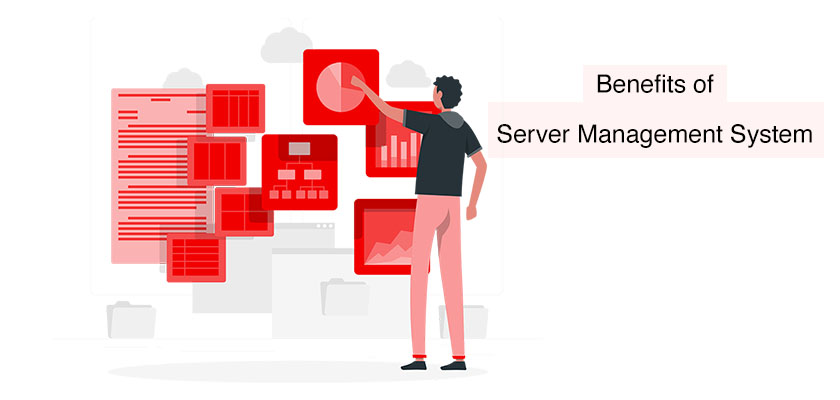 Server management systems are software programs created to help with the administration of servers. IT professionals can utilize these systems to oversee several servers and collect operational information (e.g., memory, CPU utilization, disk space, OS monitoring, statistics, and security information). It can then be reviewed in real-time on an intuitive dashboard. Server management systems may also collect historical data to monitor particular metrics during a specific time.
It's easy to get confused between the two systems, a server management system and a hypervisor (AKA a virtual machine monitor) in virtual environments. But, a hypervisor creates and manages several virtual servers. It is designed to ensure that these virtual machines operate in accordance with the needs of the administrator (not necessarily to monitor performance profiles).
How Does Server Performance Monitoring Work?
Monitoring of servers, in the sense of an expression, is a way of assessing the overall health of servers. However, server performance monitoring is focused specifically on performance metrics. For physical servers, the parameters comprise the usage of memory and CPU as well as network performance. In the case of virtual servers, these performance metrics are typically the response time of the database or web server times, bandwidth consumption, and other metrics connected to the use of resources.
What is the reason why monitoring the performance of servers is crucial? One of the main reasons is the predictive nature of problems with performance (e.g., slowdowns). It could help IT professionals to identify problems as they arise. Bottlenecks can be useful for showing upgrades to components or services needed. Capacity management tools help teams to estimate the resources they might require to support new software or other workloads.
Another issue that can affect the monitoring of server performance is compliance. Many organizations are committed to delivering a particular degree of uptime and performance. This is often essential for financial trading, media streaming as well as other working environments that are extremely stressful. Penalties for non-compliance could be extremely severe when performance falls below certain levels.
How Does Open Source Monitoring Work?
Open source software can perform just as well as commercial options; however, many prefer the latter since they're simpler to install and use. Commercial monitoring tools for servers (primarily cloud-based) are usually turnkey alternatives which mean they're generally simpler and offer a superior user experience.
Popular Monitoring Systems
Three types of monitoring systems for servers are available:
Software-based on-premises systems
SaaS/cloud-based platforms
Mobile systems
However, certain hybrid systems make use of a combination of cloud and traditional technology for a customized configuration. We'll go over the benefits and drawbacks of each type.
Traditional On-premises Software-based Systems
These systems are based on the software which is installed on an organization's local hardware and are the most standard method. It typically comes with a large cost (paid in advance) as well as a costly maintenance program that guarantees that you are provided with ongoing support from the company. Since each installation environment is different in its own way, this kind of system is often complicated and susceptible to problems and is time-consuming.
However, on-premises software allows for a variety of personalization and gives control over the storage location of data. This could be a huge advantage if your business has to submit reports to regulatory agencies. In general, on-premises software is more than cloud-based solutions.
SaaS/Cloud Systems
Monitoring systems for the cloud are run entirely online. There is no need to download any additional software onto your system, and you can start systems swiftly (even in a matter of hours). Cloud services provide plenty of flexibility. However, they are less able to control their personalization.
It is offered through subscription plans, but the majority of providers don't require long-term contracts. This makes it much easier to start and less risky than traditional on-premises systems.
Mobile Systems
Although it's not one of the largest server monitoring systems types, many cloud and on-premises service providers provide an optional mobile version. You can use these systems using devices that are mobile, like tablets or smartphones. In turn, you'll be able to access monitoring data from servers anytime, in any location. Mobile functions are limited as compared to that available on a PC. However, since many cloud-based or on-premises solutions offer Mobile monitoring capabilities, it's something worth taking a look at.
How to Begin Monitoring Your Server
Every environment is unique. But the following best practices will aid your IT department in achieving the best value for the money you purchase the monitoring of servers.
Make Sure Hardware Operates in Line With Suitable Tolerance Levels
File servers are typically stretched to the limit of their capacities and seldom get an opportunity to rest. They typically run all day long, all week long, with no downtime. This is why it's essential to keep track of such indicators such as usage of RAM, CPU storage capacity as well as temperatures of the CPU to make sure that the server runs optimally. Check these frequently to detect possible issues earlier and avoid them later.
Be Proactive in Checking for Failures
When you use your tools for monitoring your server, you should look for problems that could affect your system and software. Tools can notify you of problems caused by a damaged database, for instance, or when an incident of security has caused vital services to go off.
Keep Historical Data in Mind
It's very rare for server issues to be isolated, and therefore, it's important to understand the background of the problems that arise. You can do this by looking at metrics for an extended period of time, typically between 30 and 90 days. For instance, you could notice that the CPU's temperature has increased over the past week, which could indicate that there is a problem with the fan in the server.
Monitor Alerts
Watch alerts in real-time when they happen. After triage, the alerts should be examined and addressed by an expert analyst. This is the method most commonly used to discover what's wrong. Discover reliable ways to manage important alarms and then prioritize them efficiently. When an incident escalates, ensure that it gets to the appropriate person immediately to ensure better collaboration among team members.
Plan Short-term Cloud Capacity with Server Monitoring Data
When you use virtual servers, monitoring systems may be a crucial element in helping you choose the best computing capacity for certain times. For instance, if the services slow down or users encounter other issues in performance, IT administrators can evaluate the situation via the monitoring of servers. This means they'll be able to provide additional resources to fix the issue or even begin downtime during times that are not in high demand.
Make The Most of Capacity Planning
Over the last five years, the workloads of data centers have increased by a significant amount, nearly doubling. Servers have needed to cope with this constant increase. Your company is able to be prepared for server demands in the future by studying long-term usage patterns.
Take Your Asset Management Further
By monitoring servers, using server monitoring tools, you can determine the systems that are coming closer toward the conclusion of their lifespan and also whether any assets have gone missing completely from your network (through theft or even failure). It is possible to use your monitoring tool to take care of the heavy lifting instead of relying on spreadsheets to track physical hardware.
Choose the Top Monitoring Tools for Your VPS
Keep the following features of monitoring servers in mind when looking into server monitoring software tools:
The coverage range: Will the tool offer assistance for your company's different kinds of servers (e.g., hardware and software)? Are you ready to be compatible with other server types you may need in the near future?
Alert management: Can easily set up alerts by defining trigger thresholds. And how do you get those alerts? Are mobile users being notified?
Examining the root of issues: Will a tool empowers you to pinpoint the cause of an issue using an AI algorithm or logic? Will it only notify you of an issue without information?
Design that is user-friendly: Can you interact with the system using an easy-to-use dashboard that permits you to conduct monitoring and triage and allows you to address issues quickly?
Support: What technical support is available in case of emergency? How do you get in touch with representatives when you require assistance?
Benefits of VPS Monitoring on Your Business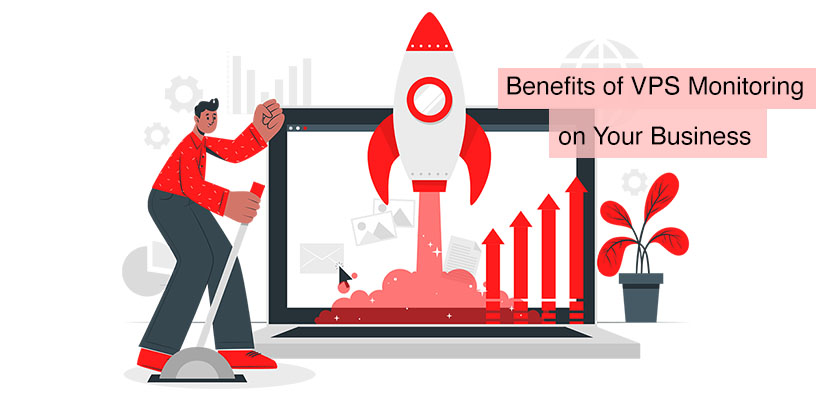 Server monitoring helps ensure the health of your network and to ensure that the servers and workstations are in good condition. This solution can aid busy system administrators in dealing with their work, not monitoring employees.
Let's examine five advantages monitoring servers can provide to an organization.
1. Gain Complete Insight into Your Network's Health and Performance
Server monitoring allows the IT administrator to "look under the hood" and examine issues that could affect network performance. It will analyze many variables and display live, in real time, how your workstations and servers are working. It allows you to quickly determine areas in need of attention and then take the necessary actions. Server monitoring lets you take a proactive approach to resolve problems and address any issues prior to them affecting the performance of your network. This may be the main server monitoring advantage.
2. Automate an Array of Checks that Your Network Can Perform
Performance and space on the hard disk schedule backups and updates to antivirus software, critical events, and Windows service disruptions. These can all be checked automatically by the server monitoring tools. This saves a huge amount of time for busy administrators of systems who do not need to try to identify potential issues. Instead, they can concentrate on the servers that require their attention and swiftly narrow to the root of the problem. Furthermore, if you buy managed VPS hosting, everything is completely taken care of by the hosting provider.
3. Find Out what's Going on Via the Internet
You can create alert levels and get notified via text or email whenever the monitoring software for servers detects an issue. This lets you quickly respond even when you're away from the office. When you are alerted to possible problems, you are able to respond before they negatively impact the performance of your network or cause the downtime of your workstations or servers. This ensures that your company's performance is at a high level.
4. Scalability
You can easily look up the complete list of the computers monitored by your monitoring servers and also add new workstations in the event that you need to. The solution will expand as your business grows. Cloud-based monitoring of servers is extremely adaptable and permits users to add machines and services quickly and without requiring complex procedures. Cloud-based solutions also benefit in that they don't require regular patching or updates by the IT administrator, thereby saving both time and cost. Cloud-based service providers take all of this on your behalf.
5. Clears unwanted files
By taking on many of the tasks that monitor your server, it lets you shift the IT department's time and resources for more valuable tasks like the development of infrastructure or even renewal. It's not just that the software monitors the system; it can even take remedial action like restarting the server or restarting services.
Conclusion
Monitoring servers is the primary task for every IT operation. Because servers are basically the lifeblood of any organization, IT management must make every effort to ensure they can fulfill their potential. A sophisticated system designed to monitor and manage servers is crucial to this.
However, the best VPS for developers comes with certain tools that they can use or write themselves to monitor the server, or others can buy managed VPS hosting that would come with tools on its own, and there is a server administrator who manages and monitors your server for you. Keep in mind that tools don't simply notify you of problems after they've happened. They're alert enough to inform you about potential issues before they become disasters. In turn, they'll provide you with an advantage in locating the solution.