Windows VPS vs Linux VPS – What Are the Differences?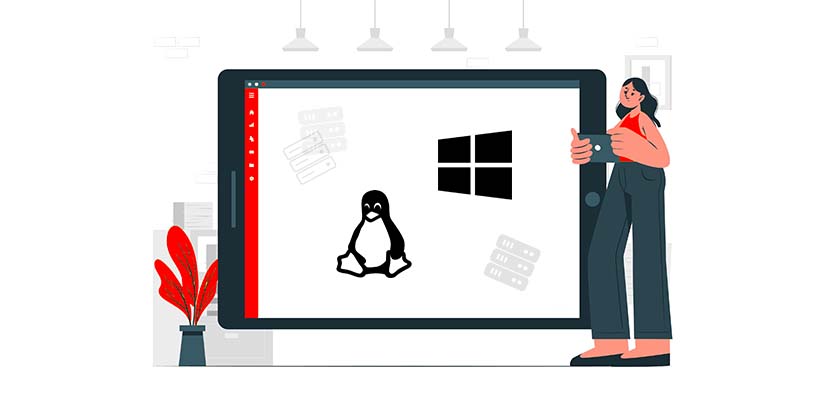 If you want to begin your own online business, following the registration of your desired domain you'll need space to host your website. If you are looking for a reliable and speedy service then a VPS server whether it's a Linux VPS server or Windows VPS server could be the ideal option for you. The main thing to remember is to select the best varieties of VPS servers which are Linux virtual server and windows virtual server as mentioned earlier to host your site and operating system. In this article, we'll discuss Windows VPS vs Linux VPS and hopefully, by the end of reading this article, you can choose what is best for you.
What Is a VPS Server?
Virtual Private Server (VPS) is the name of a virtual machine that forms part of the physical server. It runs an operating system of its own and separate environment. The VPS makes use of specific server resources that are completely independent of all other virtual machines that are on the server.
This kind of server is provided through an Internet hosting service provider. It is an ideal alternative for people who wish to upgrade their shared hosting that has only a few resources to servers with more access levels. Since they will have access to more resources and have the ability to control their site.
Be aware that on your VPS you can choose to run both the Linux operating system, or it can run the Windows operating system, and benefit from the capabilities of both. In recent years, there have been many talks amongst developers and website owners about Linux vs Windows servers.
VPS servers are regarded as an element of dedicated and shared servers. One of the main features of various kinds of VPS servers is the ability to create websites on Windows and Linux operating systems, which allows users to select one of the VPS server services based on the operating system that they choose to use.
Different Types of Virtual Private Server
VPS is the abbreviation in the form of "virtual private server." It's a virtual machine, or container, which means that you don't control the physical server. This is done using hypervisors of type 1 or 2. software (e.g., Virtuozzo or VirtualBox, respectively) that divides the physical server into dozens, or hundreds of virtual servers. Virtual servers can each run their own OS and get an amount of memory as well as storage resources. Virtual servers have the features that are available on dedicated servers, with the exception of the capability to alter the kernel. Both Linux vs Windows servers can host their personal database, files, and settings.
1. Linux VPS Server
If you purchase a Linux VPS server, you'll be able to utilize Linux as the Linux operating system controls your website.
2. Windows VPS Server
If you're running the Windows operating system and would like to utilize it to control your website, a Windows VPS server will be the best option.
What Exactly Is Linux VPS?
The dedicated server, also known as a VPS runs its own operating system, similar to Linux and Windows. Customers are granted Superuser & Root access to this operating system in order to allow them to run any application they wish on the server. The various features that a server virtual could be almost identical to a physical server.
The Advantages of Linux VPS
Linux is an open-source operating system. unlike Windows, Linux was developed in the spirit of "open-source" which means that it is free to play with and use, as well as distribute.
You do not have to pay for any license costs and you can install it on whatever number of PCs you wish to. Let's talk about the benefits of a Linux VPS to have a better understanding of Windows VPS vs Linux VPS.
Stability
It cannot be stressed enough how much stability Linux OS offers. It is regarded as being the most reliable OS that is currently available. Very rarely does the Linux OS server require a restart and it doesn't suffer from crashes. This assures the highest level of uptime and performance.
Security
Linux OS offers an unparalleled amount of safety. The past has shown that viruses and malware typically are unable to get past the defenses of Linux. Since it is an open-source OS all users in the Linux community can gain access to and identify and correct vulnerabilities and bugs that ensure the highest levels of security.
Cost-effectiveness
One of the biggest points in Windows VPS vs Linux VPS is the fact that Linux OS is open-source and is free, therefore you are not required to pay licensing costs each month, as you do for Windows OS. Being a virtual server, pricing is based on particular requirements or requirements of the client.
Flexible and Scalability
Having more visitors means that your server will have to work harder and consume more resources. With Linux, it is possible to modify your VPS to meet the requirements of your server and assign your site a larger quantity of resources in order to guarantee stability. 
Linux offers a set of tools and utilities that allow you to perform a variety of tasks. Of the many effective tools is "shell". It's a programming tool that allows users to run commands over and over again and automate tasks for server administration and create new tools and tools.
High-Performance
Linux has a distinct advantage over the other OSes in terms of performance. It can handle multiple clients on the same system without trouble. It's got improved processing capacity and power, which means websites load quicker, increase user engagement, and any other processes you execute within your servers will perform faster and, consequently, are less disruptive to other processes running on the server.
Privacy Security
Unlike Windows OS, Linux OS does not collect any details on its customers. In addition to the flexibility of Linux users, they have control over what data or applications are on the server.
Dedicated Resource
With your virtual server, you enjoy the advantage of having more RAM capacity storage, disk space, and CPU. This allows you to take on more users and run more applications.
Direct Root Access
A VPS grants you access to all your servers and complete access to your server. Through your control panel, you can easily configure your server, and manage every application's installation.
Cloud Backups
Users can have the option of setting up automated cloud backup routines to protect their data in the event of any future failures. You'll be able to retrieve your data if it happens.
What Is a Windows VPS?
Windows VPS hosting is also known as virtual server configurations that make use of the Windows interface as well as Windows servers management software, and come with specific advantages. 
Windows VPS also typically comes with a variety of great extra features. The features vary from host to host however since web hosts are able to rely upon Microsoft services and applications like Hyper-V Microsoft is more likely to provide assistance for it.
The Advantages of Windows VPS
Finding reliable and inexpensive Windows VPS hosting may be difficult due to the variety of hosting providers available on the market. In order to choose the right hosting plan, you should have a clear understanding of the benefits and drawbacks associated with Windows VPS hosting.
A Budget-Friendly Solution
As your business grows and your website grows, it will draw more visitors and could require an upgrade. The upgrade of your shared hosting plan after your site has grown beyond its capacity could be a mistake. However, you don't need to spend a lot of money and host your site with a dedicated server. Your website doesn't require one.
A low-cost Windows VPS hosting plan is ideal for sites that are just beginning to grow. 
No sharing of resources
One of the major drawbacks associated with most hosting plans is that exact resources are utilized by multiple websites. If a website that is hosted on your shared server experience suddenly increases traffic, you won't receive as many resources. This means that your website may take a longer time to load which can result in a bad experience for your users.
This will, in turn, raise the bounce rate of your website and, over time it could result in a decline in revenue. A website that is slow to load affects your image as a business.
With Windows VPS hosting, your resources won't be depleted by other websites that are hosted by the server. Because every website is located by a virtual server operating in a separate environment. Your website can run in a continuous manner, providing an excellent experience for users.
Tighter Security
One of the important factors in Windows VPS vs Linux VPS is security. If any of the sites hosted on your server becomes infected with malware or is affected by security breaches this could affect your website as well.
Contrarily, with Windows VPS hosting each virtual server is protected by its own environment. In the end, the data stored on the server is protected from other users, making it impossible for infections to get passed around between users.
Better Control of the Site
Because the virtual private server is distinct from any other tenant, you can enjoy greater control over your website. VPS hosting permits you to access all available assets and data.
Even with the cheapest Windows VPS hosting, you can customize your server to your requirements. You can add additional software when needed. 
User-Friendliness
Windows-based servers are regarded as friendly for business owners who have no technical expertise. Windows VPS comes with a user interface that is graphic and thus, is ideal for those who are new to the field. The user interface and the controls employed to publish, manage and modify web content are easy to operate and manage.
The Differences in Windows VPS in Comparison to Linux VPS
If it comes to choosing between the Linux vs Windows server, think about what you're currently using as well as your budget and requirements. Windows VPS costs more, however, it's generally more user-friendly since it provides a straightforward user interface, has better support from an official source, and is able to meet the demands of demanding customers. However, Linux VPS is cheaper and offers many online support options; however, you must possess at least some basic technical skills to manage things efficiently.
It is also possible to look at some of the OSs in a way that is more straightforward. Windows VPS:
Costs a little more

receives continuous, smooth updates as well as official support

has an easy-to-navigate GUI

You can take on more challenging tasks
Comparatively with this Linux VPS:
is open source which means that the cost is less

requires more technical understanding

is ideal for more simple tasks

There is lots of community support in tech matters
Conclusion
Deciding which is the most suitable of the two options is a difficult row to make as each has its differences and advantages. We recommend that you must choose the operating system to run your VPS in accordance with your needs and your budget.