Fastest Themes for WordPress 2023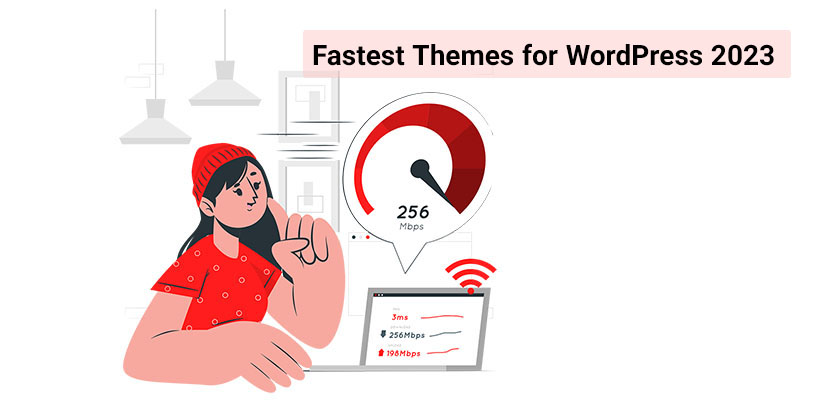 Finding the fastest WordPress theme might appear like a losing cause. Should you test every theme you're interested in and then compare the different millisecond loading times to determine the fastest WP theme?
What are the best ways to account for the changes in the speed of WordPress website hosting that is provided by the developers and their demos online? What happens if the tools used to test yield contradicting results?
It's not likely that the typical WordPress user will regularly evaluate themes to determine their efficiency. It's difficult to eliminate external influences as there are so several WordPress themes to think about.
We have done the job for you.
With various speed testing, an entirely new install for every theme, as well as the identical server used for the speed tests for each theme, we were able to find the fastest-loading WordPress themes down to a select list.
Additionally, we have looked at the very best from the very best in order to demonstrate how well they perform in various situations and which ones have the highest scores for performance and the fastest speeds.
What We Tested to Determine the Fastest WordPress Theme Candidates
The search began with themes that we've come across previously, as well as the most popular WordPress themes based on their popularity and download numbers and high-quality reviews.
We have added to our list of WordPress themes that we have found in the repository to find some hidden gems, themes that are newer and top-rated alternatives that we might have missed from the collection before.
If you find a speedy WordPress website, you can determine what theme it's using by using different theme detection tools. Keep in mind a fast WordPress website can be achieved by using the fastest WordPress hosting, too; sure, the theme plays a major role, but with the right cheap WordPress hosting, you can achieve both speed and security for your website.
The speed-testing process ran as follows:
Set up and then activate your theme in the blank WordPress Sandbox installation. This will allow for the standardization of WordPress hosting and avoids any issues when using plugins other than WordPress or website files.
The theme should be left as it is without any additional menus, media pages, posts, or pages. We'd also like to take out any demo content and not create a homepage as an initial point of reference.
Test the website using its theme and go through the GTmetrix Speed Test.
You can run the theme via its Pingdom Speed Test.
You can run the theme by using The PageSpeed Insights Test to evaluate the speed on desktops and mobiles.
Every testing tool offers its advantages. We've described the metrics we use and the reasons why they are essential for understanding the evaluation more thoroughly.
For this reason, we chose to use three different tools; each one of them comes with different quality and performance, which is why we wanted to ensure that there isn't a tool that gives superior or inferior results over one. Additionally, some of them focus on specifics such as speed on mobiles and page size.
Now that we have tested some of the fastest blog WordPress themes, it's time to list them down for you.
Fastest WordPress Themes 2023
Astra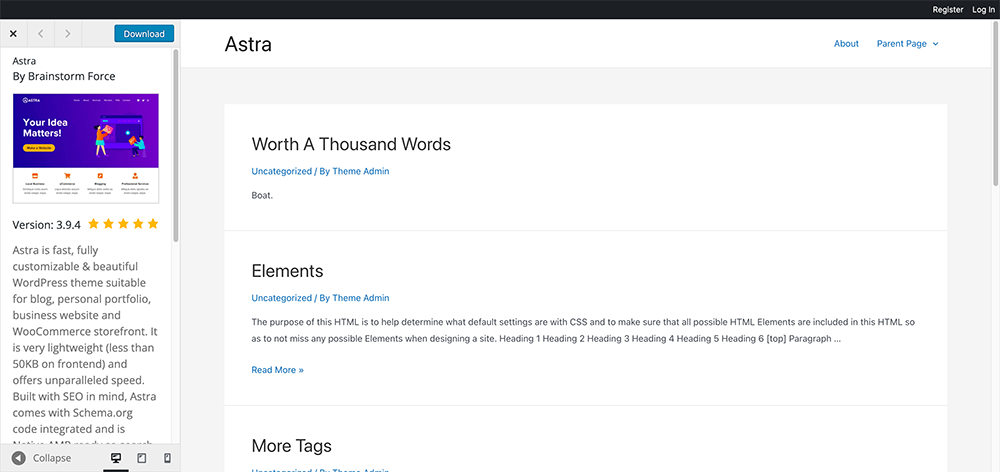 When we talk about the fastest WordPress theme without in any way mentioning Astra is not a good idea. Astra is one of the most efficient themes that you can choose to use on your site. It's available for free and also at a premium. Technically speaking, Astra Premium has several extra options compared to Astra Free. It is possible to create pages of 45KB and make eight HTTP requests. This requires 2.9 seconds to load a webpage. This means you could say. It's extremely fast and reliable for your site. The premium version of this super-fast WordPress theme can be enough for your everyday website or even an eCommerce WordPress site.
Neve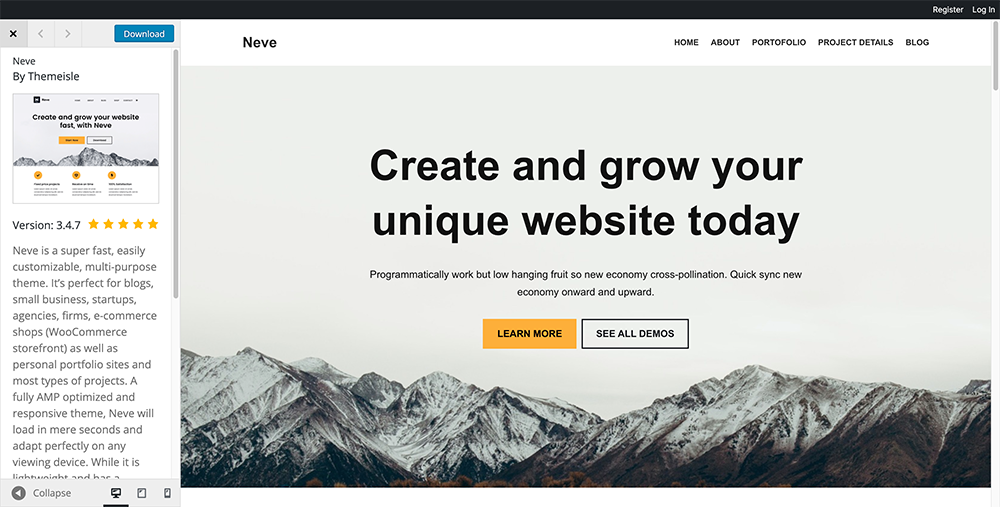 There are over 100,000 active users of the Neve theme. It's lightweight and fast and can be used for many different reasons. In addition, Neve is one of those themes that is suggested by some WordPress website hosting providers. To help you get up and running fast, Neve has more than 30 templates for starters that are ready for use. There are five world-renowned web builders: Gutenberg, Elementor, Beaver Builder, and Divi. They make it easy to manage and build your website. On our list, Neve is considered to be one of the fastest Elementor themes available, and this can be proved by testing the theme, reading reviews, etc.
Hello Elementor


If you're a WordPress website owner searching for one of the top builders for your pages, Elementor is a fantastic option. It is possible to set up an eCommerce Shop, and the performance and speed of the WordPress theme make it a great option for building an efficient online store. It's the lightest and fastest theme for WordPress in 2023 that is fully operated by Elementor Page Builder. There are over 500,000 active users in the world that use this theme and consider it the fastest blog WordPress theme that they have ever used.
Writee

If you're looking for the fastest blog or magazine theme, Writer is among the most popular choices. GTMetrix reports that its file size is around 180 KB, and it made the equivalent of 16 HTTP requests to its cheap WordPress hosting server. It is true that web pages take three seconds or less to load fully. Additionally, you have a variety of layout design options, as well as possibilities for pagination. The free version includes nine pre-made templates and distinct layout styles to make your landing page interesting and distinctive.
Airi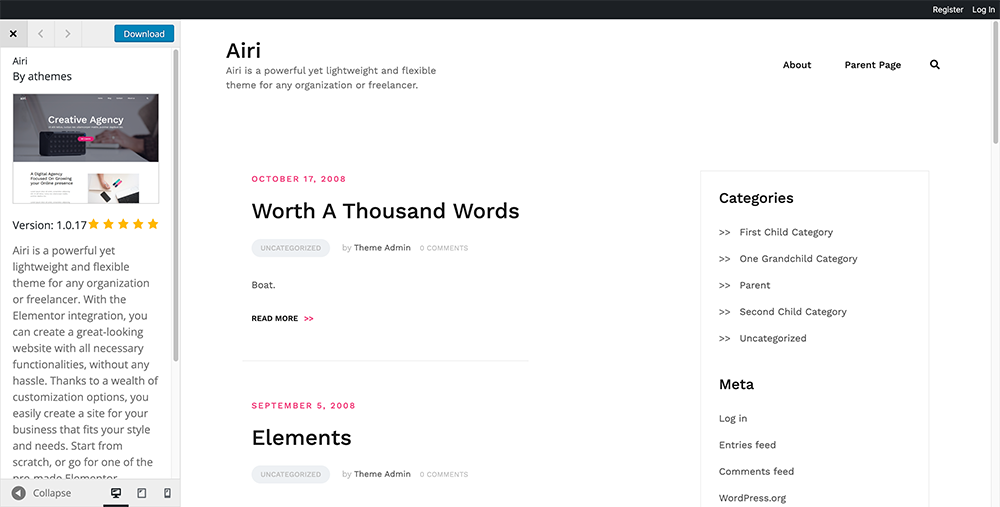 If you're in search of the fastest theme for WordPress in 2023 with multi-purpose usage, Airi is the finest choice for you. The size of its files is approximately 300 KB, and it makes greater than 18 HTTP requests to the WordPress website hosting server. However, it only takes a maximum of 4 seconds to load webpages in a proper manner. It is possible that your performance is slow on mobile devices. However, if you make some adjustments and tweaks, you can improve it. It is available both in paid and free versions, both of which work with WordPress plugins such as Elementor or WooCommerce.
Ocean WP Theme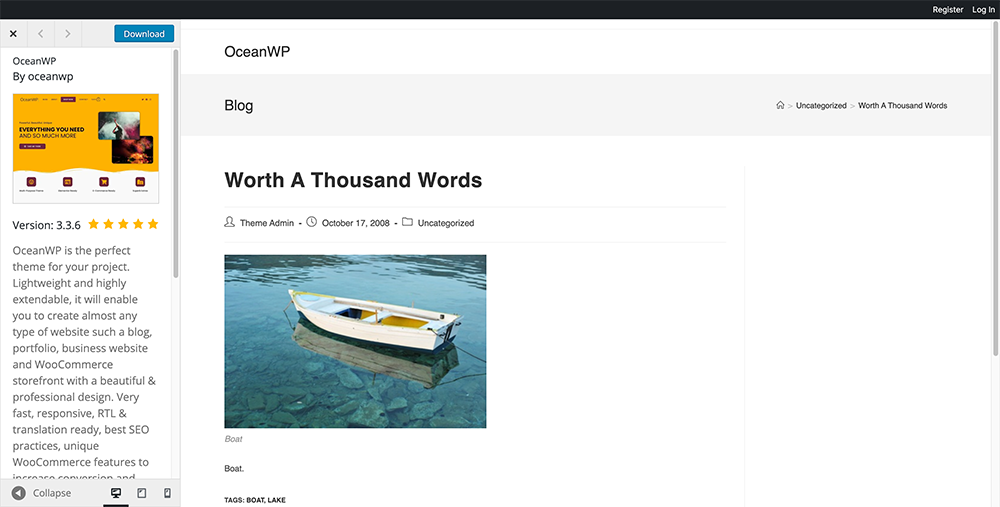 If you're looking for a quick-loading multiple-purpose WordPress theme, then the Ocean WP theme is a good choice. It's compatible with WooCommerce's plugins and lets you create your own online shop. Based on GTMetrix tests, the loading speed is approximately two seconds, and the overall performance score is 95%. It's been proven that the page weighs more than 200 KB. The results are laudable. It has a speed index in the range of 4.2 seconds and an aggregate score of 87. Page performance is quite sluggish. Suppose you make some adjustments to improve the speed of mobile pages. It's free; that is, you download it to incorporate into your site. There are over 700,000 users currently actively using this super-fast WordPress theme.
Sydney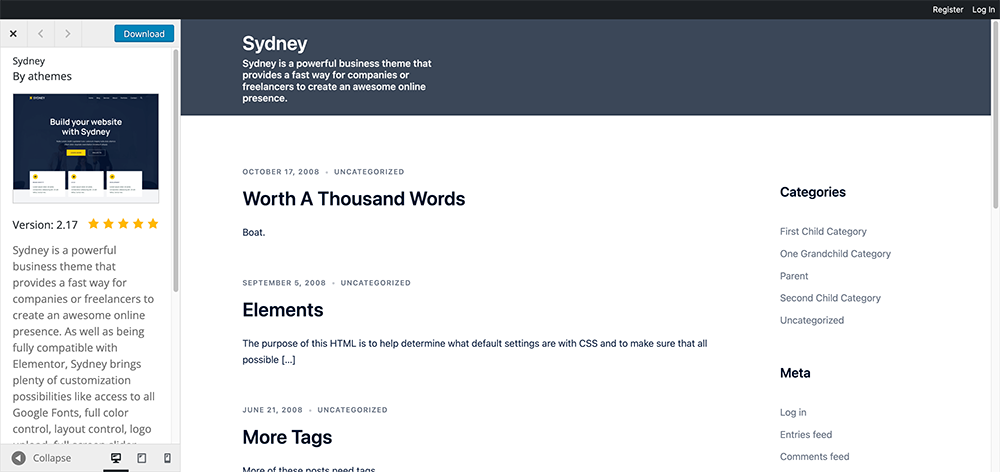 Sydney is a different theme that provides an amazing variety of tools for customization and features without having to sacrifice speed. Sydney comes with a free as well as a premium version, the main difference being in features and not speed. Sydney excels in creating quick single-page websites for small companies and freelancers. If you are looking for the fastest WordPress theme for blog, Sydney might just be the fastest WP theme for you.
GeneratePress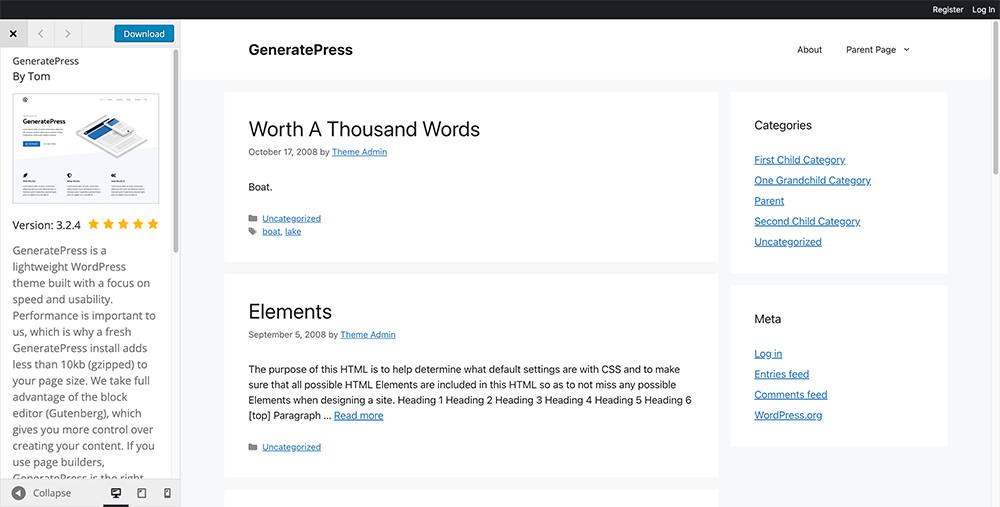 In terms of the performance of the software, GeneratePress is among the fastest WordPress templates, and you'll have the option to select between a free as well as a premium.
No matter what you pick regardless of what you choose, you'll have a reliable theme that can provide impressive speeds and high levels of customization. It's lightweight and is one of the smallest-size themes that we've listed.
Page Builder Framework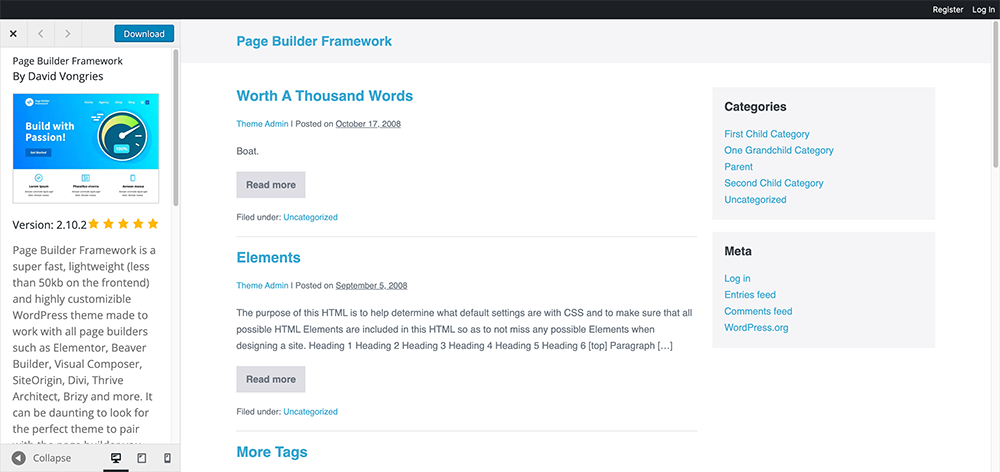 If you're looking for the perfect theme for social media sharing as well as posting YouTube videos without slowing down, The Page Builder Framework WordPress theme is the only option for you.
The theme uses a minimal CSS method that guarantees the site loads quickly with no code bloat. It comes with plenty of templates to choose from without sacrificing speed.
Customify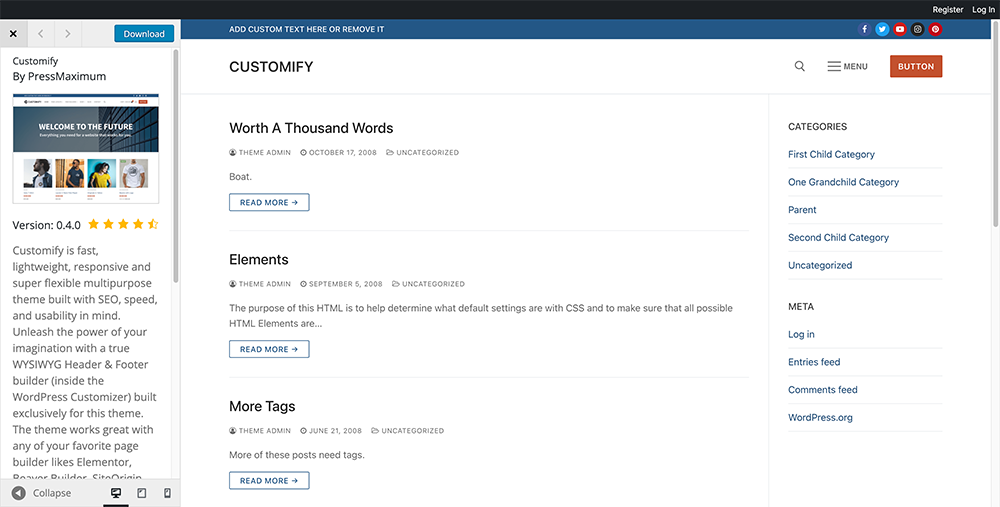 You're looking for a flexible WordPress theme that's easy to use and speedy? You should look no further than Customify. The theme shines in terms of user-friendliness. The theme is customizable with ease and doesn't require any coding. While you may believe this might affect speed, it's not. It's very fast and doesn't have any disadvantages. With the right and fastest WordPress hosting, it can give you what you are looking for in a fast-loading WordPress theme.
Twenty Twenty-Two
WordPress introduces an updated default theme each year. Although some users are quick to change, they've built a solid speed, and recently they have been mentioned in some of the fastest WordPress templates.
The theme Twenty Twenty-Two isn't an exception. It's the first theme based on blocks and will show how themes are evolving on WordPress and is an ideal theme to begin becoming familiar with before they become standard.
Hestia Pro
A lot of businesses require only one page, and Hestia Pro can be among the top fast-loading WordPress themes for this. Like you would think of from a single-page site theme, it's extremely quick and provides a wide choice of options for customization to pick from. It is compatible with well-known plugins, such as WooCommerce, without sacrificing performance.
Zakra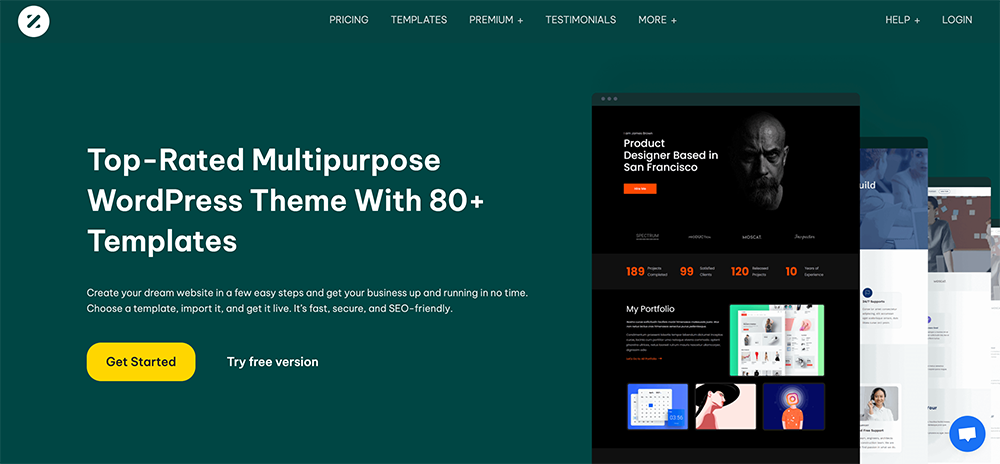 If you're in search of a speedy and cost-effective WordPress theme, Zakra can be a great choice for a multipurpose theme.
There is also a premium version that comes with additional features that you will love. It gives you a wide range with regards to customizing and nothing more than over 40 demonstrations available. This is all at the cost of your website's speed.
Blocksy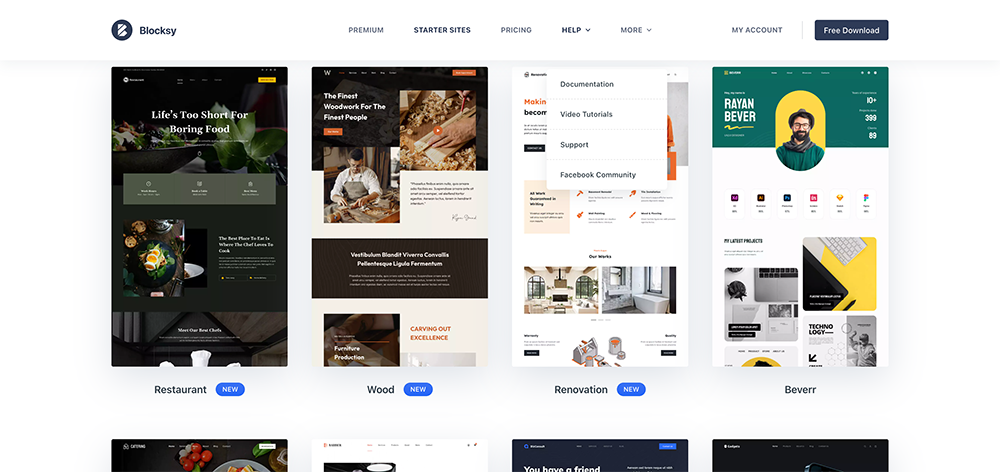 If you're in search of an elegant and one of the fastest blog WordPress themes, then you should look no further than Blocksy.
This theme utilizes a distinctive algorithm for coding called code splitting. This means it will load JS only when the user wants the theme to load. Keep in mind, if your WordPress theme is heavily coded with JS, we recommend that you use the fastest WordPress hosting available, so you don't have to give up on performance.
It's like slow-loading pictures but using JavaScript instead. This keeps your site extremely fast and is absolutely free to make use of.
Simple
It's possible to think that an application named Simple may not have much to offer, but it's not the case with this. The Simple theme developed by Themify provides users with a wide choice of options for customization and excellent performance on the web. There's a no-cost and premium version that you can choose between, with the premium version providing more design options and superior support.
A Great Website Starts with A Beautiful Theme
In WordPress, the majority of developers concentrate on the plugins that they can integrate into their site; however, themes are much more central. They determine the style of your site and can significantly impact the speed of your website.
So, you'll need to ensure that you're selecting a super-fast WordPress theme. Luckily you can get incredible ones at no cost. But, considering how cheap premium themes are and how much they're worth, it is expensive to go premium. In addition, you can take advantage of our cheap WordPress hosting plans that are highly optimized to increase the performance of your website.