15 Best WordPress LMS Plugins for Online Courses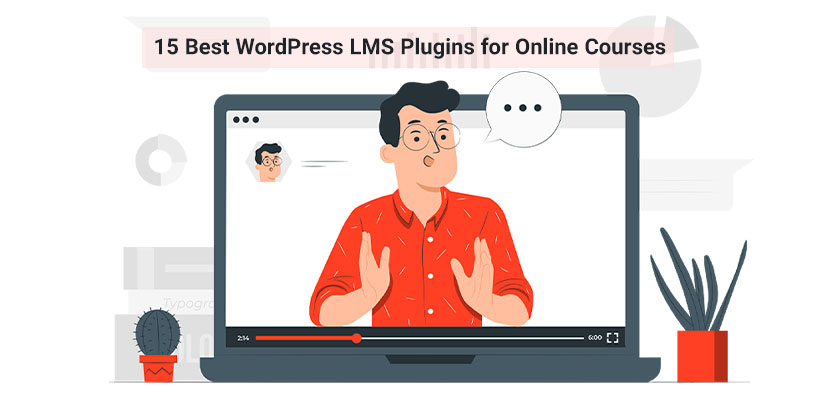 If it's to learn how to create a bot in Python or take your web design abilities to the highest level, online classes are now a common way to improve your life and career without spending a fortune. Furthermore, online education can allow you to accomplish something interesting, like investing in cryptocurrency or even learning Spanish in the comfort of your home.
These websites for video courses are known for making a substantial sum of cash, particularly when they are focused on a particular niche. If you're thinking of putting your personal knowledge online as online classes, your best option is to pick one of the best WordPress LMS plugins.
An LMS, also known as a learning management system, is a system that combines a wide variety of features that allow you to provide the classroom environment without having students go into a classroom. Which plugin is used for the LMS website? It is all dependent on your choice of WordPress LMS plugin, but generally, the tools will allow users to set up classes, distribute coursework as well as enroll students and test the students' performance with tests.
In this article, we'll discuss whether WordPress can be used as an LMS? And introduce the WordPress LMS plugin that can be suitable for your custom WordPress web design.
Which LMS Is Best for WordPress?
We've already spoken about the functions a learning management system can do, but what features should you consider while looking for a WordPress LMS plugin?
Course creation tool, which allows uploading different types of files, including PDFs, video links, and other information. It's essential to have a reliable template for creating a course page. In this way, you can add your courses' content to a template, then click on the Publish button.
Information about the progress of your course to show your students how they're doing. This is essential to keep students motivated and to provide a little bit of an incentive.
Students' enrollment and management to see the number of students enrolled taking your classes and collecting payment in accordance with membership.
Content drips to slowly reveal certain course materials as students advance.
Tests and quizzes for students to assess the extent to which they've learned the subject. A lot of schools utilize exams to determine who's suitable for the course; however, they can also be an excellent way to set guidelines for when the next piece of material is introduced into the class.
BuddyPress and integrations with bbPress allow users to create student profiles and communicate with fellow students and teachers via forums and chats.
Tools for financial marketing come with commission programs, affiliate programs and coupons. The objective is to persuade people to enroll in your courses through incentives and also by spreading word-of-mouth.
Automated email to enhance the incentive by providing students with a more tangible means of seeing how they're making progress.
Great payment gateway support that allows you to be more flexible in your research. It is common to discover that one payment processor may have lower costs or might not be available in your particular region.
Certificates and gamification are rewards that appear when the activity has been finished or after a program is completed. Certificates and badges are typically superior to email confirmations because they can be printed, or just feel happy about them when something is released.
Homework solutions that allow students to submit and grade their process are simple. It's not too difficult to submit assignments via many platforms; however, are students able to return assignments with no problems?
15 Best WordPress LMS Plugins for 2023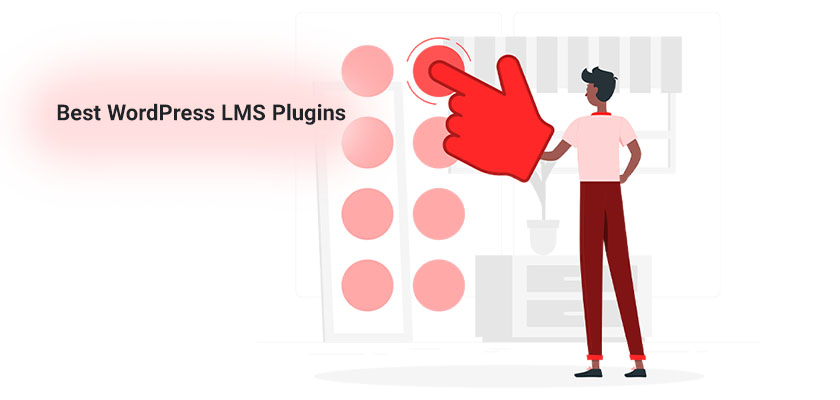 So, picture you want to start an online course with WordPress, you need to buy WordPress web hosting and choose the best LMS plugin for WordPress for free or premium. Can WordPress be used as an LMS? We've already concluded that yes, it can, but which LMS is best for WordPress? We'll go over the top 15 WordPress LMS plugins.
Without further delay, we'll begin with the list.
1. Masteriyo
Masteriyo is the perfect solution to build and sell classes online on a custom WordPress web design. It comes with a simple course builder that allows you to design courses and include sections, lessons, and quizzes with just two clicks. It's a groundbreaking WordPress Learning Management System.
Once your course is complete, you're ready to publish it on your website as an unpaid or free course. You can also choose to make your free courses available only to users who are registered.
Additionally, it includes an in-built order system that consists of checkout and cart. It allows you to offer classes and accept payments directly without relying on eCommerce plugins such as WooCommerce.
2. LearnDash
LearnDash is among the best WordPress LMS plugins. The creation of the most online course for your website's learning content is easy, thanks to this plugin. It also allows you to drip-feed information to your students to deliver content within a predetermined time frame.
You can also motivate your students to be more generous by giving them badges, certificates, points or others depending on their test scores or on their successful completion of the course. Additionally, the sophisticated selling and marketing feature allows simple selling of your courses based on their performance in the quiz or upon successful completion of the course.
3. LearnPress
LearnPress can be considered to be one of the best free LMS plugins for WordPress. You can easily design, manage, and even sell your online courses with this plugin. Although the plugin is free to use, LearnPress offers several powerful and premium-like LMS features. With the premium features, it is possible to improve your LMS website even further.
LearnPress can be used with WordPress multisite, which means you can utilize this plugin on several sites and networks using a single WordPress installation. Furthermore, its LMS plugin is designed in a manner that integrates with all of the WordPress themes to create a stunning learning website quickly.
4. LifterLMS
If you're in search of innovative LMS solutions for creating impactful online courses for your site, LifterLMS is an excellent choice for you. It's an all-in-one drag-and-drop course creator that allows you to make effective courses quickly.
Engage your students through text, images, audio, video, or text-based interactive lessons. Additionally, making interactive quizzes that stimulate learning and assess your teaching effectiveness is simple sailing using this plugin. Additionally, the timer for quizzes feature will ensure that your students are able to master specific classes within a specified time.
5. MemberPress
MemberPress can be described as an effective Membership and LMS module for WordPress. You can quickly build your course's curriculum with the drag-and-drop design of the plugin. It also allows live previewing of your course's contents right within WordPress Customizer.
MemberPress is compatible with every WordPress theme. It is also compatible with bbPress as well as a variety of other WordPress forums plugins. It also offers options like content drip and the expiration of content access, subscription management, as well as other features.
6. Tutor LMS
Tutor LMS is among the most requested WordPress LMS plugins. In just a short period of time, they've gathered an army of more than 50,000 learners who love e-learning. It's packed with exclusive features like the front-end course builder, drag-and-drop courses creator and certificate creator and ongoing development support from the parent company Themeum.
The basic plugin is completely free, and the premium version starts at $149 for a single-site license. You'll also get access to several premium add-ons such as Course Previews, Certificates Multi-Instructor Frontend Course Builder Content Drip and many more. Additionally, you can integrate Google Classroom for robust communication, Zoom for live video classes as well as Elementor to create completely customized courses.
7. Lifter LMS no image
Lifter LMS is a decent alternative to LearnDash; however, the cost starts at $299 annually for a complete LMS bundle. If you'd prefer to purchase add-ons separately, it is possible to save some money as they're all sold at $99. I'm not really seeing the value in this, as three add-ons already bring you up to $299 for the entire package, which contains numerous modules for the same amount.
We do like LifterLMS for its unique integrations with WooCommerce, MailChimp and AffiliateWP. Should you be already using any of the Lifter LMS integrations, it might be beneficial to think about LifterLMS instead of LearnDash. Furthermore, a free 30-day free trial is available, giving you more reason to try LifterLMS before paying full price.
Lifter LMS is also known for its offerings, in which you can purchase a bundle that includes items such as sample courses and quizzes for sample certificates, as well as fully-configured websites on newly bought WordPress web hosting. This is a possibility for people who aren't technically proficient but have the material ready for launch.
The features are mostly similar to LearnDash. However, there are some noticeable distinctions. For example, Lifter LMS includes a graphics pack that includes backgrounds as well as various design components. It also allows you to collect testimonials from customers to help market your classes in the near future. Another reason that the Lifter LMS plugin is attractive for those who are new to the field is its integration in conjunction with Divi or Beaver Builder. Drag-and-drop editors eliminate the need to tamper with code and provide a more visually appealing user experience.
8. WP Courseware
WordPress Courseware is among the more exciting WordPress LMS plugins for a couple of reasons. First, pricing is much simpler than the competitors. Actually, you get an extra two-site license with the least expensive plan, starting at $99 for a year. The demo that you can access on-site is the closest you can receive to a trial; however, it's a stunning layout with actual courses that can inspire you to think.
Additionally, WP Courseware is used by many of the best universities around the globe, including The University of Illinois and the University of Wisconsin Madison. There are also WP Courseware tools on enterprise training websites, such as when you work with CNN and Sheraton.
9. Good LMS
The Good LMS retails at $11, which is also the sole feasible WordPress LMS plugin available on the CodeCanyon marketplace. It's fascinating to note that it's the only one because there is a myriad of other plugins that work in different WordPress categories. The fee of $31 is only for assistance and upgrades for a single year; however, the one-time payment maintains your control over the features of your plugin. This makes it the most affordable premium plugin on this list.
10. Namaste! LMS
While it's not as well-known as the seven previous WordPress LMS plugins in this article, Namaste! LMS is not to be ignored. You can download the basic plugin for free and create an excellent online course without having to invest lots of cash. However, the Namaste!  The premium theme is the one that will be used to create the design. It is priced at $47. Furthermore Namaste! Pro is a premium theme that Namaste! The Pro module includes a variety of options and premium support throughout the year.
For instance, Namaste! Pro gives you choices for badges and awards as well as course and file security. It also allows the use of shopping carts in premium courses and connects to WooCommerce or WP Simple Cart.
11. MasterStudy LMS
Not to be left out, one of the most popular plugins is the MasterStudy plugin. Is WordPress good for online courses? Using the MasterStudy LMS makes it easy to customize and manage the online education WordPress website. It is possible to download the plugin at no cost, and it will be compatible in conjunction with every WordPress theme. However, if you'd like to cut down on time, there is also the MasterStudy Premium WordPress theme that immediately takes this plug-in to the highest step! The theme costs only $25.
12. WP Courseware
WordPress Courseware is an online LMS WordPress plugin that enables hassle-free development of LMS websites through its drag-and-drop interface. It is also simple to alter the appearance and design of your online learning website. Additionally, creating engaging video lessons is simple using this plugin.
It also has an automated drip-content system, so you can plan the release of material as your students move through your course. Additionally, you can award your students with printable certificates after completing the course.
13. Sensei
The Sensei is an excellent choice for novices on a tight budget and who want to develop a professional-looking eLearning website without cost. It's a robust WordPress LMS plugin created by Automattic, i.e., the team behind the well-known WooCommerce plugin.
With Sensei, it is easy to take courses, lessons and tests. It is, however, required that you buy an extension called the Paying Courses Extension in WooCommerce before you can offer your course materials. This extension will not only allow users to make passive earnings but additionally allows you to limit the content of your courses to members who pay.
14. Teachable
Teachable is an independent platform for creating online courses. It's also possible to connect Teachable to your existing website by using the custom domain. It's a fully customizable course creator with powerful editors that allow you to create interactive online courses.
Additionally, it provides coupons and other advanced pricing options for memberships, subscription courses, bundles of courses, and many more. Teachable is ideal for people who wish to create paid courses without the need to build their WordPress website.
15. Paid Memberships Pro
The final item on our top list of best WordPress LMS plugins is Paid Memberships Pro plugin. Don't let its appearance make you believe otherwise. However, it's extremely popular, with over 100,000 active installations and comes with everything you need to create courses using WordPress.
In addition, you'll have to install the free extension that provides the capability of creating courses.
One of the greatest features of this plug-in is its possibility of integration with other LMS plugins such as LearnDash, Lifter, Sensei as well as Tutor LMS. They are all listed in the list, and you are able to make use of these course builders by buying the integration options.
In the end, you'll be able to take courses without the need for an additional LMS. In this instance, you'll be able to utilize the WordPress editor and include anything you want into the classes you design.
The main benefit that this plug-in has is to manage the students who have enrolled. It allows you to track each student and ensure that they have the right access to access the class they have signed up for. For the most part, it will be done automatically.
How to Choose the Best WordPress LMS Plugin?
After we've reviewed our selection of the top WordPress LMS plugins, it's time to select the install plugin that is the perfect fit for your website. To assist you in this issue, we have provided a list of the most important features to consider in making your selection:
The course creator: A tool required to build interactive courses for your website. It is also essential to ensure your plugin permits users to use a variety of formats, including PDFs or images, as well as links or even videos.
Questions and assignments: Making short tests or quizzes is a great way to gauge the progress of your students. The most effective WordPress LMS plugins generally have features like questions and answers, quiz builders or grading that allow you to do exactly that.
Management of students: This feature makes it easy to monitor the number of students enrolled in your online classes. You can also control attendance records, member accounts and payments and registrations.
Content drip: The content drip function lets you limit certain courses and then let them go according to predetermined dates and times. This feature can be utilized as an alternative to a membership plugin.
Certificates: Offering certificates of completion for courses is a fantastic method to show appreciation for your students and keep them interested in your classes. The top WordPress LMS plugins have the ability to create customized certificates for each course.
Payment gateways: The implementation of a variety of payment options will give your customers the flexibility to pay.
Conclusion
In this article, we discussed which LMS is best for WordPress? Can WordPress be used as an LMS? We've identified the top WordPress LMS plugins that offer amazing tools and features to transform the WordPress website into a dynamic learning platform.
Be sure to buy WordPress web hosting to start building a WordPress website in the first place, then go on with using one of the best WordPress LMS plugins mentioned on our list.