20 Best WordPress Booking Plugins to Use in 2023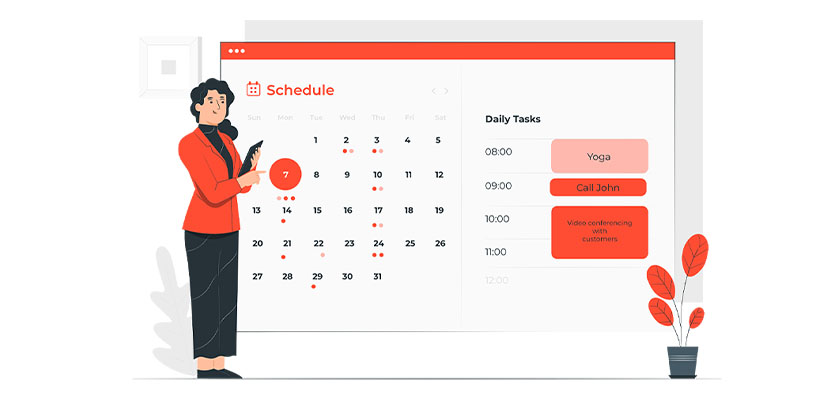 Let's say you are a dentist, and as a dentist, you usually require a booking system in place. It's the same for a visit to your favorite sushi or steak restaurant or making an appointment for a personal training session at the local gym. The past was when a client would need to search for a telephone number, call someone over the phone, then write down the date and time on a piece of paper. The days of paper and pen are over, and it's fascinating to observe the kinds of features that are constantly included in online reservation tools.
If you're running an enterprise that needs reservations or appointments, it is crucial to select the most suitable solution. In this article, we're going to discuss WordPress plugins for appointment booking which you can use on your custom WordPress web design.
What Are Booking Plugins in WordPress?
WordPress booking plugins can be programs that allow businesses to schedule an appointment or reserve space at the time or at the location you have specified. It's an essential component of any company since both clients and employees utilize it.
Service booking plugins for WordPress are available in a range of sizes and forms. Some are as straightforward as a calendar, with built-in forms. But they could become much more complex as additional moving parts are added to the process.
For instance, if you're renting the space for a party or event, it could be your responsibility to decorate, provide the drinks, or supply the appropriate live entertainment. There are many aspects that go into making an appointment.
However, there are instances in which it is all up to the customers to manage all that. So, the reservation system must be strong enough to accommodate the demands of your company's model.
Some free WordPress booking plugins are designed to work with one schedule, while others are able to support multiple. It's about finding the best one for your company.
What Should You Look for in a WordPress Booking Plugin?
One might initially believe that the WordPress plugin booking system is just simply a calendar with an online form; however, it's based on the kind of business that is being operated. For example, gyms may include multiple personal trainers. Each employee requires their own schedule to be posted on the site. However, dental offices may require specific times and provide different kinds of services available.
It is, therefore, important to examine the functions of a WordPress appointment plugin. In this way, you'll get all the functionality you require and the flexibility to do your business.
Here are some functions we've discovered to be most beneficial during our research:
A custom calendar that can be put anywhere on your site.
Mobile-friendly interfaces allow clients to schedule appointments from smaller devices.
Accepting payments for appointments. It's also great to be able to stop processing payments.
Help several "agents" or "service providers." This is the case where each worker has their own profile as well as calendar, for example, for personal trainers or even multiple doctors within one office.
Customers can access areas to check and amend their reservations online.
A searchable and filterable booking management module that is on the side of the WordPress website.
Options for customizing your schedule, for example, eliminating holidays and allowing unscheduled time between appointments.
Reminders and confirmations via email for admins as well as users.
Customized fields and drop-down menus allow you to provide a range of products or services.
You can have your custom WordPress web design with the best booking system with Rackset website design and development services.
20 Best WordPress Booking Plugins to Use in 2023
1. WooCommerce Bookings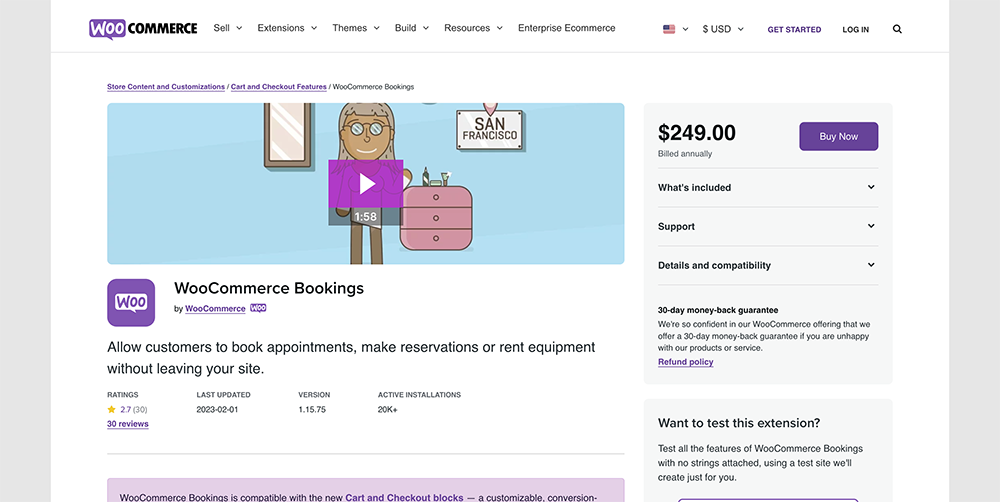 When it comes to WordPress eCommerce, the WooCommerce plugin reigns supreme. One of the major reasons for this is that the base version is free. However, you can also access many extensions to accept payment in a variety of ways. For example, WooCommerce Bookings is one of them. WooCommerce Bookings extension lets you sell bookings based on dates or dates. You can still choose to take bookings at no charge, but the primary reason for you to choose an extension for WooCommerce like this is to enable the payment processing feature.
I'd suggest the idea that WooCommerce Bookings is best for businesses already using WooCommerce as a plugin. But it's also a great, simple extension for anyone who is new to WordPress. It allows WordPress users to choose to keep the basic modern design or alter it using CSS.
After the extension has been active, it provides fields for pricing, descriptions, and titles, as well as an event calendar. You could, for instance, offer rooms for rent for breakfast or bed and breakfast and would like to discuss pricing, rooms and dates that are available. Thus, it can be considered as one of the WordPress plugins for hotel booking as well.
2. WooCommerce Appointments
There's also the WooCommerce Appointments Extension is an additional option that is compatible with WooCommerce. It's a lot like the previous extension; however, the price is lower, with prices starting at $89 per site. The price, however, increases to $220 for more than 25 sites. Assistance and upgrades are offered for the entire year; however, if you don't need these, then it's an all-inclusive fee.
The extension isn't sold via WooCommerce. However, it is sold through BookingWP. The developers are trustworthy and well-known for high-quality products. The extension itself comes with outstanding features, starting by integrating with WooCommerce as well as Google Calendar. In this way, you are able to accept payments from customers and also sync with your previously set up Google Calendar. Bookings and appointments can be taken for free; however, you can also configure your options for charging customers.
3. Bookly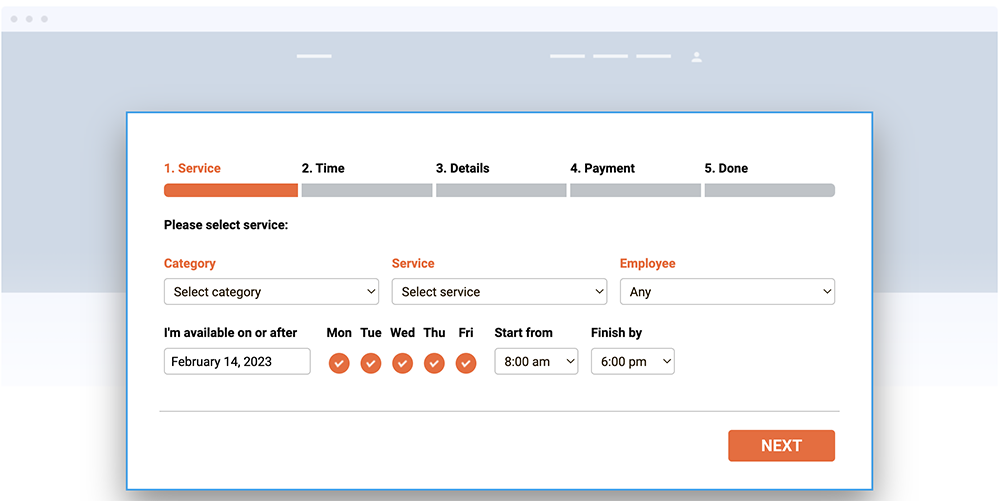 The Bookly plugin is yet another WordPress booking plugin for free and also available in premium. If you're planning to upgrade to the upgraded version, be prepared to pay a one-time cost of $89 (unless you'd prefer to keep paying for support for customers). The free version is a basic booking tool. However, you won't have online payment support or an unlimited number of staff members. Therefore, unless you're taking bookings for free or are accepting free bookings, you should consider the Bookly Premium version will be the best option for you.
In terms of its features, Bookly is the most modern-looking plugin in this list. It's sleek and stylish both on the front and backend and allows you to customize various aspects that make up the form without having to know the code.
Booking forms are fully customizable and flexible. It offers multiple options for both customers and admins. Additionally, Bookly has a module that allows for the creation of unlimitable staff members, which allows each staff member to create exclusive pricing and availability. For instance, gyms could use this feature for a team that includes personal trainers.
4. Booked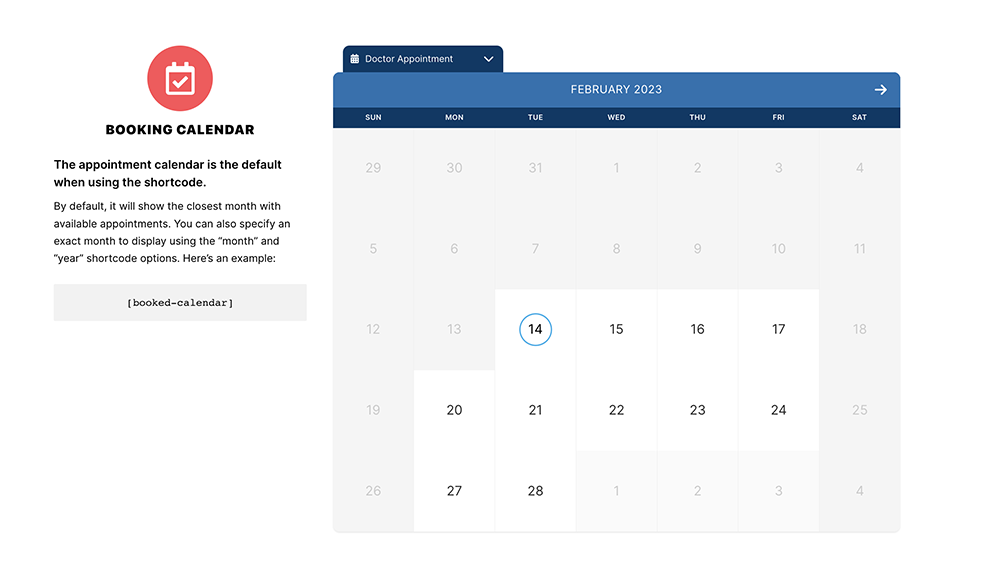 If you are planning to buy a WordPress web hosting service, you need a WordPress plugin booking system that is premium and takes care of the business. The types of bookings that are allowed are booked bookings that are paid, guest bookings, and registered reservations. You are able to display your time slots in the form of a list view or calendar and translate the information into different languages. Furthermore, you are able to assign calendars to specific people within your organization. You could, for instance, have personal trainers who require their individual calendars. With several calendars, each user can build some sort of personal profile to make them stand out to potential clients.
5. Booknetic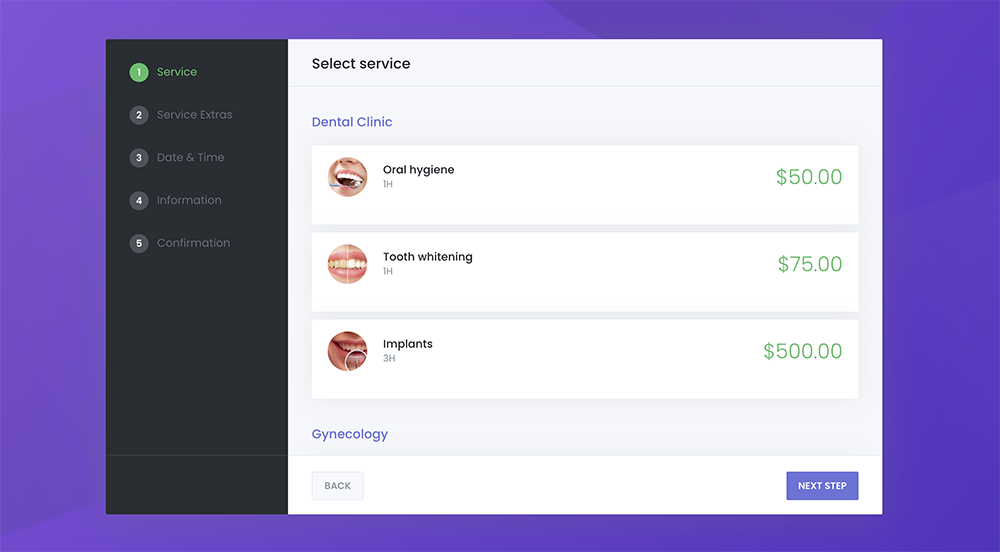 Booknetic is an advanced appointment booking software that is suitable for various industries, including beauty, fitness, medical and law, as well as education and many others. It even works perfectly fine with a custom WordPress web design. Its simple-to-use front and back-end and the latest features are a huge help for companies that aren't able to afford premium software. Different integration channels enable users to completely automate their appointment bookings and establish the flow of your business.
Fully customizable features help to manage your schedule. Multiple device compatibility means that appointments are made or changed at any time. Drag and drop builder allows you to customize this booking screen, alter the order of the initial steps, make changes or delete the extra steps to make your own ideal booking panel.
6. Bookings for WooCommerce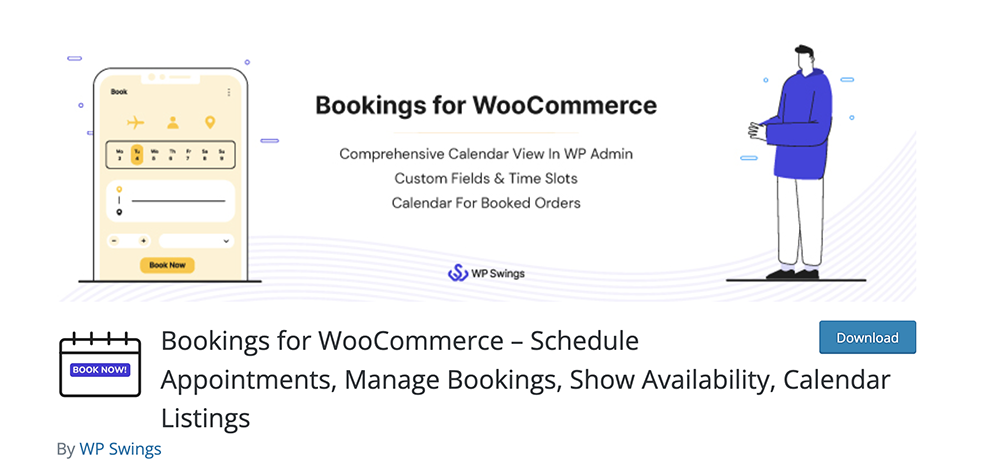 Bookings for WooCommerce lets you accept reservations on your site with WooCommerce. It offers all the benefits and flexibility that come with using the most well-known e-commerce platform, which includes a wide selection of payment options and also the ability to sell additional items.
By using Bookings with WooCommerce, it is possible to sell booking-able items such as holiday rentals, rental of products venues, rental of the venue, and rentals. Users can pick an end and start date with separate calendars. Additionally, you can define the period that you book as daily, nightly or weekly. You can also specify that bookings start on specific days during the week – essential when you rent out your property on specific dates. It is also possible to define buffer times at the beginning and the end of each rental, making sure that the bookings don't overflow and that you are prepared for any changes.
Other features include the option to set prices at various times of the year. Perhaps you'd like to charge more at certain times or lower the amount during quiet periods. You can also mark dates as unavailability just in case you'd like to get away for a while yourself. You may also offer discounts on bookings that exceed an amount of time – for instance, you can book the first week at fully priced but the second week at half price.
7. Booking Calendar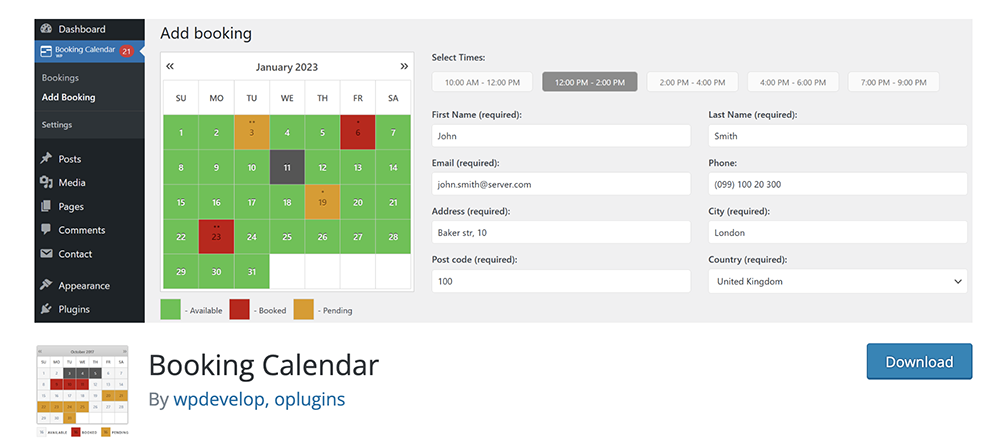 Booking Calendar is one of the oldest booking plugins available for WordPress, and the user reviews confirm that it hasn't faltered in its development quality throughout the many years. The basic plugin is completely free and includes all the features that an average small-sized company would require. You can, however, change to any of the more expensive business plans starting with a cost of around $60 for a single website. The pricing can get a bit complex. If you look at the pricing page, you'll find 5 plans available for Single Sites and five Plans for Developer Sites and Five plans that are for multi-site.
In addition to the confusion over pricing, the sales site isn't easy to comprehend. It's an extremely powerful plugin; however, it can be a pain trying to figure out what features are included in which package.
In any case, some of the main features to be expected in the Booking Calendar plugin include automated email notifications when users book their reservations and require reminders. A unique feature is an option to create an open time frame for the duration of a specific number of days. This allows you to accept multiple double bookings and then shut off the option to determine who you want to accept in the timeframe. I love the way the calendar lists the available as well as booked and waiting dates on the frontend for one month.
8. Amelia
Its Amelia plugin is an easy-to-use but powerful booking agent, available 24 hours a day to ensure your clients can book appointments and pay online or offline. This WordPress plugin is free, which is ideal for small-sized businesses. For larger companies, it is possible to purchase a paid edition of this plugin. The Lifetime License is also offered and starts at $189 for a single domain.
Amelia offers a range of features built-in to the price that is fixed for life that is unlike anything else product available. It has SMS notifications that let you stay in touch with your employees and customers, and Google Calendar Synchronization lets your employees keep track of their appointments within their personal Google calendar, just to name some. It's got a clean, sleek, modern look both on the front- and back-end. The design can be customized and will match the style of your website like an integral element that can be added by an easy shortcode.
9. Booking Calendar – Appointment Booking System
It shouldn't come as a surprise that these plugins for booking have similar names. This WordPress plugin booking system is known as Booking Calendar. It is good to know that they have added an "Appointment Booking System" tag to make it easier to distinguish. The main plugin is completely free and has many features to help you begin using it. It includes, for instance, unlimited booking forms and widgets to reservations calendars. It also allows for a lot of flexibility in modifications, including options to change the date formatting, alter the reservation fields, and more.
10. Appointment Booking Calendar
The Appointment Booking Calendar plugin features two unique elements. First, it's one of the few WordPress booking plugins that have the option of a no-cost PayPal integration. There's also a premium version available. However, only for those who want to eliminate the PayPal link as well as gain additional features, like coupons. The Professional version is priced at $49.99.
Another reason why the Appointment booking calendar plugin is unique is the fact that it is used to show a list of time slots, as opposed to a complete calendar of options. It's still possible to display a calendar on your site; however, one of the main functions is to eliminate days that aren't accessible and to show the time slots that are most suitable for your needs.
11. Team Booking
As you've probably seen, the majority of WordPress appointment plugins can be fairly inexpensive, even if you choose to purchase premium versions. In ideal circumstances, everything is completely free; however, in general, most businesses require a premium version to access the added features. This is one reason we love this Team Booking plugin. It's priced at the low price of $28 and lets you connect to PayPal or Stripe to process payments.
The team Booking plugin packs plenty of features that are comparable to top alternatives on the market. The plugin comes with three built-in formats: one that has a standard frontend calendar for booking, another one for services that are not scheduled (like help tickets), in addition to a final one for upcoming events that will update the Google Calendar. The calendars are contemporary in appearance as well as the builder for forms can be used to add multiple fields and collect data from your customers easily.
12. MotoPress Hotel Booking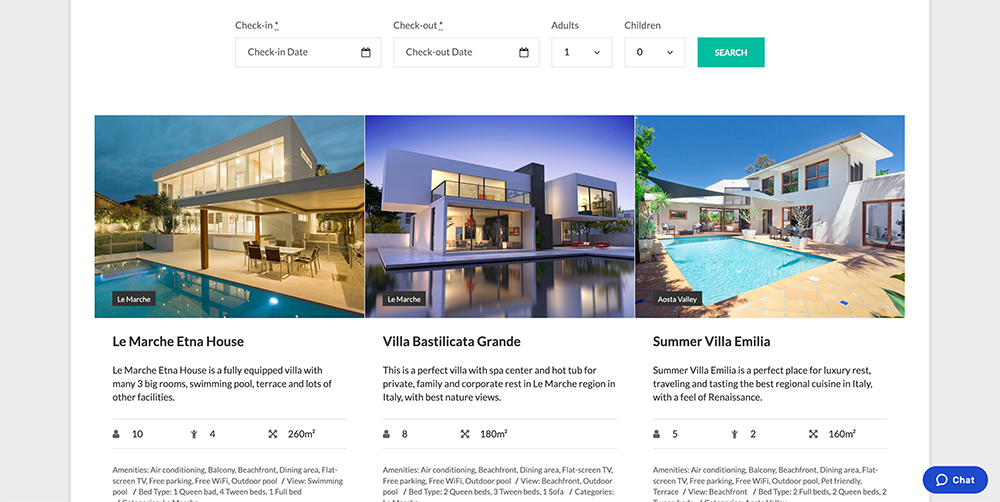 MotoPress Hotel Booking is an ideal WordPress plugin for hotel booking, as the name suggests. It allows online reservations, as well as creating calendars of availability in real-time for each hotel, processing online payments, and automatically connecting booking calendars to the most popular OTAs, etc.
You can provide a description of your accommodation or rooms. You can also add additional services or facilities that are accessible for reservation. Setting flexible price rates such as seasonal prices or refundable/non-refundable rates, weekly or monthly rates and variable pricing (varying the price depending on the length of stay or the number of guests) is also ensured by the plugin.
MotoPress Hotel Booking permits site administrators to manage incoming reservations via the backend and choose a preferred confirmation method for them. The admin can confirm reservations by hand or force guests to confirm reservations via email or payment. Payment gateways available: PayPal, 2Checkout, Stripe, Braintree, Beanstream, and Pay on Arrival.
13. Salon Booking System
Salon Booking System plugin is an application designed to cater to the demands of salon owners, barbershops, hairdressers, nail salons, beauty center salons, and other similar businesses. This plugin is an ideal solution for professionals who offer their services with reservations.
It comes with an extensive range of reminders and notifications options that use SMS and email. Integration with WhatsApp is in test in the beta phase. It's fully integrated into Google Calendar in such a manner that reservations made through the website are instantly posted on your calendar as an owner of the business. The salon's staff members are notified of forthcoming reservations via a variety of methods, including email, SMS as well as through the salon's Google Calendar.
Salon owners can create reservations via the plugin's back-end calendar or by using the Google Calendar account. Salon Booking System is equipped with additional options; for instance, there is a sophisticated discount system that allows for the creation of coupons or discounts that are automatically applied when certain requirements are fulfilled during the booking process.
14. CM Booking Calendar

CreativeMinds Booking Calendar plugin allows users to schedule appointments right from their site. Particularly, the administrator user can set up multiple calendars that have different time slots times, choose the number of seating for every event, create custom booking forms and then moderate each request.
One feature of the benefits that the CM Booking Calendar plugin provides is the capability to design responsive front-end calendars that can be placed on blogs, pages, or anywhere else you'd like by using the use of a shortcode.
15. Booking & Appointment Plugin for WooCommerce
The Booking and Appointment Plugin for WooCommerce from Tyche Softwares will transform your website into a complete booking platform that caters to all kinds of businesses and products if you own an exercise center, salon, hotel, the rental of sports equipment or even a food service business.
Bookings can be made for any WooCommerce kind of product, be it a simple variable, group or bundle. You have complete control over the admin over the dates to be made available and the charges to be charged for a specific day, the number of days or hours products can be booked, and even limiting the number of bookings that can be booked for a specific date.
16. Simply Schedule Appointments
Simply Schedule Appointments is a beautiful and simple WordPress booking plugin designed for companies that run on optimized WordPress websites. It offers a no-cost version and three versions that are premium that includes access to additional features, as well as exclusive integrations. The premium editions begin from 99 dollars (Plus Edition) and include features such as Google Calendar sync, custom fields for your booking forms as well as integration with Mailchimp, and the ability to schedule classes and group events.
Simply Schedule Appointments is designed to offer WordPress websites an easy method of adding and managing their appointment scheduling online. This is evident in their wizard for setting up that guides you through creating your booking form and putting it on your site within just five minutes. In addition, all of their options (including their free version) incorporate the most popular page builders such as Elementor, Divi, and Beaver builder, allowing WordPress users to drag and drop along with style and modify their booking forms to match the design of their website.
17. Sugar Calendar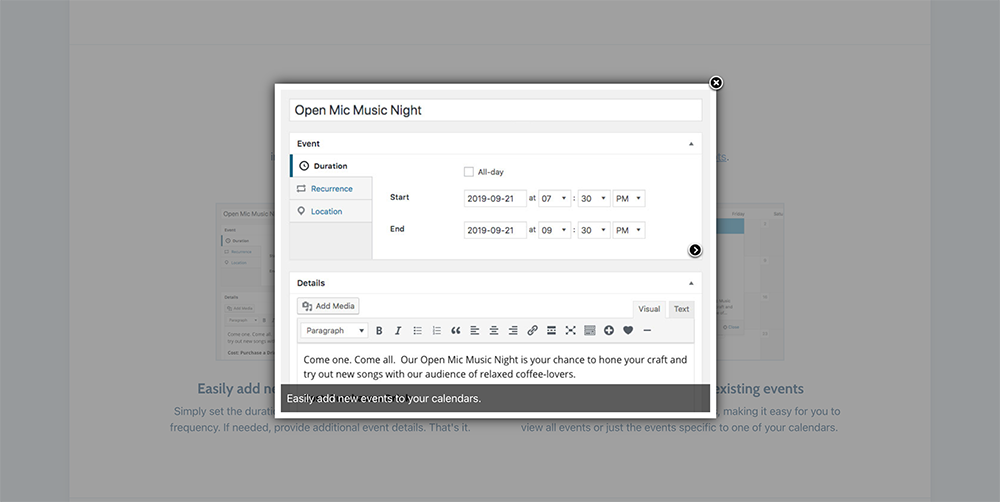 Sugar Calendar is a powerful calendar and event management plugin for WordPress. It can be used to create calendars of events to schedule appointments, make appointments, take payments, and more.
What makes the Sugar Calendar so great is that it's simple and fast to use. In contrast to other plugins, it's not overloaded and works extremely well in conjunction with different plugins. Additionally, the interface for users is user-friendly and has a wide range of possibilities for customizing.
You can, for instance, select the format of dates or time zones. You can also schedule regular events and much more. It's also simple to display the calendar on the front of your website so that customers can book appointments.
Sugar Calendar event syncs with your Google Calendar to help with your workflow. Sugar Calendar can be connected Sugar Calendar with other WordPress form builders plugins, such as WPForms and Ninja Forms, to harness the full potential of event builders and form builders.
If you're looking for a way to create single events or repeating occasions, Sugar Calendar is the software for you. It allows you to create an easy-to-use event calendar without having to edit code. It also provides excellent support for timezones and works with every device, and comes with calendar widgets and everything else you require.
18. WPForms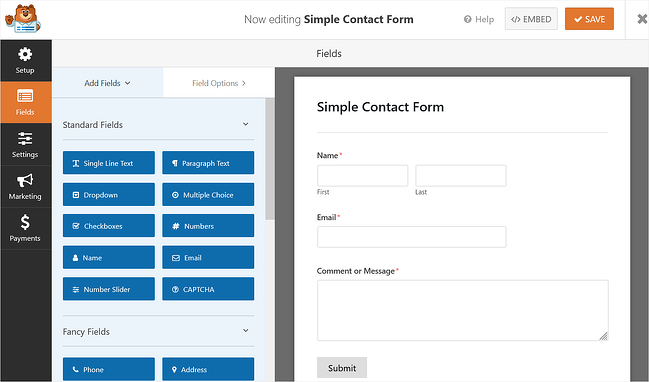 WPForms is the top WordPress Contact form plugin. More than 5 million websites utilize WPForms for creating smarter online forms.  It includes a beginner-friendly drag-and-drop builder that lets you easily make any kind of form in a matter of only a few minutes. Additionally, you can download more than 400 templates to help you get started.
With WPForms, it is easy to build a booking form using WordPress to make appointments. There are also a variety of fields that you can fill in to customize. Drag and drop them on top of the template and then modify them further.
The greatest benefit is the fact that WPForms can be connected to Google Calendar via Zapier. This means you can maintain your Google Calendar in sync with every appointment scheduled using the form. In addition, it effortlessly connects to Sugar Calendar.
19. BirchPress
BirchPress is a complete WordPress booking plugin. It allows you to integrate an efficient web-based booking system on your WordPress website. By using this plugin, you are able to build booking forms and choose various fields to add.
Your customers can book appointments through your website and pay with your PayPal account or credit card. In addition, it can also support other payment gateways via WooCommerce integrations.
BirchPress integrates your booking calendar with other calendars like Google Calendar, iCal, Android, Outlook, and others. It also has an email notification system and reminder system that keeps your clients and you about their bookings.
20. Easy Appointments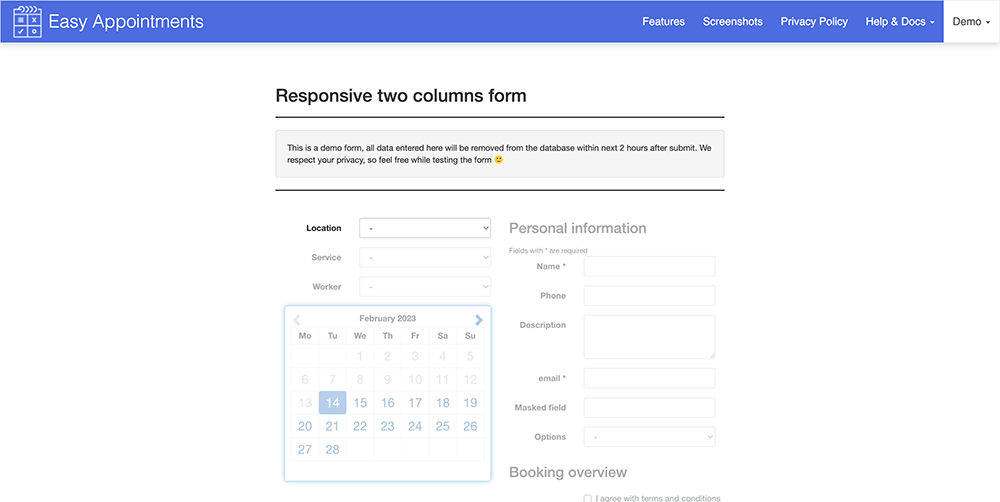 Easy Appointments is a versatile and cost-free WordPress appointment booking plugin for WordPress. It allows you to add multiple locations, services, as well as workers. Then, you can build flexible connections using flexibility in the control of the calendar. Additionally, you can alter the form for booking by adding your own fields to the form.
It is easy to include an appointment-booking form on any post or page with the help of the shortcode. You can also modify the emails that the plugin sends out to customers, workers, clients, and website administrators.
Conclusion
This was our comprehensive deep look at how to find the top WordPress booking plugins to use on your site. We've compiled an almost universal list of factors that you can use to help you choose the best appointment-booking software to use on your WordPress website. It's not a secret that if you're not on the internet, there's a lower chance that people will discover you. Why not begin today and get your website up and running? While you're there, consider adding an online booking tool so that your customers can make reservations online as well.