What Is Content Management System?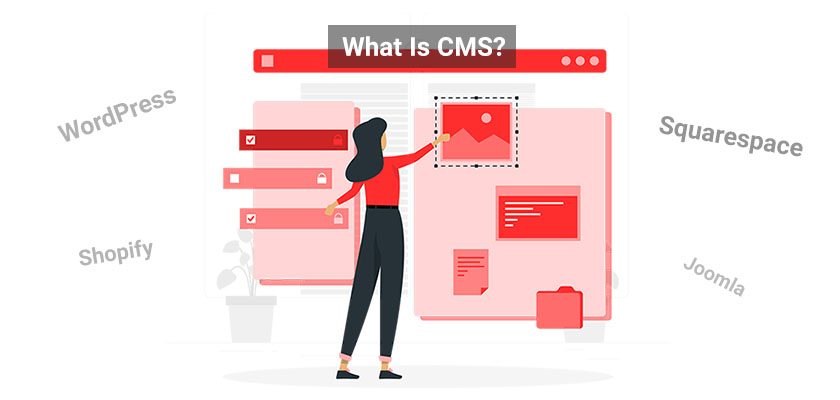 A CMS or content management system is a type of software application that is run in browsers. It gives users an interface which allows them to build and manage websites without the need to code them from scratch.
What is CMS (Content Management System)? A CMS allows you to personalize your web design by downloading and editing existing templates and extensions. The functions include the management of content and modifying images, as well as the creation of web pages.
Many content management systems are accessible on the internet every one of them has its own strengths and flaws. Let's look at the most well-known options to determine the best choice for your needs. Keep in mind to choose the best platform to host your website which increases the performance of the CMS that you are installing. WordPress is the most popular CMS which is used on more than 50% of websites and our WordPress VPS Hosting helps you to have the best experience of your WordPress website or any other content management systems.
In this article, we'll discuss what is content management system in web development and finally introduce some of the best CMS platforms.
What Is a Content Management System (CMS)?
So, what is a CMS? CMS (Content Management System) is a software that continuously manages the content on websites. It's a program on computers that permits publishing, organizing and editing content on websites via an interface for users. This can include the addition of text, image galleries, videos, blogs, and more. The first CMS systems were developed in the early 90s on. Through CMS, websites can be maintained with no technical knowledge because communication with the code is very minimal.
There are two fundamental elements that comprise the CMS. The first one is the CMA (Content Management App) which is a user interface that is front-facing that allows users to manage a website without the involvement of web designers. Web designer. The second one is CDA (Content Delivery Application) which compiles the code and displays all modifications on a site.
A modern CMS system can be customizable, i.e., it is made up of smaller units (modules). Each module performs a particular role, and users can incorporate the modules he/she requires. This is a method of improving the flexibility of CMS to cater to different types of online marketing.
The most well-known Content Management System software includes WordPress, Joomla!, Drupal and Expression Engine. WordPress began as an online blog platform but has been refined since and is used on all sorts of sites. WordPress is the most used CMS system and also has the most active group of users. This has resulted in numerous themes and applications for WordPress, which make it flexible and extremely customizable. This powerful CMS needs to be run on a powerful WordPress VPS Hosting to see the most result, uptime, speed and quality of your WordPress website.
The Key Difference Between WCM and CMS
From a bird's-eye from a bird's eye view, a content management system (CMS) is an application for computers that manage digital content that supports several users in a cooperative space. Different from WCMS is that it handles content that has clearly defined the ownership of photos, documents, films, phones, numbers and information points from a scientific perspective.
It's vital to know that there's a dilemma in the industry about the differences between CMS and WCMS. Both are frequently utilized interchangeably since there are numerous similarities between them. But the thing is that a content management system (CMS) typically contains WCMS components and creates grey areas to differentiate the differences between WCMS as opposed to CMS. How can you identify the main difference between web-based content management systems (WCM) and content management systems (CMS)?
Management of a site and managing content is often done in tandem, but they can also be performed separately. In this regard, you can think of a Web Content Management System as the child in the middle of Web Management Systems (managing a website) in addition to Content Management Systems (managing content). Through a WCMS along with a CMS, you can develop publications, publish, as well as distribute your content to various devices. With a WCMS, it is also possible to manage the website or websites themselves, not only the content. Zesty.io can be a good example of a headless, decoupled WCMS.
In general terms, an internal or external CMS includes features to manage web-based content, whereas a WCMS utilizes these features and expands them to various areas, like:
Collaboration
Digital Asset Management
Management of workflows / Business process management
Web Content Management
Knowledge management
Document imaging
Document management
Records management
What Is Content Management System in Digital Marketing
It's time to get down to the basics. The simplest definition of the term "CMS" means CMS is a system that manages content. It's typically described as a software platform offering the necessary procedures to control workflows within a collaborative environment.
A typical CMS makes use of an application that runs on a server like PHP (originally meaning Personal Home Page) to pull the "content" from databases like MySQL (My Structured Question language, which serves it in a dynamic manner to your site). The CMS will employ the same method to let you upload content, edit the content, and also add or remove features to your site via what's known as an administrative back-end.
The benefits it offers to beginners or the average user become evident. The features, usability, and ability to customize the CMS (Content Management System) will differ between platforms. One that follows, but generally, they are constructed in a way to permit a person who has very little or no experience in coding to publish content independently.
This software provides users with a rich soup that is filled with delicious component morels like templates, editable content that is easily edited and different languages, as well as collaboration, content syndication workflow management, and many more plug-ins, upgrades and modules. Here's a list of the best CMS platforms available for you to launch a new website.
10 Best CMS Platforms to Build Your Website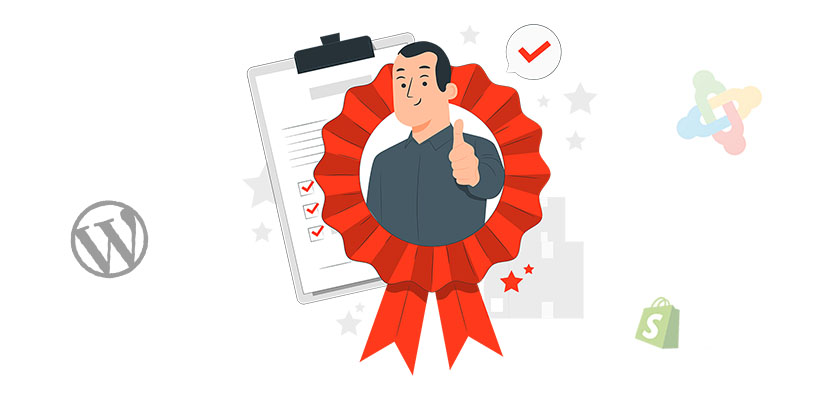 With the perfect CMS platforms' features, here are the top 10 CMS platform examples, along with their pros and cons, as well as the kind of business they're ideal for.
1. WordPress
WordPress is an open-source, well known Content Management System in the web development world that powers 34,896,678 live websites around the world, which accounts for 40% of the market share. Numerous websites across the world make use of it, including major players such as The Walt Disney Company, Guggenheim, TechCrunch, and BBC America.
Pros of WordPress
    The first and most important thing is that you can easily modify hundreds of themes and plugins to meet your specific business requirements.
    Simple and consistent codes allow Google to crawl and help get high rankings in search engines.
    Simple to make use of. Even those with no HTML skills can create and edit content using WordPress.
    You benefit from adaptive web-based technology.
    Integration is seamless with social networks.
    You are able to easily include new features, modify your site's appearance and update your content from anywhere.
Cons of WordPress
    WordPress can be a challenge for novices. Particularly, maneuvering within the admin panel is a learning curve.
    Since WordPress is a hacker's paradise, you must be on top of the latest version updates. A single error in updating could make you vulnerable to new types of hacks.
Which businesses should be using WordPress?
Any company can make use of WordPress, like service-oriented companies, tech-focused start-ups, as well as retail stores or news magazines. However, eCommerce websites need special plugins like WooCommerce.
Here in Rackset we help you have a great experience of a WordPress website design proper to your field of activity.
2. Squarespace
Squarespace is the main source of more than 2,927,000 websites across the world and is a great CMS platform for novices. It is also popular for creative professionals who use it to display their portfolios. Etsy, UberEatEats, StyleCaster and DoorDash are among the companies using it. Squarespace CMS has a market share of 4.4%.
Pros of Squarespace
    Squarespace is a drag-and-drop site-building platform that doesn't require any installation on hosting servers.
    The CMS comes with built-in SSL certificates along with support, as well as other functions.
    Squarespace offers modern, clear templates that are simple and elegant at the heart of its design.
    Its enterprise CMS is simple to use. The CMS also has tutorial videos in case you have any issues.
Cons of Squarespace
    Squarespace does not offer as many customization alternatives as WordPress. Therefore, if you're a well-established business that needs a customized website, Squarespace could not be the right CMS suitable for your needs.
Which companies should utilize Squarespace?
Squarespace is perfect for artists, photographers, designers, or musicians looking to build an online portfolio site. Restaurants, online stores and service providers who need a simple site to market their company can also make use of it.
3. HubSpot CMS Hub
HubSpot has developed the CMS hub to help marketers and businesses who wish to improve their sites to increase their conversion rates. Because it's built on HubSpot's CRM platform, HubSpot CMS hub comes with all the sales automation, marketing automation service, and operational tools needed to expand your business or manage your website.
Pros of HubSpot CMS Hub
    HubSpot CMS Hub can be simple to use. It is possible to master it even with no HTML understanding.
    You can tailor your website pages to attract specific users with intelligent content features on the website platform.
    The serverless capabilities, customizable themes as well as command-line tools allow you to modify your website as you wish.
    The security features built into HubSpot CMS hubs, such as an international CDN and a web application firewall, make sure your website is safe from cyber-attacks of all kinds.
    It is possible to seamlessly connect HubSpot CMS hub with a sales CRM as well as email marketing tools to simplify your workflows.
Cons of HubSpot CMS Hub
    HubSpot CMS is limited in terms of themes and plugins, making it unsuitable for websites that require more customization, for instance, eCommerce.
Which businesses should make use of HubSpot CMS Hub?
HubSpot CMS is a good choice. HubSpot CMS is ideal for companies and marketers that need simple websites. Other CMS platforms such as WordPress, Drupal, and Joomla are better options for dynamic websites. Each of these platforms can have the best performance which is based on the platform that you choose to host your website. Our VPS Server Hosting services can host your website using each of these platforms and make it to reveal the maximum performance.
4. Wix
Wix is one of the best CMS platforms, and it's the powerhouse behind more than 7 million active websites around the world and accounts for 90% of the overall CMS market. Wix's CMS platform is perfect for those who want an all-in-one platform for building their own website completely from the ground up.
Pros of Wix
    It is easy to build and modify websites using the drag-and-drop web page builder.
    CMS is a great platform for creating and managing websites. CMS platform comes with a fantastic selection of fully-responsive templates that are pre-designed.
    You can always improve your website's performance by integrating apps that are available on the Wix App Market.
    Wix has strong protocols that protect your website from cyberattacks around the clock.
    With a 99.98 100% uptime, Wix is an exceptionally reliable content management system in the digital marketing industry.
Cons of Wix
    It is impossible to change to a new template on Wix after you've picked one. This means that there's no way to go back in case you select the incorrect template for your site.
    Wix's free edition isn't suitable for building websites with high functions, such as the eCommerce site. Even with the paid plan, you will be able to accept payments through Authorize.net as well as PayPal.
    Data download and export aren't easy with Wix.
    The ability to customize is not as extensive in Wix and could require assistance from developers.
Which businesses should make use of Wix?
Wix is ideal for solo entrepreneurs and small companies. If you're looking to develop an eCommerce website, you might want to look at other CMS platforms such as Shopify as well as WordPress. So, if you are asking yourself what a content management system is, Wix can be a good answer. However, it's not ideal.
5. Joomla
If you own an eCommerce store and are looking for more flexibility, Joomla is the best option. It's also an excellent choice for web developers because it has powerful tools which can be used to create feature-rich websites.
About 1.5 million websites are currently using Joomla, which accounts for 2.6% of the CMS market. Even though Joomla is less popular than WordPress, the two companies have many commonalities.
Pros of Joomla
Joomla is a flexible platform that offers many choices. This is why it's the best choice for those who want to personalize their site.
 Although Joomla is a great tool for programmers, people who do not have programming skills can also benefit from it.
Similar to WordPress, Joomla is open-source and has huge community support.
It is extensible and adaptable and the ideal fit for eCommerce stores. So, if you are asking yourself what is a content management system in digital marketing, the answer is

Joomla

.
Joomla is a popular web-based application known for its SEO-friendly features and mobile-friendly support.
By using Joomla, users are able to efficiently manage a site with thousands of pages that are subdivided.
Cons of Joomla
Joomla isn't as easy for beginners as WordPress. Even the most avid Joomla users will acknowledge it is a CMS platform that can be a bit complicated and requires an expert developer to assist you.
There could be problems with compatibility when you use a number of different extensions and modules.
Which companies should utilize Joomla?
Similar to WordPress as well, any business can make use of Joomla to design and build its website. It's best with professional websites that are managed by multiple individuals. So, what is the content management example of Joomla? An example of this is the official site of tennis legend Roger Federer, which displays his resume, news portal, as well as shops.
6. Shopify
With 3.7 million websites that are live and having a 4.4 percent worldwide CMS market share, Shopify is now a leading player in the eCommerce sector. Numerous popular websites such as Penguin Books, SkyMall, and Fashion Nova are built on Shopify, which makes Shopify one of the most well-known CMS for eCommerce.
Pros of Shopify
    Shopify is a completely hosted CMS platform. That means there's no need to purchase the hosting service, install any software or worry about updates or backups.
    The simple drag-and-drop interface makes it simple to create, edit, or manage your websites with Shopify.
    Shopify's integrated payment service lets you accept payments by debit and credit cards. PayPal is another option available on Shopify. The PayPal option is accessible on Shopify.
    Many themes and extensions are available in the Shopify Marketplace. It is also possible to purchase third-party Shopify applications to add more features to your site.
    Shopify's specialists are available all hours of the day via the live chat feature, via email, telephone and Twitter. A wealth of documentation and forums online are also accessible.
Cons of Shopify
    Shopify could increase the cost of your website, in particular, if you plan to incorporate third-party apps on your site.
    Certain limitations apply to Shopify.
Which companies should utilize Shopify?
It is ideal for building eCommerce stores and isn't the ideal choice for other websites, such as portfolio websites, corporate websites or media publishing.
7. Sitecore
Sitecore CMS empowers you to promote your product in the context of recent and previous interactions with customers. It will also provide a customized and relevant experience for the customer of your business.
If you're in search of more traffic to your website and a more user-friendly experience, then you need to consider one of the platforms on this list of various CMS platforms that include Sitecore. It is a blend of commerce, content and personalization. Therefore, it is the best solution for companies looking to provide a smooth customer experience across a variety of channels.
Pros of Sitecore
    The management of large websites is simple to manage large websites in Sitecore since it features an easy-to-use interface.
    Our integrated suite of online marketing tools can assist you in managing efficiently and improving your websites and content.
    The useful features of Sitecore features, such as a/b tests and email integration analytics and reporting, along with user profiles, can help you gain insight into your website's interaction and the behavior of visitors.
    Sitecore is a smart platform with intelligent elements and cross-browser compatibility that ensures your site can run in any browser.
    You can design marketing campaigns that automatically respond to actions taken by visitors to your site in Sitecore.
Cons of Sitecore
    Sitecore is costly when in comparison with the other CMS platforms.
    You're not getting the same amount of support, community and current documentation you get on the other CMS platforms.
Which businesses should make use of Sitecore?
Sitecore is a great choice for large-scale businesses with large budgets. The telecom firm Huawei is a great model.
8. Kentico
Kentico is a cloud-based CMS platform that provides an array of powerful tools for creating, revising and updating the content of your website. The enterprise Content Management System includes an online GUI that allows you to publish content quickly across a variety of digital platforms. Additionally, it comes with an impressive set of marketing tools to increase the reach of its audience and engage with users.
Publishers utilize Kentico to ensure that they have control over their content. It is also possible to use Kentico to build an international website with multilingual content and reach out to new markets with Kentico.
Pros of Kentico
    Kentico can be used to manage and publish multiple blogs and allow users to create new blogs.
    Kentico can also assist you in establishing social networks.
    The most recent security protocols and backup tools from Kentico make sure that the data on your sites are secured.
    Kentico's lead scoring feature gives you insight into the journeys of visitors and their behavior.
Cons of Kentico
    Kentico has a slightly higher cost than the other best CMS platforms.
    Working using Kentico can be a challenge, particularly if you're a newbie.
Which companies should utilize Kentico?
Kentico is ideal for the creation of large websites that can be multi-functional. Skype is a great illustration of a website built using Kentico CMS.
9. Drupal
Drupal CMS platform powers more than 500,000 live websites around the world and includes a number of university websites as well as big names such as The Economist. If you're looking for a custom, dynamic and bespoke website and have the ability to hire top designers, Drupal is a great alternative. It is important to note that the majority of high-traffic websites are made using Drupal.
Pros of Drupal
 The creation of content is much easier with Drupal because the custom content types it offers are flexible and give you a wide range of choices.
Drupal comes with a number of modules you can integrate into your site to improve its capabilities (these modules function like WordPress plugins).
As with other CMS platforms such as Joomla and WordPress, Drupal also enjoys active community support.
Drupal facilitates user management thanks to its built-in system, which allows you to define new roles as well as define the rights they have.
Websites built with Drupal are not as vulnerable to security threats because the CMS platform runs security tests frequently.
Drupal also comes with built-in modules that will enhance the functionality of your website.
Cons of Drupal
    The appearance of your website or the addition of new functions in Drupal can be a challenge.
    The majority of Drupal websites feature highly customized themes designed by a programmer, which can be costly.
    You'll need a solid understanding of knowledge of CSS, PHP and HTML expertise to use Drupal.
    Upgrades and maintenance in Drupal can take time.
Which companies should utilize Drupal?
So, what is a content management system in digital marketing? The same question can be asked, what is a CMS? Every digital marketing business, as well as web development websites, can benefit from Drupal. However, it is most effective for teams that have a lot of technical skills to develop massive websites.
10. Contentful
Since it is an API-centric content infrastructure platform, Contentful can be user-friendly and provides the most enjoyable CMS experience.
It is possible to store any type of data, from text to images. It reduces development time and delivery time and allows you to provide new experiences to your customers on a regular basis.
Pros of Contentful
    Contentful is a great tool to save 100% of your content and then distribute it to any platform online.
    The UI extensions, as well as a powerful text editor from Contentful, allow you to edit and create content on your website.
    Highly efficient APIs allow users to work with software without complications.
Cons of Contentful
    Contentful has a very steep learning curve and requires a lot of technical expertise to make content.
Conclusion
What is CMS? What are content management examples? What are the best CMS platforms? What really does a Content Management System software do? These are some of the questions we answered in this article. Content management system (CMS) can allow you to build and manage professional websites with no technical knowledge and at a low cost.
In addition to its affordable pricing, the main benefit of CMS is that CMS is the possibility to personalize it. With pre-designed template and extension options, you'll be capable of choosing the design and features that will best meet your requirements. To have the best experience with your website using each of these CMSes, a VPS Hosting would be the best choice for hosting your online shop.