20 of the Best WordPress Plugins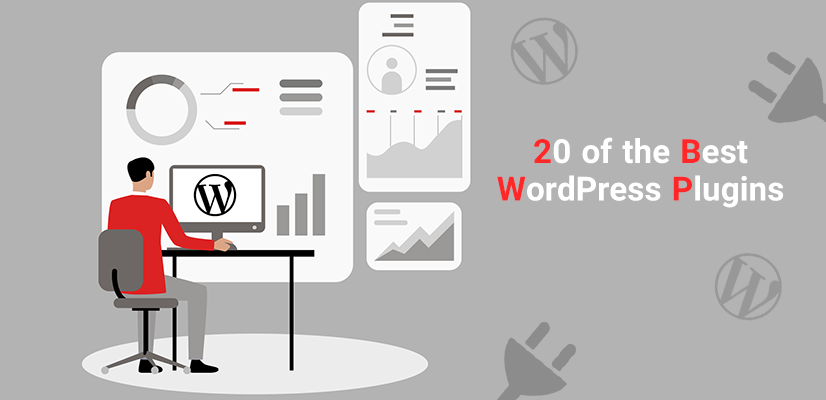 WordPress is an open-source content management system, and it currently powers 36% of websites on the internet. Since WordPress is open-source, many developers from across the world can work on it and either add or remove functionality to it. Sometimes, these changes can be done via plugins. There are thousands of plugins in the WordPress repository, but what are the best WordPress plugins that you can install and won't affect your WordPress website design?
Before we introduce the best WordPress plugins, you should know that plugins are created and written differently. By installing more than a certain number of plugins on your WordPress website, they may cause conflict with one another, which could ruin your website. Thus, try to keep the number of installed plugins to a minimum so that your WordPress website design won't be affected.
Best WordPress Plugins
Without further ado, let's begin introducing some of the best plugins that you can install on your WordPress website to either add or remove functionality.
1. weForms
If you would like to create gorgeous forms without knowing any programming language, weForms is the right plugin for you. weForm has a form builder that you can use to create beautiful structures that won't affect your WordPress website design one bit. The plugin has over 20 field options that you can take advantage of. Also, if you simply don't know much about designing, you can always use the form templates available to save time and energy.
The weForms WordPress plugin allows you to create a contact form, registration form, lead generation form, etc. The plugin can simply be downloaded and installed from the WordPress dashboard.
2. Akismet
Akismet is a popular spam prevention WordPress plugin that gives you full control over who can comment on your website. By default, the Akismet WordPress plugin checks any incoming comments and form submissions with their database, and if it is marked as spam, it prevents it from getting published on your website. Moreover, you can monitor the incoming comments on your own and see which comments have been blocked by Akismet.
3. WooCommerce
WooCommerce is the best WordPress eCommerce plugin that you can find. The plugin allows you to turn your website into an online store in a matter of few minutes. You can simply sell any products with WooCommerce. WooCommerce comes with shipping, payment, etc., plugins that you can either purchase or install on your website for physical, downloadable, or even affiliated products (dropshipping). WooCommerce can also be used for membership-based websites, and you can sell memberships that would unlock certain content.
4. Custom Sidebars
WordPress website design is not meant for everyone, and a lot of beginners have issues designing the simplest parts of a website, which is the sidebar. Using the Custom Sidebars plugin, you can create customized widgets and display them anywhere on your website. The customized widgets can be displayed on categories, posts, pages, etc.
5. W3 Total Cache
W3 Total Cache WordPress plugin is designed specifically to improve the SEO (Search Engine Optimization) aspect of your website by reducing the time each page takes. The plugin can improve the website's overall performance by optimizing rendering and adding cache to your site. Thus, mobile-users and search engine crawlers can visit your website without having to wait 30 seconds for your website to load fully.
6. TablePress
If you are looking for an easy and friendly WordPress plugin to create and manage gorgeous tables, we highly recommend TablePress. TablePress allows you to create tables from the WordPress dashboard that can be edited in the spreadsheet-like interface. The created tables can be inserted in widgets, posts, and even pages. Besides, tables that TablePress creates can also be exported, or you can even import your tables.
7. Strong Testimonials
If you have an online business with WordPress, you need to have a dedicated section so that your previous customers can submit their testimonials for new customers. Strong Testimonials does just that. With the help of this plugin, you can simply collect and publish testimonials from your users and publish them on your website.
8. iTheme Security
iTheme Security is a WordPress security plugin that protects your WordPress website by blocking over 30 ways hackers may use to gain access to your website. The plugin is known to increase your website's credential security and detect any malware or malicious activity on your website by a user. iTheme Security WordPress theme is available in both free and premium versions.
9. Advanced Custom Fields
If you use a theme that doesn't have any block builder like Elementor, or even Gutenberg, having a plugin like Advanced Custom Fields is a great way to add and edit custom field to your website to display more content on different pages of your WordPress site. Moreover, the fields can also be used in the comment section of your website.
10. Smart Slider 3
Smart Slider 3 allows you to create dynamic sliders that are optimized for SEO. The sliders made by the Smart Slider plugin can be animated, have buttons, different layers, etc. The plugin is available in both free and premium versions, and neither of them requires you to know any programming language to create or edit sliders.
11. Yost
Yoast is the best WordPress SEO plugin. The plugin tells you what you should be doing to make your website, significantly posts and pages SEO optimized, and perhaps the best advantage of Yoast is that it doesn't need any programming; it does everything on its own. However, you should type in a title, selected keywords for posts and pages, and meta description manually.
12. Contact Form 7
Contact Form 7 is a popular WordPress plugin that works well with the Akismet WordPress plugin. The plugin enables you to create contact forms with a few clicks and publish them on your website, and once again, no coding is required.
13. Pretty Links
Pretty Links is explicitly designed to shorten any URL on your website so that you can share them anywhere without having to copy two lines of URL. You can also track the links created by the plugin, which is a great way to find out which link is bringing in visitors to your website.
14. UpdraftPlus
UpdraftPlus is a WordPress backup plugin. The plugin simplifies the process of getting a backup of your entire website without you having to put anytime or effort into scheduling it. You can simply create a backup with a simple click. In addition, the created backups can be sent to your Google Drive, Dropbox, and other cloud drive services.
15. Revive Old Posts
Revive Old Posts is the perfect plugin for promoting your blog posts. It takes your old articles and publishes them on different social media networks such as Twitter and Facebook, and as a result, it will drive more traffic to your website. Also, it eliminates the need to manually sharing your content on different social media platforms.
16. Elementor
Elementor is considered to be the most powerful page builder in the WordPress repository. With this page builder's help, you can create, customize and publish pages on your website without having to touch a single line of code. The Elementor page builder comes in free and premium versions. The free version is probably enough for most websites. However, if you need more features, you recommend that you purchase the pro version for a small fee.
17. WordFence
If security is important to you, you need to have at least one WordPress security plugin installed on your website. WordFence is another great security plugin that has a user-friendly interface, and it is beginner-friendly. It can scan your entire website for malware, viruses and even block fake bots that pretend to be Google crawlers.
18. Smush
Having a fast website is very important. If you have many pictures on your website, it can increase your entire website's loading speed. Therefore, having a plugin that compresses and optimizes images on your website is very crucial. Smush is an image compressor plugin that comes in both free and premium versions. The free version allows you to compress 50 images at once. On the other hand, the pro version unlocks many more features and allows you to bulk compress all images on your website.
19. Google Analytics
Google Analytics is a great plugin that allows you to track your website's real-time traffic without having to log in to the Google Analytics website. Every single piece of information can be displayed on the WordPress dashboard. With the help of this plugin, you can see sessions, organic searches, and even your website's bounce rate.
20. LearnDash
LearnDash is a WordPress plugin designed specifically for selling online courses, lessons, and even quizzes. By default, the LearnDash WordPress plugin has a built-in drag and drop builder that you can use to design courses, lessons, etc.
Conclusion
In this article, we introduced the best WordPress plugins that you can use to add or remove functionality on your WordPress site. Keep in mind, each of the plugins mentioned on this list may be used differently, and some of them may not even run on your WordPress hosting. Thus, make sure your WordPress website and host are compatible with any plugins you would like to install to avoid issues.