15 Most Popular WordPress Page Builders 2023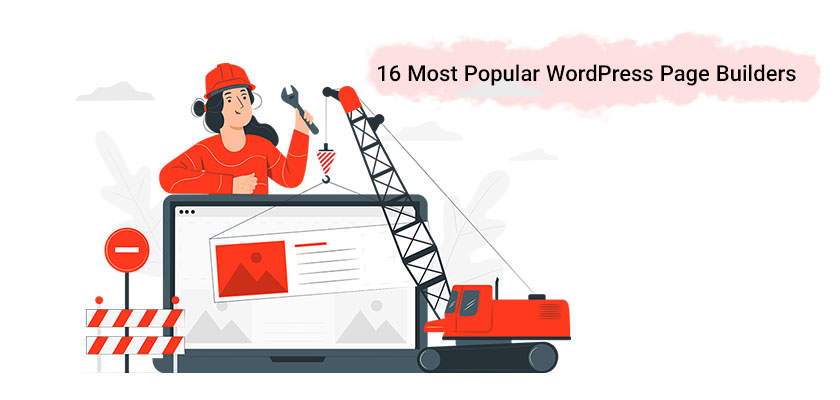 Are you willing to easily build and customize your WordPress site? So, you should have a look at these WordPress builder plugins. WordPress Page Builder plugins will let you create and edit along with customizing your site's layouts just without writing any codes here. At the start of a blog, many WordPress beginners mostly find it difficult to change or customize page layouts right on their sites. Many of the premium WordPress website designs come with different layouts, and really, they are extremely hard to customize for those who are not having any knowledge of HTML and CSS. That is the time when many users ask how they can make WordPress drag and drop?
A WordPress website builder will allow you to customize each component on your site just without writing any single line of code. These components include adding multiple columns, parallax background, content slider along with full-width images and more. Here users can simply use these components as the blocks to build their own layouts right within the WordPress themes. In this article, we'll be going over some of the best WordPress page builders there is and what you should be looking for when downloading a WordPress theme builder on your website.
How to Use a WordPress Page Builder
By default, the WordPress website development team provides pre-designed themes that can be used to style your entire website. While these templates give your web design team a place to start, they aren't easily customizable. With the default themes, your developers won't have much flexibility when it comes to making design or functionality modifications on your WordPress site. This is where a WordPress website builder comes in handy.
A WordPress page builder is a plugin that lets you build and customize your page layouts in WordPress. They are installed into your account and used to design and develop new pages based on your site's theme. Even if you don't have any experience in web design, page builders make it easy to add a unique look, feel, and functionality to your website pages.
Since a page builder is foundational for your site creation, you need to pick the best option for your needs. If you're new to WordPress or page builders, there are a few factors to keep in mind when shopping around.
You can have your custom WordPress website design with our website design and development experts. Now share your ideas about your ideal design with us.
Types of WordPress Theme Builders
Compatibility
One of the first things you'll want to check is whether the WordPress page builder is compatible with your current WordPress website design. If not, you'll need to change your site's theme, which can be costly and time-consuming. If you're having issues with theme compatibility, look for builders that work with all WordPress themes so you can change your site's look with minimal trouble.
Builder Type
When picking a page builder, there are two primary types of building methods to choose from. The first option is a drag-and-drop setup, which gives users a set of modules that they can click and drag into their layout. Depending on where they drag the module, the builder automatically adjusts the page and adapts the design. This method is very user-friendly and makes web design easy for users with little or no web design experience.
The other builder type is an HTML builder, which requires users to input HTML code to design their web pages. While this requires a solid understanding of coding and web design, this option allows you to customize every detail of your website to your liking.
Mobile Responsiveness
Just because a WordPress site builder is easy to use and simple to integrate doesn't mean that it's responsive on a mobile interface. Make sure that the builder you choose has options to view the page in a mobile preview. This way, you can double-check whether your web design carries over to phone or tablet devices. If not, choose a different builder that can accommodate different screens and make your design more responsive.
Key Features of WordPress Page Builders
Drag-and-drop WordPress themes and page builders are some of the best tools to make a WordPress website. Developers will appreciate the key features that make page builders so useful, including:
Pre-built design blocks or modules you can drag and drop. These modules can contain paragraphs, photos, graphs, and more complex website features like image galleries, custom widgets, countdown timers, and carousels. They can also contain page layout options like columns.
Instant style selection. You can count on page builders to provide single-click customization features. You can change elements like fonts, colors, styles, and sizes with sliders or dropdown menus. You can also provide clients with a range of options to choose from to keep up with the latest trends with less work on your part.
A wide variety of templates. Most WordPress page builder plugins come with several templates to choose from. So, while you can design a website from scratch using visual blocks or modules, you can also choose a template or theme to jumpstart the design process.
Add-ons that extend functionality. Beyond the base page builder, most of the options offer add-ons that permit further integrations and features.
The ability to customize blocks or modules and save them for later use. After you've inserted modules and your page looks right, you can save the block or module combination you used as a template to insert into future pages.
Some of the Best WordPress Page Builders
Quite a few WordPress page builders exist on the internet, and this makes it rather tricky when it comes to choosing one. The good news is that we've whittled down your choices to ones that have excellent ratings and incredible features based on our tests.
It's also important to us that the page builders are compatible with most WordPress themes. So, we'll outline the best of the best and talk about some of the situations in which you might consider one WordPress page builder over another. In addition, you need to make sure that these WordPress builders are compatible with your WordPress website hosting.
1. Beaver Builder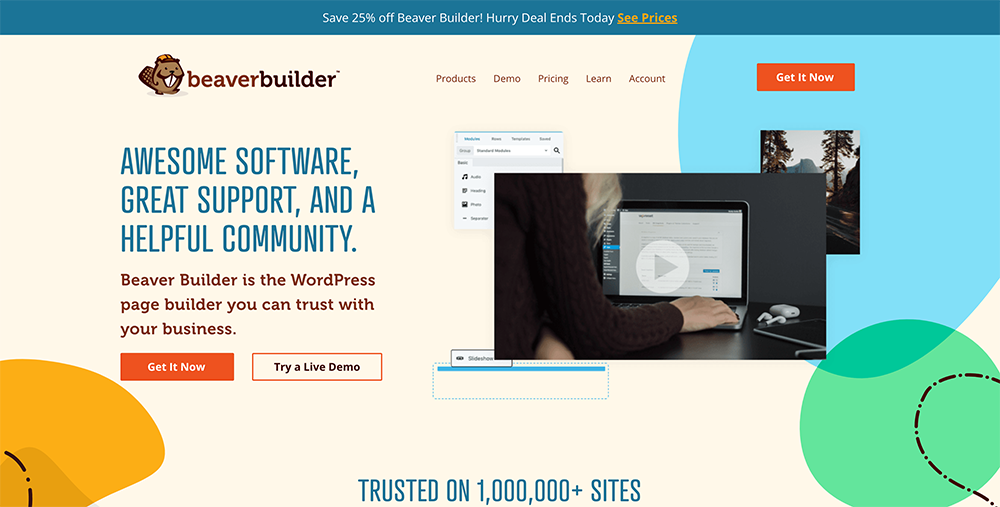 Here this one is the premium WordPress drag-and-drop page builder. No doubt this one is the best WordPress Page Builder plugin on the market.  This plugin is extremely fast and mainly comes with a built-in onboarding tour that will rapidly familiarize the users with the interface.
Before you buy Beaver Builder, you must check out this detailed article on the Beaver Builder Discount Coupon to save a few bucks. It comes with a live drag-and-drop interface. Here you will get to see all of your changes when you will add them just simply by dragging the elements from the right sidebar along with directly dropping them on your page. Here you can simply click on any elements right on the page to simply edit its properties. It has many basic and advanced modules that mostly cover almost everything you are willing to add. There are many modules to add sliders and carousels along with buttons and content blocks. This one is really very easy to use for beginners.
2. Elementor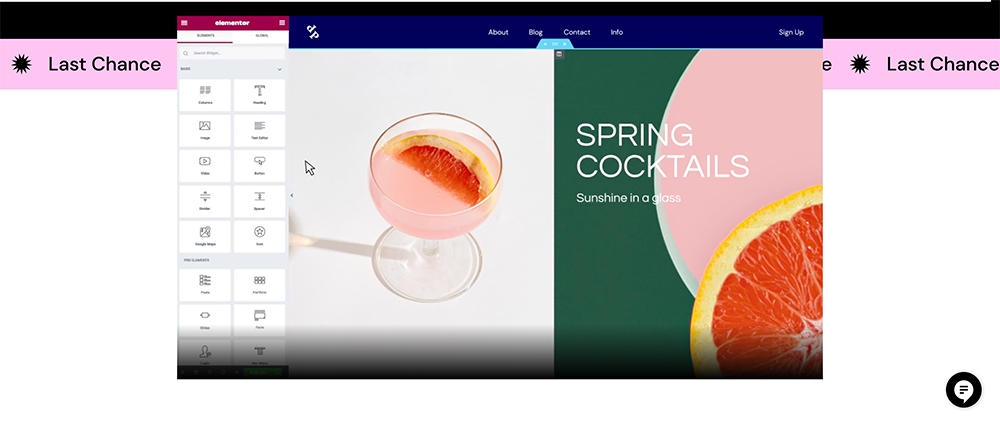 Elementor WordPress is another powerful drag and drops page builder. This one is mainly built from scratch to ground up the speed, and you will immediately notice how fast it is.
Basically, this one is the live page builder plugin that truly indicates you will get to see all your pages live as you will be editing them with Elementor. You can simply create sections along with the number of columns for each section. You can simply then drag and drop the widgets from the left panel right to your section. Elementor comes with tons of widgets that include the most commonly used website elements. It will provide a basic text widget to the accordion, sliders along with testimonials and social media, and tabs, and here all the widgets come with their own settings.
3. Divi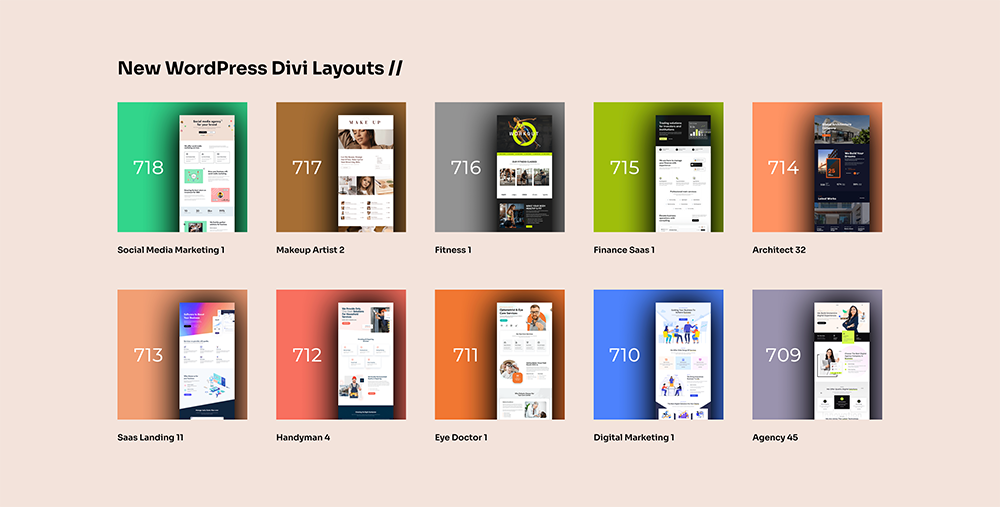 Basically, Divi is a drag-and-drop theme along with a WordPress page builder. This one is an extremely easy-to-use theme, right, with 20+ layouts and templates for many different kinds of websites. Here you can easily save and create your own Divi layouts. You can also export layouts right from the Divi installation into another. It also comes with tons of elements that you can easily drag and drop right anywhere in the layouts.
4. Themify Builder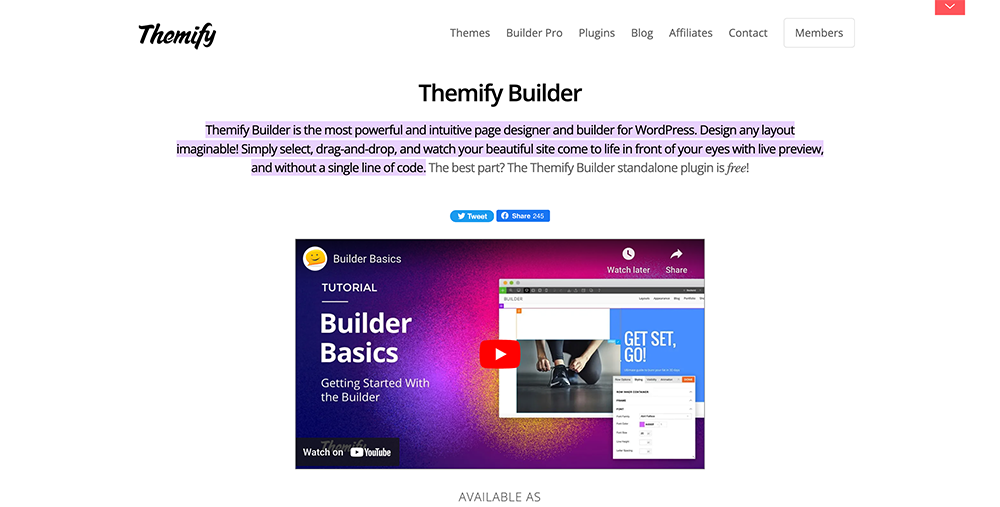 Somehow if you are already using a WordPress theme by Themify, then this builder is already a part of your theme. And if you are not using the theme, then you can simply get the Themify Builder plugin.
This WordPress website development builder is really simple and intuitive and provides easy-to-use modules that you can simply add right to your pages and posts. These plugins will also allow you to simply edit the pages right from the admin area along with your live site. With live editing, you can simply get to see exactly how your change will work and appear on your site. It also comes with easy-to-use layouts that you can simply apply directly to your pages.
5. Page Builder by SiteOrigin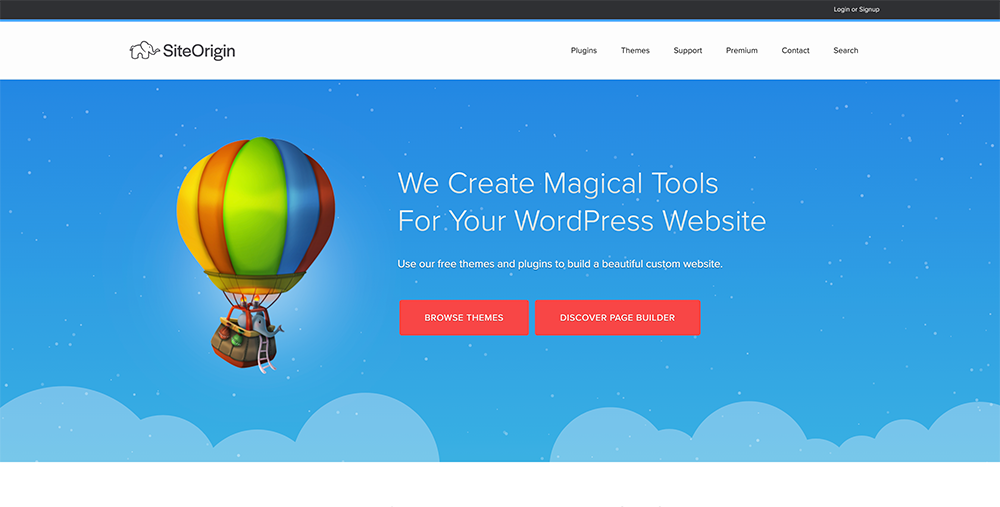 No doubt this plugin really has more than one million installs, and this one is one of the most popular WordPress Page Builder Plugins in the market.
The best part about this plugin is it's absolutely free and this plugin is fully functional. Site Origin Page Builder is fairly easy to use and works with any of the standards.
This plugin will allow you to simply use WordPress widgets, and it comes with many widgets of its own. You can also download and install any of the widgets.
It will also provide a history tool that will definitely allow you to switch back and forth in order to undo/ redo changes that you have already made. No doubt this plugin is a really huge time saver, and you can easily revert and undo the changes.
6. GeneratePress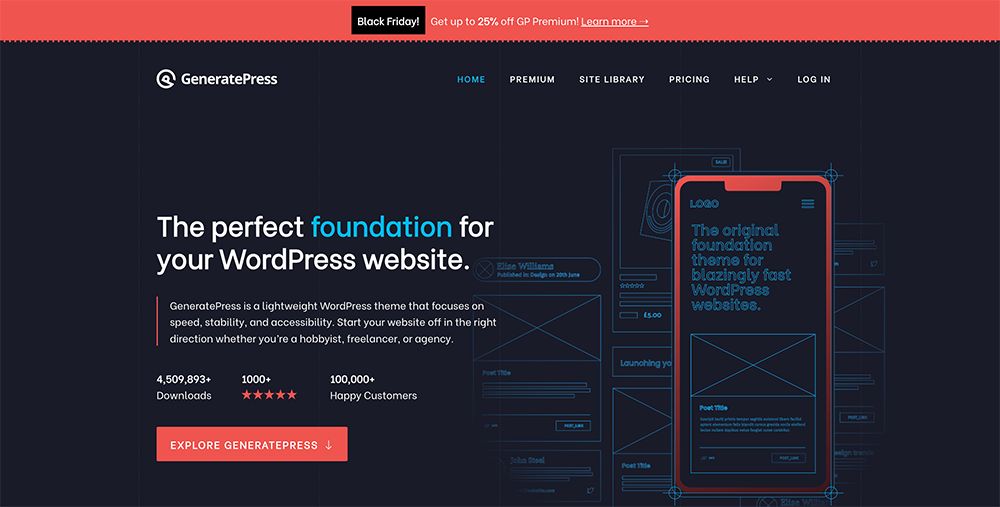 GeneratePress is a free WordPress theme, but we like to consider it as a simplistic page builder solution, perfect for beginner webmasters, bloggers, and developers who want an uncomplicated, rapid visual builder. In addition, you can use GeneratePress Premium and its free GenerateBlocks plugin to visually build almost any type of website.
Let's start with the theme itself. GeneratePress is a simple, lightweight, and free WordPress theme with rave reviews and a beautiful layout for landing pages, blogs, business websites, and sales pages. It's hard to figure out a market where you couldn't utilize the GeneratePress theme since it's so modern and clean.
Needless to say, if you're tired of clunky, slow themes, it's worth checking out GeneratePress. Most of the editing is done through its block-based editor when working with the free theme, but you gain access to many more modules (add-ons) when you opt for the premium version of the theme.
7. Brizy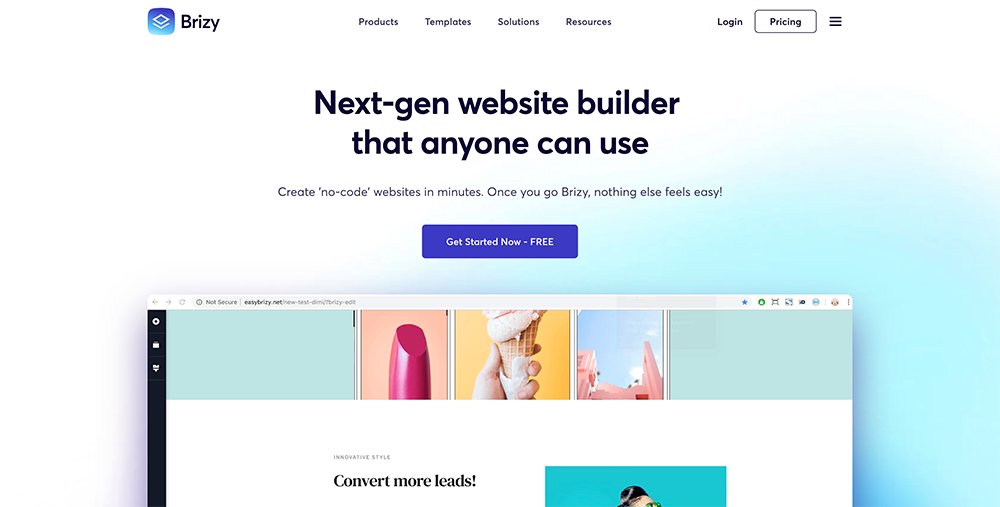 Brizy is made by the team that developed ThemeFuse, Unyson, and Pixelkit. At ThemeFuse, they have been creating WordPress templates for many years, so they know what users need and want. They focus on making it as easy as possible to design pages for your website.
There is a free version and a pro version of Brizy WordPress. The free version comes with a limited set of features and designs. The pro version includes everything and starts at $49/year for a single website, $99/year for 100 websites (their Freelancer plan), and $199/year for a whopping 500 websites on their agency plan.
The agency plan can even be used with a full white label with Brizy's branding removed entirely. Brizy also offers some lifetime deals, which do not have a recurring cost.
8. Thrive Content Builder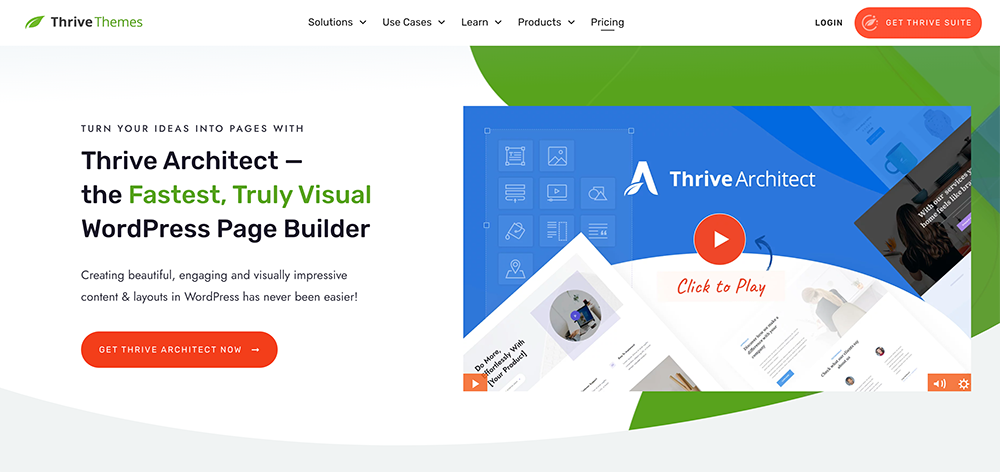 Thrive Content Builder creates beautiful and impressive content and layouts. This one is the ultimate tool for anyone to develop a marketing website along with business-focused tags.
You can simply edit anything, but here it mainly makes a huge difference right to your content creation experience along with the quality and productivity. The main advantage of having this editor is everything that happens immediately as possible. And you don't have to wait for the things to load or go through multiple steps in order to add or edit the content right on the page when any change is needed.
With the Thrive Page Builder, you can simply create beautiful testimonials that are one of the powerful elements that can be simply added right to the pages. It is fully responsive, and it will let you create many layouts, and it has mobile-friendly designs along with animation effects.
9. Visual Composer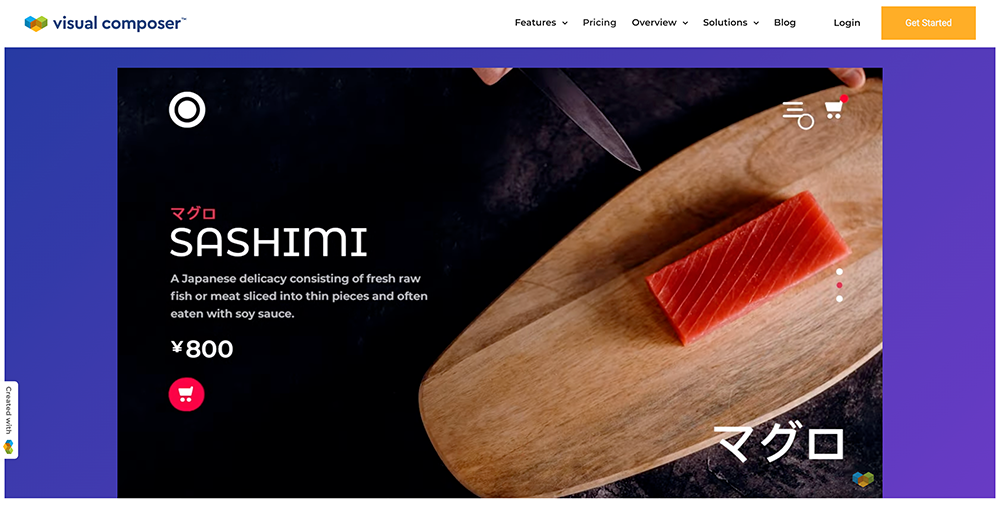 Visual Composer has a strong team behind it! It's developed by the creators of WPBakery page builder, one of the most popular page builders sold on CodeCanyon. Beyond being easy to use, it's also packed with features that intermediate and advanced web developers will enjoy.
For instance, you get over 50 premium content elements and 100 predefined layouts. The over 40 grid design templates get you started on the right foot, and you can't go wrong with the over 200 exclusive third-party add-ons. Visual Composer provides both front and back-end visual editors. The frontend solution shows you real-time results as you adjust your website, while the backend editor is more of a grid-based interface with modules to drag and drop.
10. Cornerstone
Cornerstone is Themeco's trademark page builder. This easy-to-use builder provides over 40-page elements that form the building blocks of beautiful website pages. It's compatible with all themes and provides the foundation for the X theme, one of the fastest-selling themes on Themeforest of all time.
For more advanced programmers, Cornerstone includes a feature for live CSS coding; as you make changes in the CSS editor, you'll see them reflected on your web page in real-time. This real-time editing also applies to the main page-building interface, so you don't have to guess how your pages will look when published.
11. SeedProd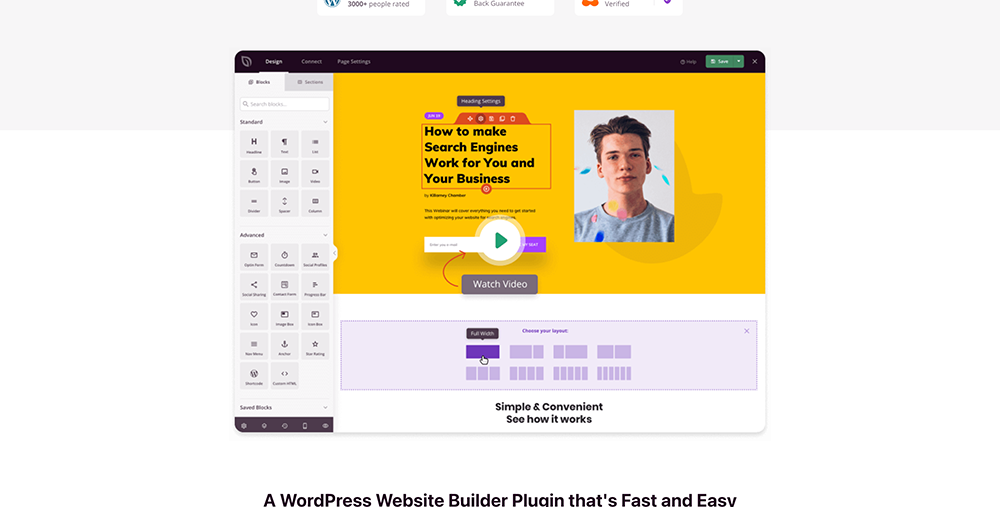 Over 1 million people have relied on SeedProd to build their WordPress websites. Like other options, SeedProd features a drag-and-drop interface that allows you to make pages, posts and even themes in minutes without touching the code. You can create your pages from scratch or take advantage of the 100 pre-built page templates included with the plugin, including login pages, maintenance mode, 404 pages, and landing pages.
While some builders have a reputation for weighing down websites and causing slow page load times, SeedProd steers clear of that pitfall and prioritizes performance. This is key for everyone who visits your pages, but especially mobile users with slow connections who don't have the patience to wait on a slow website.
12. MotoPress Page Builder

MotoPress Page Builder is another competitively priced front-end page builder. You will have to go and pay add-ons for the common elements like the pricing tables along with the contact forms.
The base plugin mainly includes the elements you will need for any of the pages. You will have access to the buttons, grids, sliders, and many more.
And if you are using MotoPress Theme, then it will integrate nicely to help you customize the theme. Here the front-end editor is not as fluid as many of the other plugins. No doubt, in terms of price, this theme will truly nail it.
13. Tailor Page Builder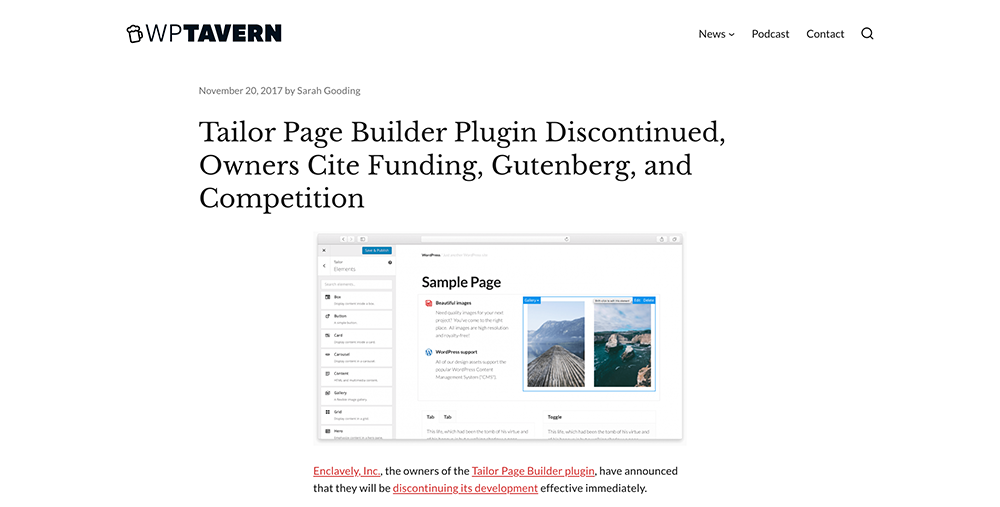 This plugin, Tailor Page Builder, is basically built with the latest WordPress website development standards, which really makes it a powerful application platform. Here it will expose some of the endpoints along with offering developers the opportunity to collaborate with the tailor-specific resource types.
It mainly builds beautiful layouts for the content in a faster and easier way. It also retrieves element types along with all the saved templates and the items of the given pages. This plugin is very easy to use, and it mainly supports WordPress features like multimedia and shortcodes, and it also supports many built-in widgets.
14. Page Builder by Pace Themes
This is one simple plugin and an intuitive page builder that will help in creating custom layouts, and it is very easy to use. It also brings the common tools right for customization with the routing module and the pre-built layouts.
It also creates pages and posts right with the dynamic layouts, and it has complete control all over the content of any page along with the CSS and typography. Your content can simply adapt to any of the display sizes.
It also includes modules that will really allow you to insert the contents along with custom modules without using any codes. It also supports WordPress widgets that can be simply added anywhere in the content.
15. Oxygen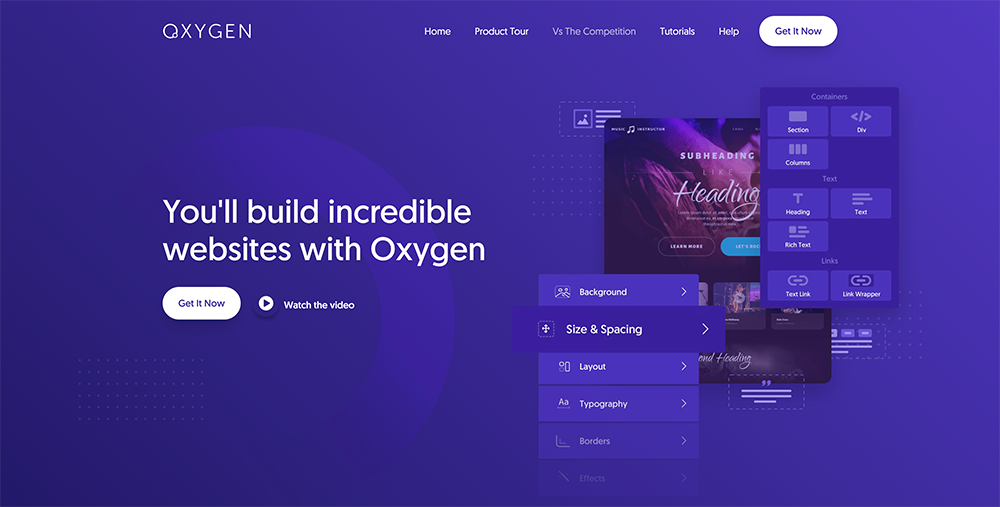 The Oxygen page builder is a little different than your average WordPress page builder since it works through a separate sandbox module that's still connected to WordPress, but it's actually what we would consider separate. One aspect I really enjoy about Oxygen is that it cuts out most of the main tabs and toolbars you would typically see from WordPress and focuses only on the page builder options like buttons for making containers, paragraphs, and text blocks.
Oxygen goes for a set price of $99. This includes a 30-day money-back guarantee and lifetime updates for an unlimited number of websites. Therefore, you don't have to keep paying a yearly fee for simple support and updates.
The point of Oxygen is to make sites within minutes, and the prebuilt components allow you to generate your own designs in a rapid fashion. HTML elements are also included in case you'd like to build your site in a more traditional manner. Oxygen has an import/export feature to quickly move designs from one site to another. In addition, you can use Oxygen alongside other page builders like Visual Composer, Beaver Builder, and Elementor. This is a strong advantage if you find certain features in each WordPress page builder that you like.
Choose the Best WordPress Page Builder
You're bound to find all sorts of results when you search for WordPress page builders on Google, and even in some cases, your WordPress website hosting limits you to specific page builders. Hopefully, this guide allows you to minimize your options and make an informed decision based on your budget, experience level, and the kind of features you desire.