Who Needs to Register .info Domain Name?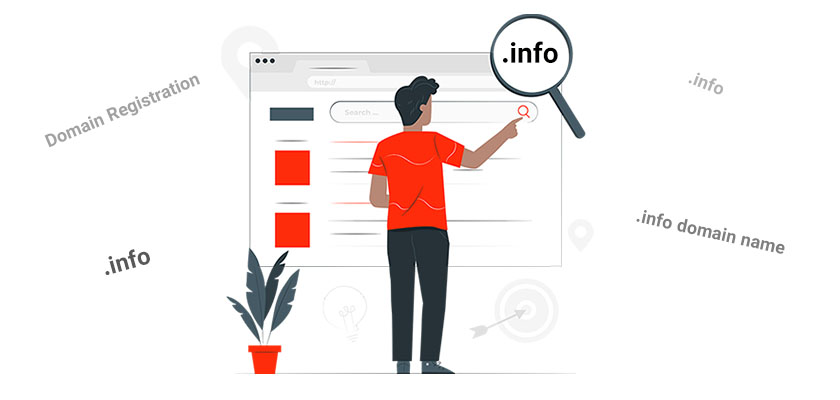 The .info domain extension is commonly utilized for blogs and websites that share information, so if you're searching for an online platform to share your expertise on any subject, then .info is the right domain extension you're looking for. Businesses use this .info domain extension to be useful in giving detailed information about their services or products.
The word "information" and 'info' for their abbreviation is recognized in more than 30 languages around the globe, making the .info domain name worldwide recognized and an ideal choice for sharing reliable information online. But before you register an .info domain name, it's best you learn a bit about it.
The History of the .info Domain name
So, who owns the .info domain name? The .info domain name has been managed by Afilias since its beginning. It was in 2003 that it became the first gTLD domain in the world to allow IETF internationalized domain names based on standards. In 2001, Afilias CTO was able to identify the issue in the Universal Acceptance of the domain due to it being the first TLD whose length was longer than three or two characters.
The launch of information was preceded by the launching of a "Sunrise Period" for trademark owners and the "landrush " open to all the world, which was the first time such an event had ever taken place for a new GTLD. This procedure was criticized because it gave trademarks priority over generic words in other contexts. For instance, it was the case that the Caterpillar construction equipment manufacturer could register cat.info before other users of generic terms, such as feline lovers, were allowed to register.
While many fraudulent registrations were registered by people who didn't have valid trademarks, a challenging process later eliminated the majority.
Prior to the launch, the names of the countries were withdrawn from registration upon the request of ICANN, to the dismay of those who paid the pre-registration fee to try to register these names during the flood of names. The ICANN Governmental Advisory Committee, composed of representatives from countries around the world, applauded the decision, which was the first of any major domain order to safeguard the rights of sovereign states.
How Much Is a .info Domain Registration?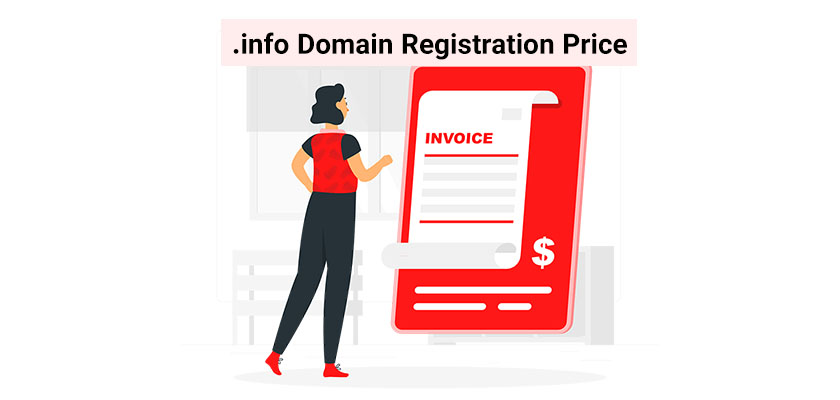 If you are on a tight budget to set up your website, the .info domain is a great choice as it's typically less expensive in comparison to the .com, .net, or .org equivalents.
One of the major reasons for the lower cost is the fact that .info isn't as popular as other extensions. It's definitely not the most popular choice. Many users choose to use it only when they are unable to land a .org, .net or even .co alternative.
Another reason is that it's a TLD that has over three characters. At first, it was difficult to convince systems to recognize .info emails and websites. While this issue has been resolved, some systems remain unable to accept .info addresses. It is therefore recommended to pick a two or three-letter TLD because there are fewer acceptable problems.
The affordable cost of .info domains makes it a popular choice for projects with a low budget. However, there's an issue: it's not always cheap over the long term. After the first year, the prices for .info domains usually are adjusted to reflect other domains.
If you get a .info domain for an incredibly affordable promotional rate, you should be prepared for large renewal fees in the next few years.
Why Should You Register an .info Domain Name?
There are many extensions to choose from, but these are only some of the best reasons to choose the .info domain name for your professional blog, a website for information or for your business.
You are more likely to secure the domain you're looking for than using .com or .org
A fantastic web extension that is perfect for specialists who wish to share their expertise
Make use of it as a site for information to complement your commercial website
If you already have obtained your .com or .org domain to host your main business website but believe you're required to safeguard your brand and your online image, it is a great idea to also register for the .info domain extension, too.
Its .info domain name informs people who visit your site that you're a specialist in your subject.
Is .info a good domain?
Security of data is a major issue for many site owners and users. For web surfers, Not all domains are created equal. Domain companies typically cut corners in regard to security concerns for particular domains. This could be dangerous as cybercriminals and spammers could target these lapses. It could result in irreparable harm to your company's reputation.
So, if you sign up for your website using a .info extension, would you compromise the security of your site's website's visitors?
McAfee thinks of .info as a risky domain to browse. It has identified 11.7% of .info websites as unsafe or potentially hazardous for users. Although no domain extension can be considered 100% safe in this respect, this percentage is more than other domain extensions. For instance, just 5% of .com websites were classified as unsafe.
Is .info Good for SEO?
From an SEO standpoint, from an SEO perspective, a .info is as effective as .com, .net, or .org. Search engines such as Google take .info to be a worldwide domain extension. Therefore, you don't have to be concerned about being excluded from search results since your domain name is registered using the .info extension. It will be treated on the same level as .com or .org equivalents.
Google is only concerned with the quality of the content. It won't penalize your website with the extension if it delivers top-quality content. When your website's content is SEO optimized and pertinent, you may even surpass your .com equivalents in Google results for search results.
In the case of natural traffic, the problem is mostly related to the mentality of the users. A majority of people click on the site's title and don't pay attention to the domain name when searching for results. If you are relying on the search engine's rankings to increase traffic to your site, then you're probably perfectly fine.
Who Can Register .info Domain Names?
.info Domain registration is free for all. There are no limits.
The domain often draws people who want to expose information about their goods or services accessible to the public at large or wish to purchase a .com domain but discover it is not available. Some hosting providers even give you special discounts to register a domain name if you buy a VPS hosting or buy a WordPress VPS hosting account.
Conclusion
Because .info extensions are typically used for informational websites, they are ideally suited to have an informational site that can provide reliable and cheap information. However, if you are planning to make use of it to promote your brand, take into consideration the possible risks.
It is a shame that the .info extension is gaining a poor reputation since it is the most popular option for spammers and low-budget projects. Because it's less expensive than .com, .net, and .org and.org, it is extensively used for fake websites. Internet customers who know about this issue are reluctant to click on .info websites due to this. This could be a problem for brands if branding is the primary goal.
To be clear, .info domains are just the same as any other TLD. From an SEO standpoint, they rank well. Additionally, there are a lot of .info websites that generate decent revenue. But it is important to consider if the extension is specifically for your company and if you are able to shell out a few dollars to get an extension like .com, .net, or .org which is an ideal choice.