What Is SSD Storage for VPS Hosting?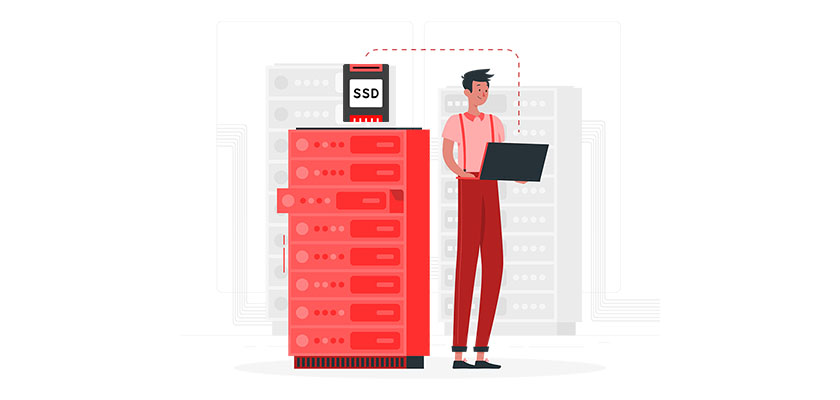 VPS is a great hosting option that is preferred by an increasing number of webmasters. Virtual private servers are available for rent at a low cost. It's distinguished by quality and reliability, among other benefits. When choosing the right VPS provider, they offer a range of options that differ in the technical specifications that determine the efficiency and performance of the server. One of these options is a highly efficient and promising technology known as SSD VPS hosting. SSD servers are very well-known throughout all areas of the IT world. This is due to the speed at which they download information that they can provide.
If the provider gives them VPS SSD hosting services, make certain to look into the offer. What's intriguing about servers running using SSD drives? What are the differences between SSD VPS vs. non-SSD VPS? Who can use SSD Virtual Private Server? What are the advantages of SSD VPS? These are some of the topics we're going to discuss in this article.
Who Is Most Suitable to Use SSD VPS?
SSD VPS servers are suggested for those who manage web resources that process large amounts of data. As an example, they could be e-commerce sites that are WordPress-based or famous online stores that have regular spikes in traffic. Hosting providers with solid-state drives can give a great quality of interaction with their customers. This means that they will be effective when a significant number of disk operations are to be expected.
An SSD VPS server can be more appealing to SEO-optimized electronic assets. In the end, search engines make the performance of a website the primary aspect of its marketing. Speedy loading of pages and the right display of images and text will improve conversion and can help reduce bounce. Websites that consume large amounts of the cache may benefit from the hosting offered by SSD VPS servers, in part because of the high processing power.
Do You Need an SSD for a Server?
Website owners who have static HTML pages shouldn't be charged excessively for the switch between HDD in favor of SSD. They, in general, don't consume much server resources. Therefore, there are few differences (except for the differences in the monthly subscription cost) you'll notice.
Additionally, for hosting websites that use archive files (sites for the long-term storage of seldom changing data) that do not need speedy downloads and are more economical, it's efficient to select servers with an HDD. Cheap servers that have HDDs are ideal for single-user blogs that have an average daily volume of visitors of around two thousand visitors. There isn't much to gain when you move them to a top-of-the-line SSD VPS hosting host.
Host Your Website on an SSD VPS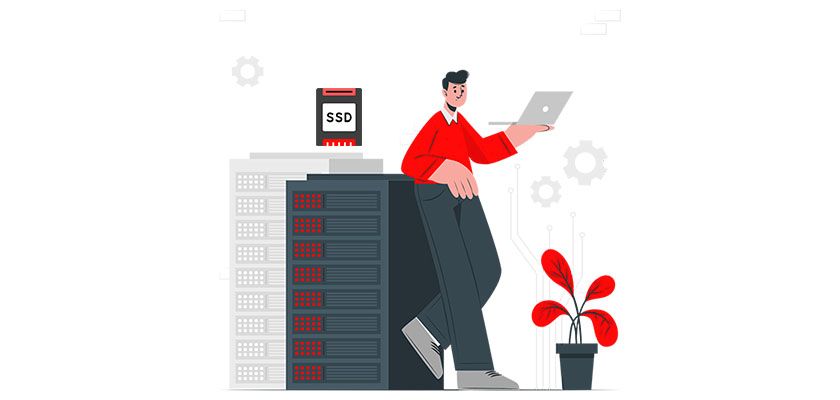 For you as a webmaster, performance, speed, as well as stability, and scaling is essential. Your resource is faced with the challenge of processing huge amounts of data or heavy daily traffic. If all this is for your website, then it's not wise to pick the right hardware, which will run slower. Therefore, it's time to select the VPS SSD. Moving between HDD for SSD hosting naturally is going to incur some expenses (even more if you are planning to use an NVMe SSD hosting, which is far greater than SSD hosting alone). However, the benefits of such a change are so obvious that they shouldn't be overlooked by online resources (online stores, gaming sites, media sites, etc.) with a growing number of visitors.
Read More: NVMe vs SSD VPS Hosting – Best Hard Drive for MY VPS
What Is SSD VPS Hosting?
SSD VPS Hosting, in its simplest form, is an SSD VPS Hosting plan. The VPS Hosting service provider makes use of SSD disks instead of an SSD disk in place of the conventional Hard Disk Drive on their physical servers. The advantage of using an SSD over an HDD is it uses less power and can deliver more speed and performance. Let's look in-depth at what differentiates the two drives.
Difference Between SSD and HDD
HDDs are usually connected to desktop computers. They are typically associated with desktop computers. HDD is a device made of metal that has an ejector disc that is the foundation of its data reading system. As the disc spins, the computer can work with and access the data it holds, and by a speedier spin, aiding the computer to perform faster. Although HDDs can hold massive amounts of data, their dependence on fiddly mechanisms can cause difficulties.
The main difference in the physical appearance of SSD as opposed to HDD is the fact that SSDs aren't made of moving components, which means you aren't obligated to deal with overheating or loud whirring sounds. There is a greater likelihood of finding SSDs in laptops. SSD in laptops due to the latest technology that uses NAND flash memory to provide its storage. The addition of an additional NAND memory chip to an SSD increases the capacity of storage, and the top SSD for storage contains multiple chips, which gives the capacity to be competitive with HDDs.
Which Is Better for Server HDD or SSD?
The main difference in technology aspects between SSD, as opposed to HDD is the read speed. While an HDD at the top portion of the range may be capable of reading data at about 125MBps (megabytes per second) however, the standard SSD will be able to handle sequential reads of data at speeds higher than 500MBps. That's an impressive increase in reading speed for disks that has led many users to opt for an SSD card, and you will notice the benefits of using an SSD on laptops in regular usage and even more with SSD for VPS servers which nowadays is a must for most websites and companies who are dealing with a lot of users.
The difference is more apparent when you are using the NVMe SSD, a technology that gives MacBook Pro its lightning loading speeds. The NVMe SSD can read data at a rate four times faster than an ordinary SATA SSD card and seeks data 10 times more quickly. If the competition between SSD and HDD was like an encounter between a cheetah or an elephant, then the SSD with NVMe SSD is the debut of a cheetah that has rocket boots.
What Are SSD Space in Web Hosting Benefits?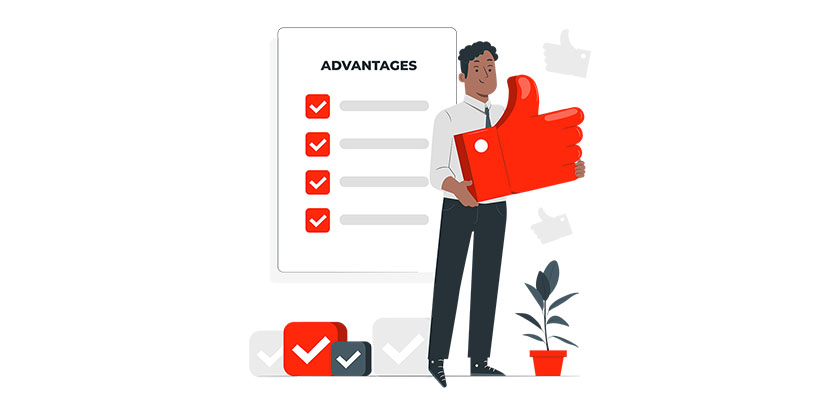 There is a growing number of web hosting companies that have moved their servers from HDD to SSD VPS cheap servers principally due to the many benefits SSD VPS hosting has to offer. For example, the benefits of greater reliability and higher speed of reading from disks. Are companies at risk of being out of the loop if they don't switch to the latest SSD hosting methods? Let's examine the differences in SSD as well as HDD in an internet hosting context and discover how SSD drives have changed the game.
The faster read speed of SSDs increases read speed. SSD allows users to access their data more quickly every day, and this speed can be a boon in the world of Web Hosting. SSDs can read data four times faster than HDDs which is a lot more than the speed of NVMe SSDs, which means that the owner of a website with plans built on HDD technology might discover that visitors to their website are more likely to visit an alternative site that has SSD hardware.
There's no time to be a perfect moment to allow your HDD to fail, given the value of the data it could hold. However, Web hosting businesses can't afford any unavoidable issues due to what they offer in their business. What's SSD storage's benefit in terms of longevity? Although HDDs are typically reliable for 3 to 5 decades, SSDs could potentially operate with a high degree of reliability for 4 times as long.
SSDs perform better in the generation of energy, and this allows website hosting firms to cut back on their overheads. In the event of working or idle, HDDs are consuming power more quickly than SSDs. When there is no activity, an HDD might require power input 15 times more than an SSD and seven times higher in order to complete tasks. In switching to SSDs, web hosting firms will be able to reduce their costs and consequently offer more appealing pricing plans for their customers – yet again, a business wondering 'what's SSD storage?' might be being left behind by web hosting providers that are embracing the latest technologies.
This lower power consumption provides SSD the advantage over HDD regarding sustainability. It is essential for web hosting firms to think about their environmental impact, and clients are more likely to prefer the image of a company that displays respect for the planet's resources. By converting to the top SSD in storage technology, web hosting firms can reduce their carbon footprint and advocate for greener methods.
Disadvantages of SSD VPS
If you've started this article with the question "What is SSD storage for VPS hosting?" or "What is SSD?" in your head now, you're probably wondering where the enthralling technological advancement of SSD drives has been throughout your life. With better speed, greater durability, and less energy consumption than HDD, is there any reason that you could stay away from the most reliable SSD hosting? Here's the area we'll concentrate on the most significant negative aspect of SSD drives: their price.
Although you might be able to cut down on expenses for running by reducing energy consumption in the long run, web hosting firms will need to pay an additional cost to move to SSD. While web hosting companies might see the advantages of the functions, SSD is utilized to be worth the investment. It is certainly worth considering HDD as a feasible, cost-effective alternative. Prior to SSD or NVMe SSD existed, the world depended heavily on HDD.
Websites that primarily consist of static HTML pages shouldn't put any load on servers, So the differences in performance between SSD and HDD could be minimal. Smaller blogs that have only one or two thousand visitors per day might find that a mix between page cache and HDD storage is sufficient for their needs and requirements, whereas a business that values extensive archives of files over download speeds could discover that the capabilities are lacking in SSD drives are not necessary.
It's not a secret that SSDs provide a few benefits regardless of whether you're looking for the top SSD for the storage of photos or a more robust business option. Regarding performance, durability, and speed, in addition to power use, there's a significant distinction between SSD as well as HDD hard disks. The issue that web hosting firms must determine is whether the main disadvantage of SSD drives is that the price could be justified. When speed, reliability, and speed are two of the main characteristics of an organization that hosts websites and reliability is a top priority, then the answer could be yes.
Advantages of SSD VPS Hosting
Speed: SSD Virtual Private Servers operate more quickly than HDD counterparts. SSD drives average a writing time of 3-4 seconds and read speeds 5-6 times faster than HDD drives. For those who own websites that are hosted on a server equipped with an SSD, this means they are always out of reach against other sites using SSD hosting.
Reliability: There are many moving mechanical components in an HDD. This causes the disk to wear down quickly. SSDs are built on chips with an extended lifespan. They can last for years without failure. Furthermore, many hosting providers regularly update their memory devices which prevents the device from becoming old. Technology is rapidly evolving, and providers are rushing to "sell" the benefits of technology.
Size: The mechanical portion that makes up the HDD physically occupies lots of space and weighs an acceptable weight. SSD chips weigh not more than 100 g and therefore are extremely compact. However, the capacity of the drive could accommodate up to 8TB of data.
Economy: SSD drives are thought of as energy-saving devices. If the mechanical version of the HDD consumes 7 watts per hour when compared to an equivalent load, the SSD will require only 2 milliwatts. This will have a positive effect on the price of maintenance as well as the environmental impact.
The only disadvantage to SSD is the cost of the drive. In recent times the technology that was previously considered to be elite is now accessible to everyone. Also, the price difference between flash memory and hard drives quickly pays dividends with the benefits mentioned above.
Conclusion
In this article, we discussed SSD storage for VPS hosting. SSDs, in general, have a few benefits for both normal consumers as well as hosting providers. Capacity and cost are what hard drives are about. But if things like speed, stability, weight, dimensions, noise, and absence of fragmentation are crucial to you, then go with an SSD. If cost and capacity aren't an issue for the majority of you, then SSD will be the ultimate winner.
Luckily, the idea of using this kind of memory has become extremely well-known in recent times, and VPS Hosting providers offer this feature too. If you're a fan of fast SSDs, then you'll be able to enjoy fresh possibilities for your VPS hosting account by purchasing the memory with a lower capacity than of this kind and putting it alongside an external hard disk.
Regarding their lifespan, SSDs have a limited amount of reading capacity, as well as write times per cell. However, this limit is so severe that you may think of buying new memory. If you're worried about this, assess the health of the SSD by using SMART data (a similar process can be performed with regard to the drive). If your drive is at its end usefulness, then you can utilize this data to determine. Since the drive is an electronic component that is prone to failure, it can end up failing after years of usage, and any major shock or shaking during working could end the life of the drive.