What Is Plesk? What Is It Used For?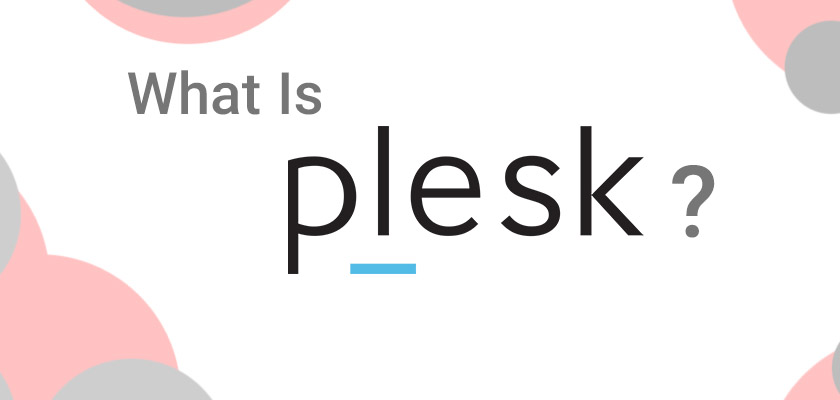 You're likely to have tried website building before and know how crucial it is to find a user-friendly environment to manage your projects. There are many areas you need to be aware of: domain names, email addresses, files, databases, and backups. You can quickly get overwhelmed if you don't have an intuitive platform that allows you to manage them all.
When talking about control panels for web hosting, the average client will likely name cPanel the most preferred solution. It is simple to use, has a lot of features, and allows easy website management.
However, if you look at the global market (at most websites with reported control panels), you will see that there is another sheriff – Plesk. In this article, we would like to talk about Plesk, what is Plesk and how it works; you can think of it as a Plesk tutorial.
What Is A Control Panel?
A control panel is a popular tool for managing your hosting server. It can be used to manage your domain names, install apps, manage email accounts, upload files, and many other things. There are a few control panels; however, in today's blog, we would like to discuss Plesk vs. cPanel as they are the two key players in the hosting scene. Keep in mind there are plenty of Plesk tutorials as well as cPanel tutorials.
What Is Plesk Control Panel?
What is a Plesk control panel? Plesk is an all-in-one hosting management solution that allows server administrators to manage all aspects of their online projects. The developers of Plesk Interactive GmbH first released the platform in 2001. Plesk has had many owners over the years.
In 2008, SWSoft purchased the control panel solution. After several rebrands and reorganizations, it became a separate entity in 2015. Two years later, British Oakley Capital Limited purchased the rights to Plesk at the cost of around $105,000,000. The same company also owns several complementary products, including cPanel and WHMCS.
Plesk's control panel has many useful extensions that cover data backups and email. DNS tools and security widgets are just a few of the other functions.
Flexibility is perhaps the most important selling point for dedicated server owners. Plesk is one of the few hosting platforms that supports both Linux and Windows users. And there are many Plesk tutorials available online should you face any issues with it.
What Is Plesk Control Panel Used For?
The Plesk platform allows you to easily manage all aspects of your web hosting. This tool offers all the standard features of a control panel with additional options.
The control panel allows you to add or organize files for your website. You can manage domains and add subdomains or domains to your account. You can add new email addresses, manage your inbox, and delete inactive emails. You can schedule backups of your website and files, manage databases, and track which areas of your website use the most disk space.
These are the most important functions that website owners should be looking for in a control panel. But Plesk control panels go beyond the basics. You can automate common technical issues by using their self-repair tools. This will make your website run more smoothly. They also have many extensions that you can add additional functionality to your website.
They are useful for IT administrators as they allow them to create and manage user accounts. You can assign user roles, manage access levels, and limit the bandwidth that each user has. It is possible to set up and manage subscriptions for customers or resellers. You can also schedule tasks and commands in advance.
Which Is Better: Plesk vs cPanel?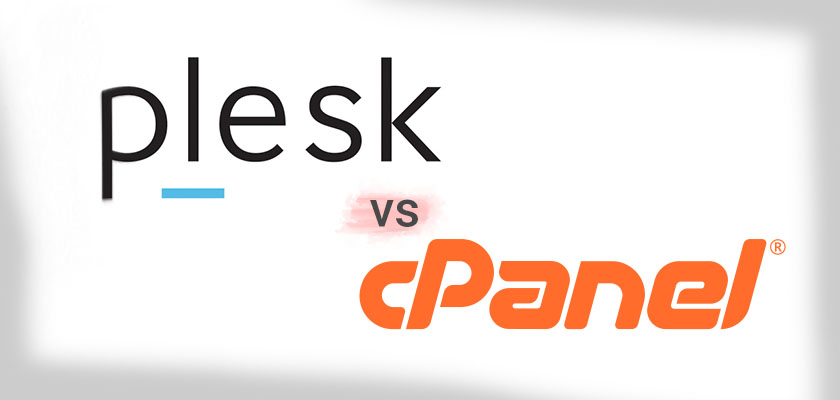 User interfaces
Plesk is the more popular of the two web hosting control panels. It is thought to have a simpler graphical user interface (GUI) and is easier to use. Plesk panels are more simplified and have features organized in a list on the left-hand side. These expand to offer more options when clicked.
However, the cPanel interface is more confusing than helpful and does not organize features and tools in a logical way. cPanel allows for customization of the home screen to make things easier to find. The visibility of all features can also make it easier for people to locate a function the first time.
Both can access CLI (command-line interface) if they prefer it to a GUI.
Performance
cPanel loads generally faster than a Plesk Server. cPanel, the web hosting control panel, has been focused on optimizing performance. The cPanel team was able to reduce the memory requirements and speed up page load times. They also managed to create faster accounts and perform other tasks related to server management.
Features and Tools
Plesk and cPanel provide the same basic features for account and server management. Both can be used for managing DNS settings, email accounts, FTP (File Transfer Protocol), and databases. Plesk panel supports more useful extensions and apps than cPanel.
Plesk supports Docker on Linux. Plesk also offers a catalog of more than 200,000 Docker images which can be launched directly from the Plesk control panel. Plesk can also be used with Gitman extensions. Although there are some workarounds, they're more complicated than Plesk to make Docker and Git work with cPanel. However, there are many features that would make you download Plesk.
Security
Security is a key focus of both the Plesk panel as well as cPanel. Despite being different features, the Plesk panel and cPanel come with many security tools.
cPanel security instruments include:
Automatic SSL certificate installation
Password-protected directories
Denial of IP addresses
Plesk security features:
Fail2ban intrusion prevention
Anti-spam inbound and outbound emails
Integration of Active Directory
Distributions
Plesk can be used on both Windows Server and Linux distributions. This is a major difference between cPanel and Plesk web hosting control panels. cPanel can only be used on Linux operating systems, although there are some backdoor ways to use cPanel on Windows.
CentOS, CloudLinux, and RedHat Enterprise are the Linux distributions that support cPanel. The Plesk panel, on the other hand, is available for 14 Linux distributions, including CentOS, Ubuntu, and Debian. It also works on Windows servers.
The operating system on your server will determine which web hosting control panel you select. You will need separate Plesk licenses for each operating system.
Plesk Alternatives
1. Ajenti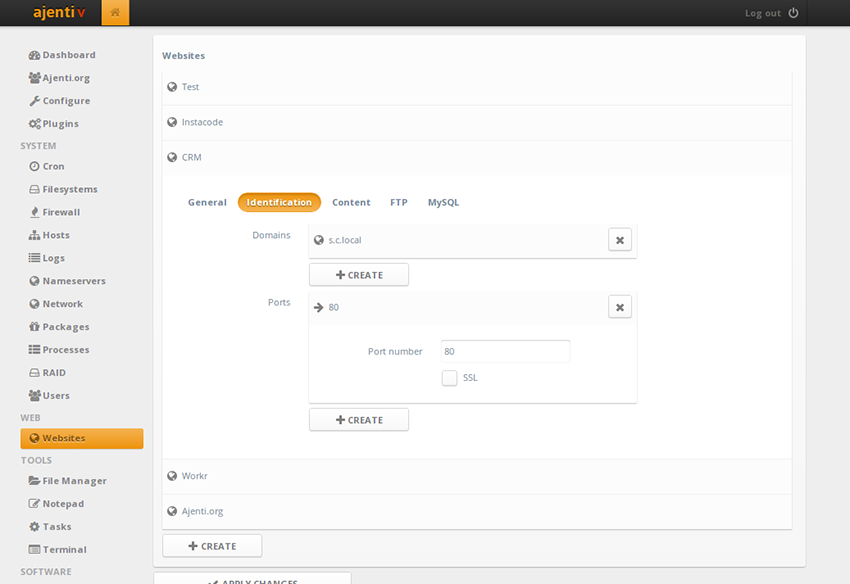 Ajenti, an open-source graphical user interface, is compatible with many Linux distros. This intuitive software makes it easy to manage your web hosting remotely.
This tool is built on a modular framework, which allows you to install third-party extensions and packages.
You can manage DNS servers, email accounts, network monitoring, and many other tasks. There are two platforms for the software:
Ajenti core: A Python library that includes the HTTP server, the plugin container and the rocket engine.
Ajenti panel: Hosts startup scripts and built-in plug-ins such as file and server manager, network configuration and many more.
Ajenti cannot be installed on PCs or Linux. You can still access the control panel from any browser once you have installed it.
2. ApisCP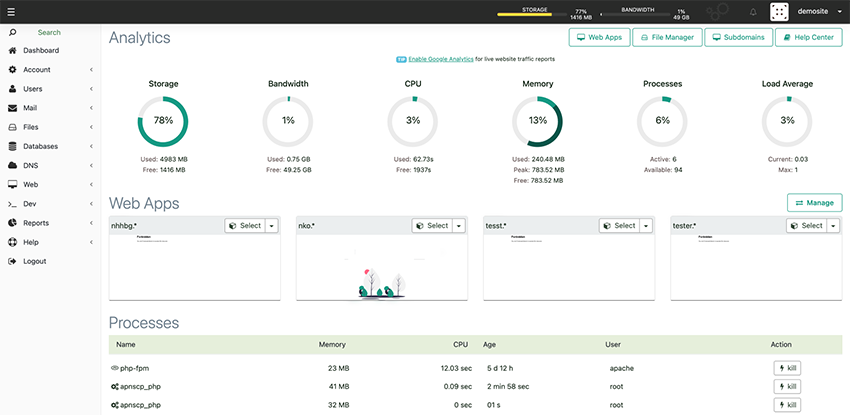 ApisCP, a self-hosted control panel for server servers, is very easy to set up. It allows you to migrate from Plesk or cPanel control panels. This makes it much easier to change your data and content.
Plesk is easy-to-use software. However, Apiscp is not as user-friendly. It was built to be reliable, fast, and efficient. This design has many benefits, including fewer CPU cycles for brunt and a faster Time To First Byte (TTFB), which is a popular metric to measure connection speed and setup speed.
ApisCP comes with a bootstrapper to manage extension and application installations, as well as security checks.
Rack911, an independent security firm, conducted penetration testing on the software and awarded it a certificate as a secure host.
3. DirectAdmin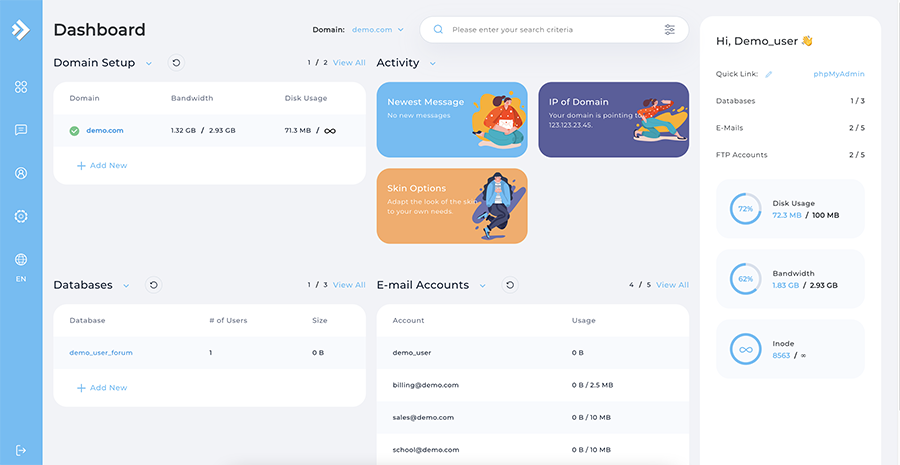 This Linux-based web host and control tool can be used with many popular distros such as Ubuntu, RedHat and CentOS. DirectAdmin is a robust control panel that allows you to adjust web hosting elements and manage the email network and DNS.
The backup feature copies all data from your server to an encrypted location. The user-friendly interface allows you to view all system logs and monitor the system's processes.
DirectAdmin is secure, but its security features aren't as high as Plesk, which has an integrated firewall and ModSecurity. DirectAdmin.
Is Plesk Free? Plesk Pricing and Plans
Plesk is a proprietary product and does not offer a free account. However, you can save money if your commitments are long-term. A yearly subscription gives you access to the control panel for a no-cost month and three additional months at half the price.
Plesk divides its services into two groups – VPS users and dedicated clients. Each package includes three packages as well as a custom deal option.
Web Administrator (VPS) – starting at $10/month, billed annually
Web Pro (VPS) – Starting at $15.10/month, Paid yearly
Web Hosting (VPS) – Starting at $25.20/month, billed annually
Web Administrator (Dedicated) Starting at $10/month, Paid yearly
Web Pro (Dedicated) – Starting at $15.10/month, Paid yearly
    Web Hosting (Dedicated) Starting at $45.40/month; yearly fee
These plans differ in terms of the number of domains that they can manage and the features included. VPS and dedicated server users have the same price, but Web Host is more affordable. This allows you to manage unlimited domains and take advantage of Plesk's entire set of options.
Should I Use Plesk?
Plesk is an excellent choice for anyone who wants an intuitive and easy way to access their web servers. It's also useful for businesses and users of Windows hosting or other Windows products, such as ASP.NET, that aren't supported by cPanel.
Plesk is an excellent choice for businesses that want to have more control over who can access the website's backend. It also offers a way to efficiently organize website assets such as domains and databases. It is powerful, cost-effective, and simple to use.
How Can I Manage My VPS with Plesk
You are interested in hosting a website but don't have the time or desire to learn to program. It is difficult to launch a LAMP/LEMP server stack or configure your server for hosting. Plesk VPS saves you time and effort. Your Plesk control panel handles all the configuration.
You need to create a development and deployment environment for your VPS. It can be difficult to develop and test web apps without a server. However, it can be easier to create the framework and configure Git and Docker. Plesk VPS allows you to focus on your projects and set up all the deployment tools.
You want to create a WordPress website that is self-hosted without any hassle. It is never easy to launch your first website. Although self-hosted WordPress can be a great way for a professional website to start, it is difficult to install WordPress on top of a LAMP stack or configure PHP tools. Our Plesk VPS allows you to skip the tedious steps of selecting themes and entering content.