What Is BigBlueButton?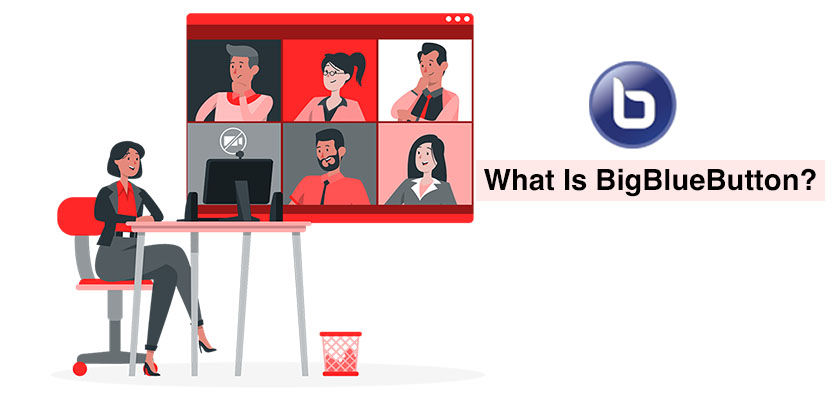 If you search on Google for the BigBlueButton app, you will see the official definition of BigBlueButton. BigBlueButton is a completely open-source web conferencing system that was developed by a group of committed developers who are passionate about helping to improve online learning. Therefore, BigBlueButton is Open source and a web-based conferencing system and is specifically designed for online learning. It is free to make use of this fantastic software as your online web-based web conference system. Since you'll have full control over it, the security of your participants never is exposed.
Due to the open source code and reusability, you can easily modify its features by altering its code. You can prepare to utilize the BigBlueButton service in just a few minutes. It includes live sharing of video, audio screens, and presentations, as well as collaboration tools like whiteboards, shared notes polling breakout rooms and much more. Recently they have expanded their best online meeting platform and included recordings in MP4 format and streaming live RTMP streaming to Facebook or YouTube and activity reports, load balancers and other features. BigBlueButton server hosting is fairly easy to handle.
Why BigBlueButton?
BigBlueButton is an open-source web-based conference software that allows online learning. The aim of the project is to offer remote students a top-quality online learning experience. The project was established in 2007 and managed by Blindside Networks; there have been more than a dozen updates to the basic product.
With the wide community that supports server BBB projects, you will receive excellent source code, stability as well as high performance and the highest level of security. Security holes are easily discovered and then closed. Open source code guarantees maximum transparency and confidence in the program. With a worldwide community that supports an entire code base, rather than a group within one organization – you can get software that is extremely durable, thoroughly tested and consequently trustworthy.
With regards to the reliability of open source software, its code is usually more secure as it is far more rigorously scrutinized and verified through the communities (and any problems that do occur are usually addressed more frequently). You are in complete control of your data and don't have to worry about third-party access to your personal data for any reason. Through the years, BigBlueButton has been widely used all over the world for online courses.
What Is the Function of the BigBlueButton?
BigBlueButton is an HTML-5-based web-based application that runs within the browser of the internet, and you don't have to install any additional software or download BigBlueButton. No matter whether you're using it for your laptop, desktop computer or Chromebook, as well as an Android or iOS phone, it will work in the web browser.
You can test BigBlueButton join meetings by using their demo servers but with few restrictions. For instance, recording is suspended, and video conferences have a time limit of 60 minutes due to the demand for them.
Is BigBlueButton Free?
For BigBlueButton itself, it's cost-free; however, if you plan to get it functional, you'll need to buy BigBlueButton server hosting in order to use one of the best online meeting platforms.
What is the reason you require a server? As of now, we can only discuss what is known as the BigBlueButton frontend. The frontends are LMS as well as Greenlight.
With these frontends, you are able to easily manage BigBlueButton activities and also join meetings. However, all of the BigBlueButton frontends require the BigBlueButton Host URL as well as a Salt Key. Without BigBlueButton API data, you will not be able to use any meeting rooms. In this case, you require access to the BigBlueButton server. This acts as the backend.
Maximum Simultaneous User Support
If you are considering the use of the best online meeting platform, one of the main concerns is how many people can attend the meeting. If your server has met the minimal specifications, BigBlueButton should be able to accommodate up to 150 concurrent users. However, there shouldn't be greater than 100 concurrent users at the same session.
How can you get 150 concurrent users? There is the possibility of having several sessions simultaneously. Thus, you can have two sessions with 50 and 100 users, respectively, three sessions with fifty users, six sessions that have 25 users, and so on.
If your BigBlueButton server system requirements are met, you may typically have more than concurrent users. However, the amount of scalability you can achieve will be contingent on a variety of variables.
Best Server for BigBlueButton?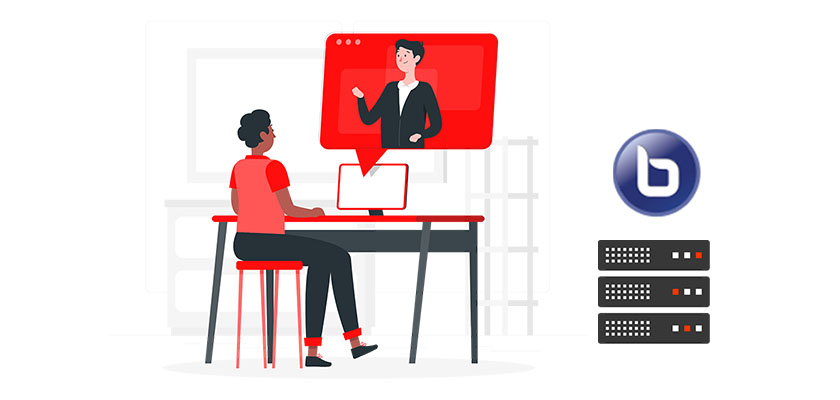 We offer one of the best BigBlueButton server hosting available. Our servers are modified specifically for BigBlueButton service and meet all the server system requirements that you need to run a nice and steady (connection-wise) class. In addition, our servers are updated frequently with the latest security and BigBlueButton releases.
BigBlueButton Server Monitoring
We offer one of the best server monitoring in the industry. Our servers are all installed with the latest monitoring technology that allows our server administrators to watch over your server whilst you are having a meeting. Thus, there is no issue to be worried about.
How to Use BigBlueButton as a Teacher
For online classes to be conducted via BigBlueButton, you must be running the BigBlueButton server. Follow the steps for installation to set up the BigBlueButton server. To set up a meeting room and share links with students, there are two options available:
Make use of Greenlight as your front-end. Greenlight is compatible with the BigBlueButton server, but it is an individual client to begin making use of the BigBlueButton server.
Find the BigBlueButton server integrated with your current learning software, like Moodle, Canvas or Sakai.
How to Use BigBlueButton as a Student
It is dependent on the method by which BigBlueButton was installed by the teacher who provided access information to you in order to connect to this virtual class. Joining via an email link If you've received an email invitation to join the class.
When you're on your computer, you can open the link on your laptop on your computer in the Chrome (or Firefox or Edge) browser and follow the instructions online.
On your iPhone, open the link in your Safari browser.
For your Android phone, you can open the link within your Chrome browser.
Joining via your learning program (Moodle, Canvas etc.) If the BigBlueButton server is connected to your learning program (Moodle, Canvas or Sakai), You will need to sign in to your account in order to be able to view online classes offered via BigBlueButton. To get the highest quality video and audio quality for online classes, be sure to use the most recent version of Chrome (or Firefox or Edge) browsers. Utilize a headset to minimize background noise from other students.
Is BigBlueButton Secure?
There are a variety of security options that are available in BigBlueButton. Most BigBlueButton server hostings are protected by an encryption level of security (TLS) certificate, the entire download of content through the servers to the user's web browser is done via hypertext transport protocols secure (HTTPS). When a web browser makes the API requests to BigBlueButton, the BigBlueButton server checks the request against the server checksum derived from the shared secret.
If the checksum match is not met, the request is ignored. Once the BigBlueButton client is loaded, it connects data to the BigBlueButton server through web socket connections that are encrypted with HTTPS. If the BigBlueButton is sharing the user's audio or video or display using the built-in web-based real-time communication (WebRTC) libraries that send packets that are real-time (RTP) over the user datagram protocols (UDP) through Datagram Transport Layer Security. In addition, to ensure the privacy of datagram protocol communications, all media transmissions will be secured with Secure Real-Time Protocol. Secure Real-Time Protocol.
How Much Does BigBlueButton Cost?
BigBlueButton is an open-source program which means it's available for personal as well as commercial use.
However, the program must run on the Ubuntu Linux server, which could expense your money. Additionally, installation of the software, as well as ongoing maintenance, requires a lot of technical knowledge, which results in the expense of hiring one tech individual.
Thus, many schools employ the services of third-party BigBlueButton hosted by a managed web hosting company to install, host and manage the BigBlueButton installations for their clients.
Check out the monthly subscription to BigBlueButton, which is provided by HigherEdLab.com, which will cost you USD $25 for students who are simultaneous or $72 for 200 students simultaneously.
You could also think about different hosting providers, such as Amazon AWS, Google Cloud and many more.
What Are the Advantages of BigBlueButton?
Here are the most important advantages of BigBlueButton that can help you in running efficient virtual classes that emphasize learning outcomes and collaboration:
Live to share video and audio: With high-quality and reliable video and audio will enhance the experience of your students participating in online classes. Instructing your students to be able to watch their videos during online classes creates an engaging and

stimulating environment in a

seminar-like setting.
Private and public chat: Your students can make use of both chat rooms in your online classes. It can be used for a variety of applications, including asking a follow-up question or giving immediate feedback without interrupting the teacher, providing examples or even presenting an alternative idea. It is also possible to make use of private chat to check the understanding of a particular student without drawing the attention of the entire class to the particular student.
Whiteboard with interactive multi-user: You can utilize whiteboards, for instance, to solve math-related problems. You could also ask pupils to sketch on your whiteboard, which will increase the possibility of collaboration in your virtual classroom.
Slide slides: Slides are the simplest and most common tool for guiding students in an online learning environment. It is possible to annotate your slides to highlight certain points.
Screen sharing: You can supplement your presentation by sharing the laptop screen in order to display some additional details.
Rooms for break-outs: Break-out rooms during your online course allow students to collaborate with your students. Typically, you'll split your students into smaller sections and then assign them to break-out rooms for discussions that are student-led or activities for problem-solving.
Surveys: Students can take part in polls at any moment with the pre-built answers to your polls. Answers to poll questions when you have completed the polls instantly appear on the screens of your students.
Emojis: The users of HTML5 can utilize emojis to express their feelings. For instance, your child could raise his hand to attract your attention and the speaker.
Notes shared with others: Class Notes act as a space shared by your students, as well as you are able to write down the most important points that are discussed in the class.
Recording your lecture: The option to take a recording of your online classes to allow your students to listen to them later.
How to Use BigBlueButton in WordPress?
There's a WordPress plugin that lets you deploy BigBlueButton for your website that is based on WordPress. The plugin incorporates BigBlueButton into WordPress, which allows bloggers to create as well as manage meetings in order to engage with their readers.
Conclusion
So here you go, an overview of the BigBlueButton open-source video-conferencing application. You can host video conferences with certain restrictions on the demo servers now. You can also run it through your personal Linux server and completely customize how you would like to make use of BBB within your company.