What Is A VPS Server? Why Do We Need Virtual Private Server?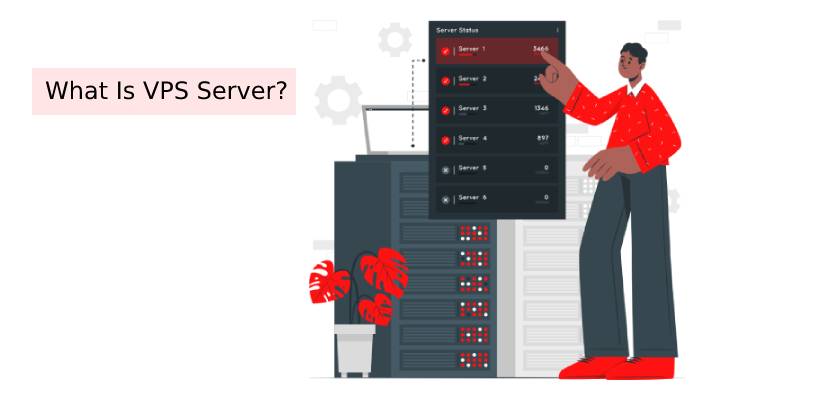 VPS is a safer and more stable option than shared hosting, where there isn't an exclusive server space. It's also smaller and less expensive than renting a complete server.
VPS server hosting is typically used by owners of websites who are experiencing moderate traffic, which surpasses the limitations offered by shared hosting, yet they don't require the power of dedicated servers.
Benefits of VPS Server
Cheap VPS server could be the ideal solution If that's what you need. Below, you will find the advantages and disadvantages of VPS server hosting.
Pros of VPS Server
   

It's quicker and more stable than shared hosting servers.

   

Since server resources like the memory and processing capacity are assured that there are not fluctuations in the resources available.

   

Problems and surges in traffic from other users on servers won't impact your website.

   

You are granted superuser (root) access to your server.

   

You will be more private because your files and databases are protected from other users on the server.

It's a straightforward service to scale. If your site grows, you are able to easily expand the server's resources (CPU, RAM, disk bandwidth, space, and more.).
Cons of VPS Server
   

It's more expensive than shared hosting.

   

It is more complex to configure your VPS; however, there are plenty of tutorials on the internet.

   

The management of server plans is far more demanding than cloud or shared plans.

Incorrectly configured servers could cause security issues.
Read More: Cloud vs Shared vs Dedicated Hosting – Which Is Better?
Why Do We Need VPS Server?
VPS hosting isn't suitable for all and tends to be more effective in certain circumstances as opposed to others. We're not trying to make up a false claim about the advantages of VPS hosting, so we'll give you a few reasons to consider VPS, and here are some reasons you might or might not be interested in VPS hosting.
If You Are Thinking of the Use of a VPS
When your site exceeds the resource and architectural limits of your reseller or shared hosting.
If you have to install custom modules or apps which aren't supported on your shared host.

If you need permission to root the server.

If you are looking for a virtual development environment to support the development of your application and for testing.

If you're handling financial transactions and handling sensitive information.

If you're experiencing extreme changes in traffic.
The Reasons You Should not Think about Using a VPS:
If you're hosting low-traffic websites that aren't mission-critical.

If you're a novice and need to master the basics, such as FTP, WordPress, and cPanel.
Comparing VPS to Other Web Hosting Types

Different kinds of website hosting permit various levels of customizing your server. They differ in cost and performance (e.g., loading time of pages) as well as how long the services are available (e.g., uptime) and more. You can find below more about the way VPS server hosting is compared with other hosting options.
VPS Server vs Dedicated Server
By using dedicated hosting, you can rent the entire physical server for your company. If you've got a busy website, dedicated hosting could be the perfect option for you since dedicated servers are speedy and flexible. They are also customizable. However, it has a cost also, which means they're not for everyone, particularly when you've got a small or medium-sized website.
While VPS hosting permits you to set up and customize the operating system you use and other server programs, dedicated hosting takes it an extra step. It lets you not only modify the software, however, but the hardware too since the server itself is yours to manage, and nobody can influence the configuration. It is also possible to run an individual server on your premises (for instance, at your office). However, you'll be deprived of the assistance of a professional team for hosting in this scenario.
VPS Server vs Cloud Server
In Cloud hosting services, it is not necessary to make use of a single server but rather a cluster that runs on the cloud. Each server within the cluster has an up-to-date version of your site. If any server is busy, the cluster automatically redirects traffic to another server that is not as active. This means that cloud hosting is free of downtime because there is always a server within the cluster that can meet the demands of your site's users.
When Should You Switch to VPS?
The best way to assess whether or not you're required for an upgrade VPS is to review the state of your site. Here are eight signs that indicate that it's time to move to virtual.
1. You're Worried About Security
If you are looking for enhanced security features, enhanced security capabilities for monitoring, more storage space for backups, and a more reliable website, or you plan to use any online payment, you might think about a VPS. With VPS, you can count on solid resources, and you can count on the best security features.
2. You Start to Experience High Traffic Volumes
If you're just starting your site and aren't receiving the most amount of traffic, sharing hosting could be the perfect option. However, if your site's visitors are constantly growing, you should think about changing your hosting. It's not a good idea to run the risk of having your website slow or, more seriously, having your server crash because it's not able to handle the demand. If you are anticipating an increase in traffic, do yourself a favor and change to a VPS.
3. Your Website is Consistently Running Slowly
Shared hosting isn't designed for websites that consume huge quantities of RAM. As your website expands and you add more and more content, you'll begin to see a decrease in the speed at which your site loads. When this occurs, it's a sign that you're reaching your resources. The upgrade to a VPS allows you to expand your site without worrying about load times that are slow.
4. You Have an Online Store
When you decide to start operating an online store is the time to update your website hosting plans. Why? Because you can have a safe and specific virtual server on which it is more probable that you will pass the PCI certification test. PCI is the Payment Card Industry Data Security Standard, which was created by the largest credit card companies to guard against the theft of the personal information of cardholders.
If you're accepting payment cards through your site using a payment gateway, you must do all you can to protect the security of your customer's financial data. Because VPS is more secure as compared to shared hosting, VPS is the best alternative for eCommerce websites.
5. You Need to Install Custom Software
Shared hosting is ideal for webmasters who design their websites using WordPress or other standard Content Management Systems. But, if you come to the point at which you must install a custom program, an individual server configuration, or perform any other programming that is more advanced or another advanced programming, you'll need an option for hosting that gives you greater control.
In the same way, many bookkeeping, tax, billing, and other programs that integrate need a 24/7 availability of servers along with high-speed internet. In order to run these programs successfully, you'll require a dedicated cheap VPS server.
If you're on a shared server, you'll be able to experience frustration when you discover that advanced actions aren't allowed, or applications don't have the resources required to work properly. Instead of trying to solve this possibility, you can upgrade to VPS hosting right away and get more control over your program actions.
6. You Run into Server Errors
Are you experiencing "Service Unavailable" errors, 50X errors, or "Internal Server Error" often? If you see errors, it's likely your potential customers are also experiencing issues. While you may be able to fix downtime issues, there's absolutely no place for server problems if you're running in an online-based company. Make sure you are prepared by upgrading to a VPS.
7. You're on a Budget
Although it's true that a dedicated hosting plan can solve some of the issues that are listed, However, it's important to note that the dedicated plan is more expensive. If you're looking to increase the speed of your internet connection, boost security, or get more RAM, the most cost-effective choice is to choose VPS hosting.
8. You Build Websites for Your Clients
Do you have a responsibility to develop websites for customers? With VPS, you'll be able to host any number of domains while ensuring you have enough RAM for each site to run effectively.
Conclusion
VPS hosting allows you access to resources that are guaranteed and complete control without the need to manage the server yourself. It's a great option for medium-to-high traffic, resource-intensive, and eCommerce sites. However, businesses that expect rapid growth will also benefit from the security that the hosting service offers. If you're looking for a stable large-scale, business-scale hosting platform with a low cost is definitely worth considering hosting on VPS for your website.