Top 5 Plugins to Change WordPress Login URL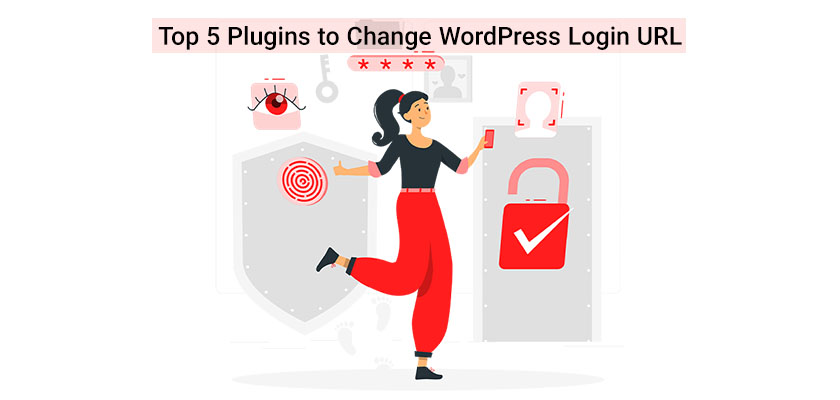 Maintaining secure WordPress hosting can be easy, but you may have to buy a WordPress hosting that is secure from the get-go. Or alternatively, you can increase your WordPress website security without knowing any coding languages. As you know, the more well-known WordPress becomes, the more likely it will be targeted by cybercriminals. Of all the security flaws that are available, that login page is just one of the first things hackers use to target. So you have to change WordPress admin login URL. Luckily, there are thousands upon thousands of WordPress plugins that you can use to add or remove features from your WordPress website. In this article, we'll introduce some of the best plugins to change WordPress login URLs.
How to Find Your Login Page URL
Each time you visit the admin area of your website to modify a post or to install plugins, you must go through the WordPress sign-in screen. Once you've signed in, you will be able to access and manage your entire site via the dashboard. It's a familiar interface, isn't it?
By default, anyone is able to find your WordPress login URL on your website by adding the characters /admin (e.g., www.yoursite.com/admin) or /login (e.g., www.yoursite.com/login/) at the end of the website's URL. This redirects users directly to the page for login.
If you are unable to access the login page with the method above, you can use another method to access the login screen. You can add /wp-login.php at the end of the URL, similar to this example: www.yoursite.com/wp-login.php
All you need is an email address and password to gain access to the server side of your website. But beware of cyber thieves and hackers, as they are all over the place. Your site is always in the potential to be targeted.
What are you able to do to ensure the security of your site and the valuable content it contains? You should definitely modify your login URL, at the very least.
Why Is It Important to Change the Default WordPress Login Page?
You might be asking yourself, "No one knows my password. Why should I care?" Let us point out the many reasons it's something worth focusing on.
The default login URL. This URL is easily accessible, and therefore it can be accessed by anyone who has login credentials if you do not alter it. Changing the login page's address makes it more difficult for anyone users to access your site, excluding you, the site's owner. This will also reduce the chance of your site being compromised.
What happens if you have a reliable password and username? Are you required to alter the default login URL? Absolutely.
You may have heard of methods to manually change WordPress login URLs, but if you are not familiar with WordPress' core, it is possible that you may break a thing or two. Thus, we put together this article to help you change WordPress admin login URL with plugin.
One of the best WordPress login plugins that we suggest is LoginPress. It allows you to design stunning login pages with no coding knowledge. You can completely customize the default WordPress login screen by adding custom colors, buttons, and many more. You can also include an image as a background to make it appear more engaging.
Additionally, LoginPress enables you to include your logo as well as customize your welcome and error messages to create a completely customized experience. The plugin is lightweight to ensure it doesn't affect your site's performance, and it's responsive so that the login screen can be adjusted to the device you use. You can also preview your changes as you work on changes, so you don't have to worry about second-guessing your website's final appearance.
In addition, LoginPress includes features such as:
A visual page editor
Options for advanced technology
Form footer modification
Custom CSS compatibility
Translation-readiness
WPForms is mostly known as a plugin for creating forms. However, it also comes with an impressive User Registration extension that allows users to build a unique login page. Once installed, you are able to effortlessly set it up in minutes and then customize the areas and buttons.
You can place your login form in any place you'd like on your site, such as your sidebar or footer. Additionally, you can create a forgotten password link. WPForms utilizes the smart tag to link to your database, ensuring that the link is fully functional after you have published your modifications.
Additionally, WPForms comes with extra security against spam. You can select between two methods for activating users and setting up email verification or manually verify each user manually. Additionally, you can activate reCAPTCHA to stop bots from submitting your information.
Also the plugin also includes features like:
Form builder with drag-and-drop.
Templates that are pre-built
AJAX form submission
Compatible with Mailchimp, AWeber, and other email marketing tools
Integration of PayPal and Stripe
Optional conditional logic
Multi-page forms
Instant notifications
The lengthy registration forms and needing to enter your password every time you wish to sign in are annoying. This is the point where Nextend Social Login comes in. This tool is free and allows your customers to log in to your site using the use of their Facebook, Twitter, or Google accounts.
This could dramatically improve the user experience of your website since your users will have instant access using password-free login. Additionally, you do not have to be concerned about sending confirmation emails to users, which will save you time and effort.
Your existing members can quickly connect to their social media accounts or log in using the standard method. The plugin is easy to use, offering you access to shortcodes and an easy widget to incorporate into your site.
It also has options like:
Simple to set up
Customizable designs
Text and buttons that can be edited
Custom redirect URL following registration or login
Social media avatars
Translation-readiness
You can also change the admin login page URL WordPress with plugin. WPS Hide Login helps you safeguard your website from brute force attacks by altering the default login URL.
By default, WordPress uses yoursite.com/wp-login.php as the URL for your login page, making it simple for outsiders to locate it. This plugin lets you change the login URL of your website without impacting any of the core files.
Thus, intruders won't be in a position to identify it easily. However, you need to be cautious and select an authentic username and password.
WPS Hide Login also offers extensions like WPS Limit Login for extra security for brute force attacks. You are able to safely restore your login page at any time by deactivating the tool.
Additional features that are worth looking into are:
Integration with well-known plugins like BuddyPress and Jetpack. Jetpack
Multisite function
Complete login URL customization
Similar to LoginPress, it allows users to completely customize their login page to fit the website's style and branding to create a consistent UX.
The plugin utilizes WordPress's native WordPress Customizer, making it perfect for developers and beginners alike. It also displays all changes made in real time, and you don't need to go off the display to alter your settings.
Custom Login Page Creator allows you to alter the following options:
Logo
Background (solid color or image)
Form styling
Field Styling
Button style
General text colors
Important Information You Need to Know
Before you decide on a plugin to change WordPress admin login URL, there are two things that you must be aware of.
Firstly, when you create your new password, you will be unable to access the old URLs. Therefore, ensure that you save the new URL in a safe place or keep it in mind, at the very least. Everyone does not want to be locked out of his own site, certainly.
Secondly, when you have removed the plugins, your databases will be restored without making any modifications. Login URLs will change to the default login URL, as mentioned at the beginning of the article.
Conclusion
In this article, we discussed how to change WordPress admin login URL with plugin. Making your website more secure is the primary goal. It is likely that you have already realized that changing your WordPress log-in URLs is among the most effective security practices. You will surely be amazed at how simple it is to utilize the plugins suggested above.