LiteSpeed Cache vs WP Rocket 2022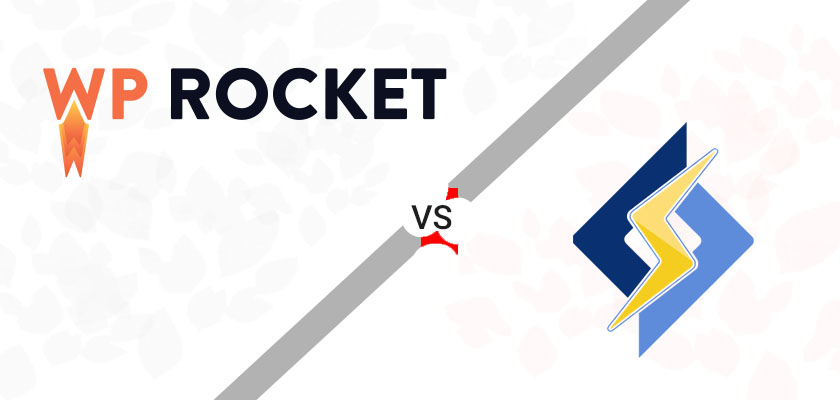 Image and page caching are two of the best things you can do to speed up your WordPress website. It makes your website respond faster when it's done correctly (and when your server runs LSCache).
This can boost your Search Engine Optimization (SEO), which can result in higher search results ranking.
A responsive website can help increase sales conversions, especially if you own an online shop. LiteSpeed cache is one of the most powerful and comprehensive WordPress caching plugins. We will be discussing it further and comparing WP Rocket vs. LiteSpeed cache.
So without further ado, let's discuss LiteSpeed cache vs. WP Rocket, two of the best WordPress caching plugins.
What Is Caching?
The LiteSpeed Cache plugin is primarily concerned with page caches. A cached page refers to a copy of a page. Visitors will benefit from creating a copy of a page.
A browser requests a WordPress page. The server performs several functions to create the page.
Typically, best WordPress VPS hosting must (at the very least) be able to render any content in the browser before it can receive the most recent posts, create a header and a footer, place sidebar widgets, and find out how media should be displayed, etc.
Complex pages, such as those found on e-commerce websites can take dozens of steps in order to display various products and categories.
Most functions are performed in milliseconds. However, adding them all up can make it take a while. This increases the time it takes to load a webpage.
A caching plugin will create a copy of the page as it is completed, including all its parts. It then displays the copy whenever the page is requested (for a period predefined).
This way, three visitors can request the same page in a matter of minutes or less. The page does not need to be "built" more than once. Pre-built copy loads faster because there is no build time for the second and third visitors.
Caching allows your site to respond faster, which gives it an SEO boost. This, in turn, makes for a better user experience.
What Are WordPress Cache Plugins, and How Can They Benefit Your Website?
It is important to consider many things in order to create a winning website. It is more than simply investing in quality content and creating a beautiful website. Optimizing page loading speed to improve performance is something you should pay attention to. Amazon estimates that a website loading one second slower will result in a loss of revenue of 1.6 billion dollars.
If your website takes longer than three seconds to load, it will cause more than 40% of visitors to leave immediately. This is a major reason SEO can be affected by a high bounce rate. These issues can be solved with the help of WordPress cache plugins. These plugins can speed up your site's loading time, improve user experience, and reduce bounce rates. This will allow you to generate more revenue.
However, selecting the right tool to use for your website can be a difficult task.
What Is LiteSpeed Cache?
Litespeed Cache is a caching and optimization plugin that is free for WordPress, Joomla, Magento, and other platforms and offers amazing caching and optimization. This plugin is intended to work as a server-level cache. This means it integrates seamlessly with the WordPress VPS hosting LiteSpeed Web server. The LiteSpeed Technologies company has developed the LiteSpeed Web server and the LiteSpeed cache. This combination makes LiteSpeed Cache's caching capabilities superior to other cache plugins. It is considered a serious competitor to WP Rocket.
What Does LiteSpeed Cache Do?
Imagine that you have an uncached webpage. A visitor requests this page. Several things happen. LiteSpeed searches for the page in its cache but does not find it. LiteSpeed returns a cache miss while the visitor waits; the web app generates a static HTML webpage dynamically. LiteSpeed displays the static HTML page to the visitor. LiteSpeed saves the static HTML page in a cache object so that it can be used later.
A few minutes later, another visitor requests the same page. Here's how it happens: LiteSpeed searches its cache for the page and finds it. LiteSpeed returns a cache hit. LiteSpeed serves the static HTML page immediately to the visitor. You can see that the inefficient web application is no longer in the photo after the page has been cached. Visitors who request the page from this point forward will not need to wait for the web application until the cache object expires.
It is easy to see why caching can be beneficial for both your visitors and your server load.
LiteSpeed Cache Advantages
WordPress has the best caching and optimization plugins. You can list a few that do each of these. Some offer a specific type of optimization, with many customization options, such as the W3 Total Cache plugin. You have complete control over caching, HTML, CSS, JS files, and more. There is no image or database optimization. A pro user won't be bored by the number of settings available, let alone an average user.
Other plugins provide a lot more features and customization options, but they don't do a good job of making it worthwhile.
LiteSpeed Cache is not the only plugin that offers similar features. However, a few plugins provide similar functionality to LiteSpeed Cache. These plugins don't offer as many customization options as LiteSpeed Cache. WP Rocket is an example. It's a powerful optimization plugin that is very user-friendly. Without changing any settings, it will deliver solid results to your WordPress site. It is easy to modify all settings. It only offers a few customization options.
LiteSpeed Cache, on the other hand, offers many features and a variety of customization options. You can customize everything to your liking. This plugin is the only one that offers this feature. LiteSpeed Cache's server-level caching is better than any other caching plugin. This alone speaks volumes about the cache.
What Is WP Rocket?
WP Rocket is a popular WordPress caching plugin on the market. This premium plugin is not available in a free or trial version. This plugin has been installed over 2,000,000 times around the globe. Although it labels itself as a caching plugin, WP Rocket also provides you with a ton of powerful performance-optimization features to go along with caching. It is easy to set up and can be used in just a few clicks. It is a great tool for beginners who want to build websites faster.
What Is WP Rocket Used for?
WP Rocket immediately applies the 80% performance optimizations best practices.
It doesn't take much to set it up; your website will immediately benefit from it once you activate it.
The static HTML version of your content is stored in a static cache.
Browser caching (on Apache if available on the server): This stores certain files on visitors' computers
Cross-Origin support is available for web fonts (on Apache)
Support for various third-party themes and plugins
Combination of 3rd-party scripts and inline scripts
WooCommerce Refresh Cart Fragments Cache
WP Rocket does all of this automatically, so you don't have to modify any code to speed up your WordPress site. Enjoy the instant improvement in loading speed and better GTMetrix scores.
You can also customize WP Rocket's settings to make it work for you.
You can choose from a single license (49 dollars for one website), a plus license (99 for three websites), or an infinite license (249 for unlimited websites). All licenses come with 1 year of support.
LiteSpeed Cache vs. WP Rocket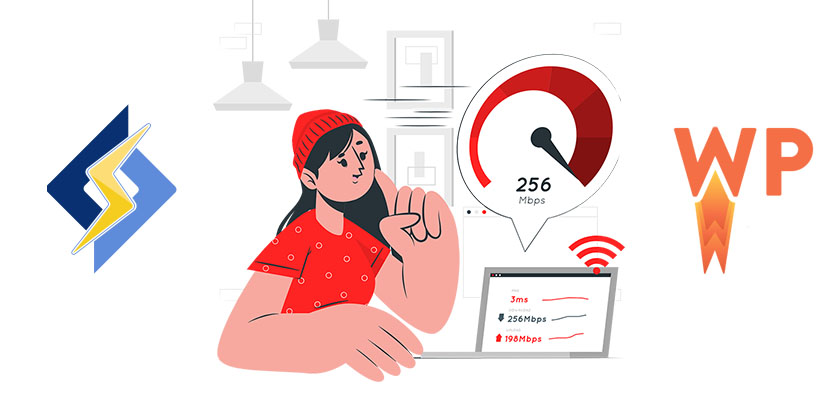 Compatibility with Web Servers
The LiteSpeed Cache plugin works with both the OpenLiteSpeed and LiteSpeed webservers. Many of the plugin's critical features won't work if you are using Apache or Nginx. WP Rocket works flawlessly with Apache and Nginx. It supports both the Microsoft IIS and LiteSpeed webservers.
LiteSpeed is built upon the Apache web server, and only a handful of web hosting companies support it. Rackset web Hosting provider use the LiteSpeed webserver to replace Nginx/Apache.
Page Caching
WP Rocket and LiteSpeed cache have full-page caching as their core feature. WP Rocket automatically enables it, while LiteSpeed Cache requires you to manually enable it. LSCache offers the following page caching options.
Allow/disable caching of commenters for logged-in users, favicon.ico, and PHP resources, set private/force cached URIs, ignore query string, set cache TTL, schedule purging, enable ESI, etc.
WP Rocket allows users to set up advanced caching rules. These features can be enabled/disabled in the Advanced Caching rules section.
LS Cache can preload a file from the background in real-time when you enable its Instant Click function. This function is what happens? When the mouse cursor is moved over the URL of the page, the plugin will preload it. WP Rocket will preload all pages that are not cached when enabled. What happens if you enable WP Rocket cache-preload? The plugin will crawl your website pages at the time you set them and save them on the server.
You can set LS Cache or WP Rocket to not cache pages or purge cache when you publish a post, update/downgrade a theme/WP core, or make any other changes. WPR provides a button that will clear the cache in the WP post editor. To remove a post from the cache after making changes to it, click this button.
CSS Optimization
WP Rocket and LiteSpeed cache plugins can combine CSS files and minify them to reduce HTTP requests. The plugins are able to remove any unused CSS from pages and even load them asynchronously. WP Rocket does not ask for an API key when activating the remove unused CSS code function or enabling the CCSS feature. LiteSpeed cache asks you to enter your domain key. The plugin will not generate the crucial CSS if you don't provide the API key.
JavaScript Optimization
Pagespeed Insights uses a measure called TBT (or Total Blocking Time). When the theme/plugins have a lot of JS code, the TBT time will be high. The browser handles JS. You can delay the loading and execution of unimportant JS files to reduce the TBT. It is difficult to find these scripts or files manually. Caching plugins are able to quickly identify these files. WPR and LSC can delay the execution of JS code, but WP Rocket offers an option to exclude JS files.
All JS files will be deferred by the LiteSpeed Cache plugin. You can't specify files that you don't wish the plugin to ignore. WP Rocket and LiteSpeed cache plugins allow you to combine and minify JS files. Both caching plugins are capable of inlining JS/CSS files. WPR can be configured to prevent inlined JS/CSS files from being combined or minimized, which would work best if you have one of the fastest WordPress VPS hostings.
Media file Handling
WP Rocket and LS Cache both support lazy image loading. LS Cache offers a variety of image optimization options. It can extract EXIF/XML from images and create a WebP version (or JPG) of the PNG or JPG files. It can also optimize images using lossless compression algorithms and replace JPG/PNG files with their WebP versions. You can also change the default quality of your image.
DB Optimization
WP Rocket and LiteSpeed Cache plugins can eliminate bloat in the database by deleting junk comments, post revisions, or trashed posts. Only large sites will benefit from the database optimization feature. WPR can optimize the DB table. It can be set up to clean up your DB at a specific time. LiteSpeed Cache plugin allows you to set the maximum number of revisions that the WP CMS should keep in the DB.
Addons
WP Rocket addons allow you to optimize browser caching for Google Analytics or Facebook Pixel and support Varnish caching. You can also integrate Cloudflare into WP Rocket with this addon.
Which Plugin Should You Use?
Both of the mentioned plugins can work even better if you have one of the fastest WordPress VPS hosting services and are looking for ways to speed up a WordPress site. WP Rocket subscription plans are a better option than being tempted by the good reviews of LiteSpeed Cache.