Linux Hosting vs WordPress Hosting – What Are the Differences?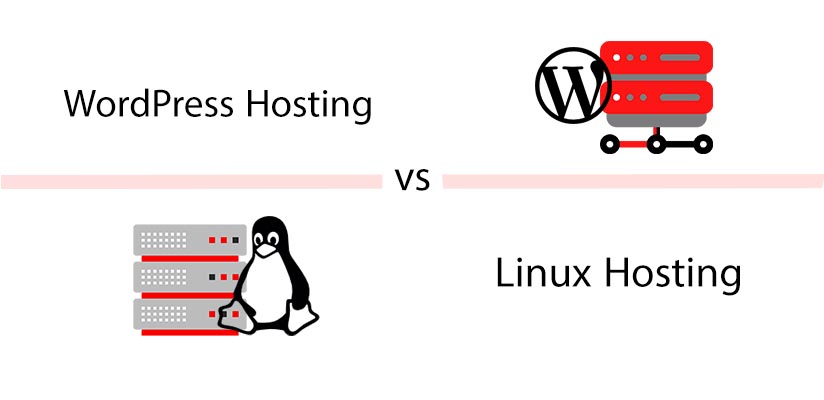 In general, you don't require WordPress-specific hosting to create an effective website using WordPress. Many businesses market their shared plans specifically to WordPress users. But, they usually include features that can make your website perform better over the long haul.
In this article, we'll look at both Linux hosting vs WordPress hosting types and help you decide whether to buy Linux hosting or buy WordPress hosting. Do you require WordPress hosting or web hosting for your website? The most important differences discussed.
Linux Hosting vs WordPress Hosting
The primary distinction that separates WordPress hosting and conventional web-based hosting lie in the configuration of the server. First, let's answer what WordPress hosting is? WordPress hosting plans usually offer features that are specifically designed to work with the platform. For example, your web host could advertise options like PHP 7 or a higher PHP memory.
Additionally, WordPress hosting often comes with handy add-on services that make your website more efficient. For example, the plan you choose could include automatic updates, access to themes or plugins, installation with one click, and many more. Be aware that these additional features are usually included in the cost particularly if you choose to use controlled WordPress hosting.
Basic web hosting is adequate for keeping your WordPress website and making it available to the general public. It could also come with beneficial features like speed optimization, enhanced security, a no-cost SSL certificate, and many more. However, you'll lose all the specific WordPress benefits that the alternative gives.
What is Linux Hosting?
Linux hosting is an open-source operating system that allows web hosting to be done using a Linux-based server. Hosting is essential for a website to be visible on the internet. Open source refers to the fact that source code can be modified, altered, and redistributed in both commercial and non-commercial environments. Linux is a popular operating system among web hosting providers and users. It is free, flexible, customizable, offers options and server capabilities. It's also an alternative to Windows, which can be restrictive.
Linux-based hosting is more affordable than Windows-based hosting. Although both hosting services have been more competitive in recent years, there have been some changes that have made them more accessible. Before you decide to go with one or the other, you must consider all the pros and cons.
What's the difference between WordPress Hosting and Other Web Hosting?
General web hosting:

General web hosting is usually a shared hosting solution that allows multiple websites to share space on one physical server. In this kind of setting it is possible to have thousands of websites, each running on different platforms. While the general hosting providers

WordPress-specific site-builders and apps:

They provide WordPress applications and site builders however, they also offer several other website builders and should provide support for problems that are related to each. The bottom line is that the services and support offered by general hosting solutions are not specifically intended to address WordPress-specific issues.

WordPress hosting:

is like another general web hosting, WordPress hosting often happens in a shared server setting and plans are provided with a variety of options and costs. The distinction, however, is that your site will be sharing a server with other WordPress installations. Support and service are customized to the particular capabilities of WordPress and the solutions are created to optimize WordPress performance.
Benefits of WordPress Hosting
WordPress hosting providers will certainly provide special support and services for WordPress websites What exactly are you looking forward to? These are only a few of the options:
The web technology can be configured to make it easy to set up your site

Staging sites can be quickly and easily transferred

Every account that is on the server can be treated to the same maintenance plan that we have designed for each account.

Servers can be set up to guard against specific WordPress threats

Security patches and upgrades in bulk are available for all sites on the server in one go

Reps from customer service are specially trained to offer support for the software. This means that if you're unsure of the reason why your plugin isn't working or your text isn't showing properly, they will probably assist you in solving any issue.

The majority of WordPress hosting plans offer simple to use website builders. They also come with themes, plugins, or even SSL certificates.
Benefits of Linux Hosting
Linux hosting allows flexibility and the use of open-source technologies like PHP, Apache, and MySQL.

This hosting service is affordable and very cost-effective.

Linux has been praised for its stability and safety over the years.

Compared to Windows platforms, the security settings on a Linux server are more efficient and advanced than those found on a Windows platform.

Flexibility is a key feature of the modern technology world. It ensures relevance in a constantly changing environment. Linux hosting is flexible because it can be used with multiple databases.
What should you look for in the Web Hosting Service?
If you choose to use the WordPress web hosting provider or an all-purpose web hosting service, there are certain things you can't skip over. These are the essential features that you must have from any hosting provider:
Uptime guarantee:

The most important thing is more important than knowing that your site will always be running. In the case of the business world, any downtime can be a cost to your business! Choose a hosting service with uptimes of 99.95 percent or greater (anything lower than 99% is not acceptable).

Scalability:

When your business expands, so does your website. Select a web hosting provider that can grow with you and provide additional space for your business as you need it.

Security

: If you keep private client data on your website, for example, address, telephone number, or credit card numbers it is crucial to ensure that your data is safe and secure. Find a web hosting service that offers basic security features such as firewalls, spam, and malware security.

Excellent customer support:

Find a web hosting provider that provides numerous support options, including live chat or telephone support to allow you to communicate with your preferred support method at any time of the day.
Linux Hosting vs WordPress Hosting: which is best for you?
Selecting the best kind of hosting depends on your requirements and experience level. You might also wish to look at the particulars of your hosting service and decide if the extra WordPress features will be of value to you.
For example, you may be able to ask yourself these questions:
In the first place, are you building your website using WordPress? If it isn't, WordPress hosting will not be a good idea.

What is your budget? The standard shared plan is more affordable but managed WordPress hosting is costlier.

Are you worried about security? WordPress hosting is typically more secure because of the increased security against typical dangers.

Do you prefer your server maintenance takes place in the background? If this is the case, then you'll appreciate automated WordPress updates.

Are you familiar with WordPress or do you need assistance? Less experienced people will appreciate dedicated WordPress support for customers.

What kind of content do you have in mind on your site? Perhaps you are planning to upload massive video or image galleries. In this case, having the ease of access to features like cache or CDN could be beneficial for you.
And lastly what kind of traffic do you anticipate? Do you think a shared hosting plan is sufficient for your requirements? If you anticipate a large number of users right after the launch it is possible to look at other forms of hosting.
Linux Hosting vs WordPress Hosting: the decision
In the end, if you've answered yes to the majority of these questions, then you must choose WordPress hosting. It's an ideal solution for web designers and beginners alike since it will help you save a lot of time.
Additionally, although WordPress hosting does not necessarily ensure faster page loading speeds it gives you an advantage in comparison to standard Linux hosting. However regular web hosting gives you greater control over all aspects of your site this could be a significant factor for those who are more experienced.
This kind of hosting is also less expensive overall, but the differences may not be as significant with shared plans. Numerous companies offer the same price entry point on all hosting plans. Make sure to examine the features to understand the features you're receiving.