How to Choose the Best Domain Name for eCommerce Website 2023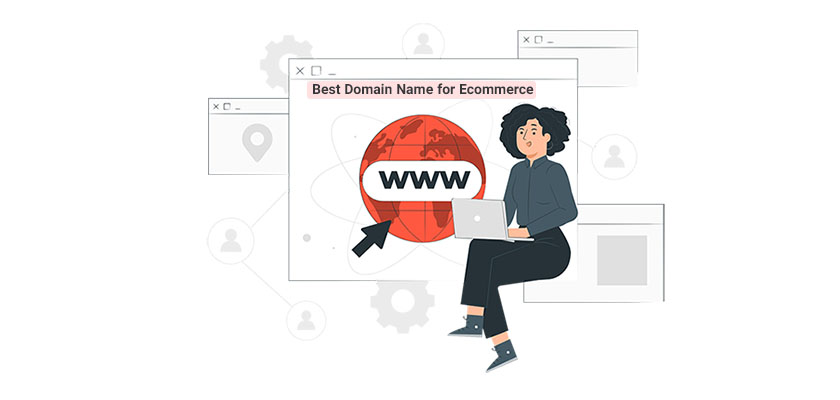 It is like choosing a business name: it takes a lot of thought. Your eCommerce website name is your online identity. Choosing the best domain for your eCommerce website that fits your business and is easy to promote is important. It can be difficult to determine what makes a great domain name. In the US alone, 91% of the population will shop online. This is a remarkable number for any online store owner, and this number alone should encourage anyone to open an online store and start competing in the market.
However, coming up with the best domain name for an eCommerce website can be a bit challenging since there are millions of websites online and millions of domain names taken; choosing the best domain for your online shop is tricky. In this article, we would like to discuss how to choose the best domain name for an eCommerce website in 2023.
What Is a Good Domain Name for an eCommerce Website?
A domain name should be unique, concise, and easy to remember; especially for an eCommerce website, your domain name should be easy to remember so people can keep coming back to your website. Good domain names avoid using trademarks of other people, complex words, and words with similar spellings (too/to, for example).
With that being said, how can you choose a domain name for an eCommerce website?
How to Choose an eCommerce Website Name?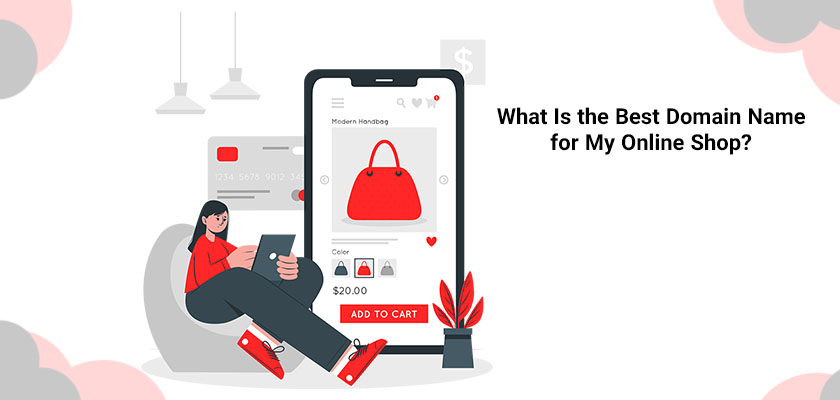 There are many factors to consider when choosing a domain name for an eCommerce website. These include:
    What should a customer think about your domain name when it comes up?
    Is your domain name applicable to all products and services that you offer?
    Do you want to include keywords in SEO? Or should you choose a domain that is more brandable?
Although domains can be affordable and simple to register, finding the right domain name is not easy. This guide will help you to do just that.
Register Your Brand
Consider some eCommerce domain name examples of well-known brands: Apple, Amazon and BMW. These companies have their brand names as their domains.
Why is this important? Because your domain name is closely linked to your brand.
Just imagine if Apple had registered CoolTechnology.com or if Coca-Cola had registered CarbonatedSoftDrink.com. These domain names don't sound the same.
Choosing a domain name that matches your brand name is a good idea. This will prevent brand confusion.
Direct traffic is the most popular traffic source to Amazon's website, with 57.09%. This means that more than half of Amazon's shoppers are entering the URL directly into their web browsers.
Imagine if someone typed in your brand name and was redirected to another site. You can expect them to feel confused and lose trust in your brand.
If you don't have a brand name yet, you can use an SEO approach to register a domain that best matches your eCommerce site name.
SEO Keywords
SEO (search engine optimization) refers to optimizing your website so that it ranks high in search engines such as Google for the target keywords.
Take a look at your last purchase. You have probably searched online for information to assist you in making your purchase decision. Google is used by 51% of shoppers to search for product information.
Registering a domain name containing your target keyword is a great way to increase organic search traffic if your primary goal is to attract organic traffic.
It is beneficial for search engine and user points of view to add relevant keywords to your eCommerce website name list of domain names. Users immediately know what the site has before clicking through, and search engines have a strong indicator of the site's content.
This approach has its downsides. Exact match domains can appear spammy (e.g., BestLeagueOfLegenedsHacks.com), and they restrict the products you can sell.
For example, if your domain name was something like BestBeerKegsForSale.com, visitors to your site might think you only sell kegs. If you sell other brewing equipment, such as glasses, ingredients, etc., this can lead to problems.
Keep it Short
For a variety of reasons, shorter domain names are better: they are easier to read, and visitors can type them in their browsers faster.
Shorter domains are also easier to remember and have a higher chance of being "catchy." For example, visitors are more likely to recall a name like Blogrefugee.com than a domain name like OnlineResumeBuilderForFree.com.
Although it may seem minor, the ability to keep in touch with visitors after they visit your website can be a significant competitive advantage. This makes it easier for visitors to remember your brand in the future, should they ever need your products and services.
The limit for domain names is limited to 67 characters. However, you should aim to keep it under 20 characters (this is where you achieve the best domain for an eCommerce site). It is not easy to come up with a shorter domain because most of them are already registered.
You may not be able to purchase a premium domain name if your business isn't already established and has a substantial revenue stream. You have many other options for choosing the right name for your online business.
Use 'Creative Spellings'
You should avoid unusual spellings in your domain names. You should be cautious with spellings that differ from the way these words are spelled. If you don't clarify the 'Z,' visitors will likely land on CheapToys.com rather than CheapToyz.com. Unofficial spellings or the creation of unique words can help avoid confusion between your brand and existing words (e.g., To avoid searching for tribes, you can use 'Trybe' instead of 'Tribe.' No matter what spelling you use, make sure domains are easy to remember and that they can be typed into their browser. They need to register domains if they don't know how to spell a word.
Use other Extensions
As it is the most popular and widely used extension, you should try to register a .com domain name. If the .com domain name you are interested in is already registered or is not available at a premium rate, there is another option: consider other extensions. There are many eCommerce website name list applications or hosting providers that give you eCommerce domain name examples.
You might want to use the extension .store to create an online store for your eCommerce business.
You have more options when you choose a different extension. You might also consider the following extensions:
.shop
.com
.blog
.biz
.co
.away
.sale
Domain extensions are subject to renewal fees. Rackset as a domain registrar offer extensions at a competitive price to attract store owners. However, the renewal fees can be increased next year.
To avoid surprises, check the initial domain name cost of popular registrars as well as their renewal prices before you sign up. Just think about the best ecommerce domain name ideas and choose the most relevant one to your online shop.
Avoid Trademarks
Customers will most likely land on a competitor's site if your domain is too close or associated with a well-known trademark or brand in the same industry. The best eCommerce website name is the one that doesn't follow another website and comes up with an e-commerce site name on its own.
Legal trouble could also be a possibility. It is not a good idea to register a domain name that contains the word "apple" (e.g., AppleForSale.com).
However, if your farm sells apples to customers around the world, then registering a domain with the word apple in it (e.g., CheapApples.com) would be fine.
If you are unsure, it is best to speak with a trademark attorney.
Conclusion
In this article, we discussed how to come up with the best domain name for an eCommerce website and even mentioned a few eCommerce domain name examples. A domain name is essential for all eCommerce websites. It allows you to launch your advertising, branding and sales campaigns.
You will see the results of your website's name and brand being popular with your customers. The best domain name for eCommerce website is one that follows every domain name rule, for example, SEO, brand, etc. Your customers will return to your store more often, and they will recommend your brand to others. This will result in increased sales!