How to Backup Your WordPress Website
There is no guarantee that anything will last forever, especially in the absence of the right backup (in the online world that we all live in). If you create a website with one of the WordPress web hosting with backup services, you'll be able to enjoy a website that is reliable and uptime-wise. However, this doesn't mean that you can't avoid the possibility of a major server failure or hacking of a website or files accidentally deleted.
Businesses must be particularly vigilant in backing up their websites. After all, you don't want to lose valuable order or inventory data in the event of a mishap. This is money lost.
The good news is that making a solid backup is an easy task, even with an automated website backup macro. It's as simple as choosing how you'll perform it and how frequently. After the process is completed, it is essential to store your backups in a secure storage device, such as your external drive or cloud-based storage and then refresh the backup on a regular basis. But how to backup a WordPress site manually? Are there any other methods? Let's find out!
How to Backup a Website Manually?
The best method to back your website is the one that requires the most knowledge. Manually backing up your website is the method where you have to use FTP software to transfer the files onto your computer locally. We suggest using Filezilla since it's free and there are tons of guidelines on their website. How to backup a WordPress site manually? We'll explain below; keep in mind this method will work for any type of website; it's not restricted to WordPress CMS.
Fill in your Host username along with the Password fields. Host refers to your website's hostname or address. Your username and password are the information you use to log into your control panel for your site. (In some cases, you may need to create an FTP account from your cPanel.)
Simply click "Quickconnect." Once you've done that, you'll be presented with a list of folders representing your website.
Browse through"public_html" and right-click on it to display an options menu.
Click "Download" to copy the public_html folder onto your computer.
Alternatively, if you're running a WordPress-powered website, you can download the directory wp-content as well as the wp-config.php file.
The backup is now completed!
The issue in this manual approach is it's because it's…well, it's manual. Repeating the steps every time you want to backup your data is necessary. It's also not the easiest process that could be an issue based on your knowledge of technology. However, there are easier methods to backup your website.
How to Backup a Website from cPanel?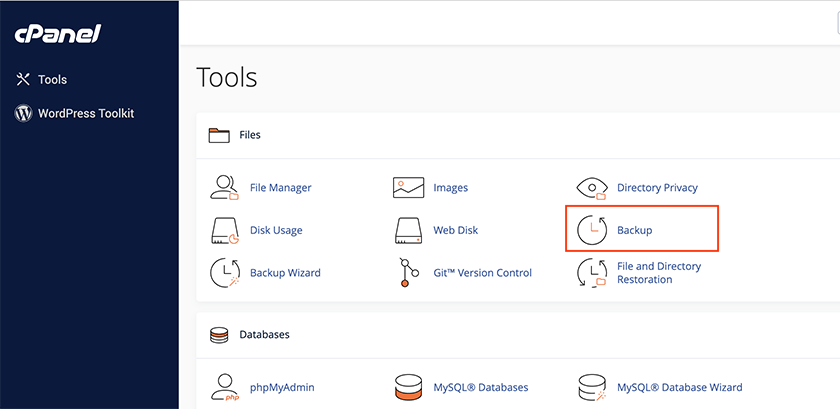 Many web hosting providers utilize cPanel, an easy-to-use front-end control panel that offers a variety of button options; as you might have guessed, it allows you to backup your website. Backups made with cPanel are technically manual backups but are simpler to do than the previous method.
Log into your website's cPanel account control panel.
Go to the "Files" section and click "Backup."
Select "Download a Full Website Backup." You can also make partial backups, which include only the home directory as well as SQL databases. This is especially useful because it reduces the downloading times that are for large websites or database backups.
Choose "Home Directory" as your backup destination. Then, add an email address so that you will receive a message after the backup has been completed.
Select "Generate Backup" to start the backup process.
Select "Go Back." Then, you'll be presented with an option that reads "Backups Available For Download." From there, you'll be able to save the archive backup file.
WordPress-powered websites require an additional step. Under the "Databases" section, click "phpMyAdmin" and then select your website's database. Select "Export." Then, select "Go" on another page to download the SQL file.
Keep in mind that this is not an automated method of backup. It is necessary to manually perform an annual backup basis.
How to Backup a WordPress Website?
Do you have a WordPress-powered site? There are a variety of WordPress plugins to protect your site. UpdraftPlus is a well-known option that is known to create automated website backup(s).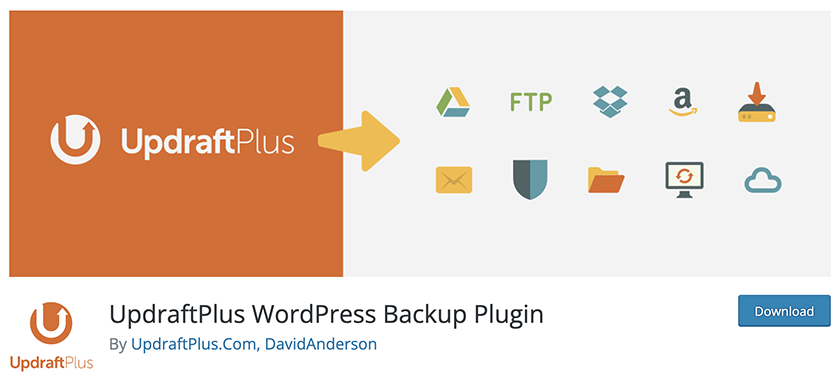 Click on "Settings" and click the UpdraftPlus tab.
Simply click "Backup Now" to create an archive file that is downloadable.
UpdraftPlus includes additional features to improve the experience of backup. The plug-in can be used to backup your website at a specific time and eliminate the need to manually back up. You can also connect UpdraftPlus to an account on cloud storage to ensure that backup files are automatically transferred there. UpdraftPlus simplifies the entire backup process easily. Other recommended WordPress backup plug-ins are Backup & Staging, BackWPup Total Upkeep, and XCloner.
WordPress Web Hosting with Backup Services
The next and most straightforward step is to sign-up for a managed backup service. Many web hosting companies that offer a variety of services also offer secure storage for your backups, or they are affiliated with third-party automated backup solutions. These third-party solutions, such as BackupMachine, Codeguard, and Dropmysite, handle the backup process on your behalf. The steps can differ from one service to the next.
The software will automatically backup your website according to a preset time. Based on the service you choose, you can change the time of backup to the one you like.
Conclusion
How to backup a WordPress website? There are a variety of options to backup your website. Even the more complex backup methods become simpler once you've tried these a couple of times. We suggest backups of your site on a weekly basis. However, in the event that you often make changes to your website, as well as are engaged in eCommerce, then you must take into consideration daily backups. It's best to be safe than sorry. In the majority of cases, the process of restoring your website is as easy as reversing the backup procedure.