Differences Between WordPress Hosting and Cloud Hosting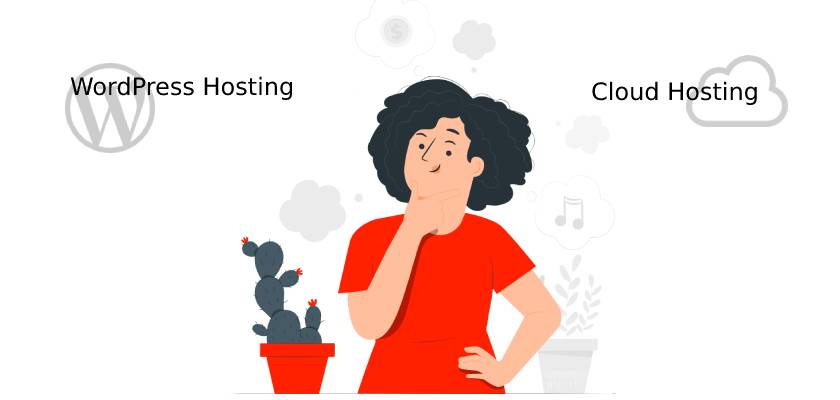 With the many choices to choose from, selecting the best hosting for your website can be an overwhelming task, especially when you have to choose from Cloud Hosting and WordPress Hosting. We've spent time researching both options so we can assist you in finding the most suitable solution for your site.
In this article, we have discussed the differences between WordPress and Cloud hosting and emphasized some of the major differences between the two hosts that will allow you to choose without relying on any negative solutions from the web. 
For you to get a complete overview of Cloud as well as WordPress hosting, we've examined them side by side regarding various aspects, including the performance, security, user-friendliness, price, and more. Find out which is the most suitable hosting solution for your needs, Cloud hosting or WordPress hosting. Hopefully, by the end of this article, you can choose to either buy WordPress hosting or buy Cloud hosting.
What Is Cloud Hosting?
Cloud hosting does not link your website to a physical location as other hosting options. Cloud hosting is built on multiple servers that share virtual resources. They join to create the larger network that is known as the Cloud.
Simply put, Cloud hosting lets you draw resources from many servers, like storage, bandwidth, and much more.
There are many benefits of Cloud hosting; the main feature is its extremely flexible. One of the biggest advantages that come with Cloud Hosting is the ability to choose the amount you'd like to spend. It operates on the pay-as-you-go method, meaning that you only pay for resources you utilize. It has a high level of stability when compared to WordPress hosting.
You can rely on Cloud Hosting if anything goes wrong. Cloud hosting is built so that it is able to cope with a sudden increase in traffic. This helps to run your website with ease.
Cloud Hosting is an ideal option for companies that are growing and have a lot of website traffic, and require a reliable hosting plan that can meet every need.
What Is WordPress Hosting?
The name says it all, WordPress hosting is fully dedicated web hosting exclusively for WordPress sites.
WordPress hosting is comparable to other types of hosting like dedicated or shared; however, the main difference is that it was specifically designed to work with WordPress websites.
Instead of focusing on different apps, it is focused rather than focusing on WordPress and provides you with the top performance on the WordPress platform. WordPress hosting is ideal for those who want to host their expanding WordPress websites.
The two main benefits of WordPress hosting you'll discover in each WordPress hosting package are automated WordPress updates, as well as one-click installations of WordPress, making hosting more efficient and speeding up the speed of work.
But there are two kinds of WordPress hosting, unmanaged and managed. Shared Hosting is the simplest plan that is ideal for personal and small-sized blogs and websites.
It provides basic features, like the ability to install with one click as well as automatic updates and more, all for reasonable prices. Managed WordPress hosting is a comprehensive package that can be used for all types of sites. It has a faster speed compared to shared plans, better security options, guaranteed updates, and many more features.
Even if the cost is slightly more expensive, it's an ideal solution for your website since it's less time-consuming and allows you to focus on the development of your company instead of taking care of the other aspects of your site.
WordPress Hosting vs. Cloud Hosting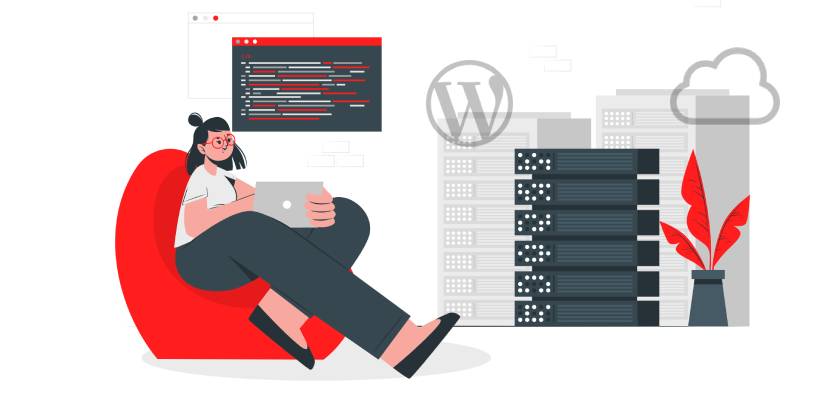 When you are choosing the best web hosting service for your site, you must consider different aspects to provide you with an idea of what each hosting service provides.
Cloud Hosting as well as WordPress hosting provide a variety of fantastic features and offer you enough equipment to operate your site efficiently.
Some hosting companies may ask you to pay an additional fee for any additional services, whereas certain hosting companies will offer you an all-inclusive solution.
It is important to be aware of the differences between the two hosting services in regard to the various aspects. And this is the reason we have presented all the distinctions in light of the key factors in Cloud Hosting, as well as WordPress Hosting.
Performance –
Cloud Hosting vs. WordPress Hosting
Performance is among the most crucial factors when choosing a plan for hosting or plan.
A great performance will aid your website in increasing its rank, increasing the number of visitors to your site, and offering the best experience for your visitors.
According to numerous studies, people don't need to wait more than 3 seconds to load the website before jumping to the next. Your site must have an unbeatable uptime and high loading times. Let's take a review of what each of these hosting services provides.
Cloud Hosting is a secure web hosting solution. Cloud Hosting lets you effectively allocate resources based on the volume of traffic your website is receiving.
One of the greatest benefits Cloud hosting has is it can let you gain more bandwidth, which will help your site function effectively.
If your website is experiencing a rise in traffic, it is possible to increase bandwidth to keep your site running at a rapid pace easily.
WordPress Hosting, On the other hand, provides standard performance. The uptime and loading time differs between host providers.
There are limitations to the resources that can't be surpassed. If you're certain of the amount of bandwidth your site needs to function, the performance will not cause any issues with WordPress hosting.
The resources available depend on the plan you choose and the hosting service provider you select. The two services, Cloud Hosting and WordPress Hosting, have a great performance, which is enough to support the growth of websites.
Security – Which Types of Hosting is More Secure?
Security is among the primary factors you need to consider when choosing a hosting service. With the growing number of hackers and cyber-attackers on the web, security is among the most important worries.
The saying goes that precaution is better than cure. It is essential that your website hosting service provides sufficient security tools that assist in avoiding risks.
Particularly if your website holds the personal details of your customers, your host must ensure security. With cloud-hosted hosting, the security provided is identical to shared hosting.
One of the disadvantages to security associated with Cloud hosting is that if some of the sites hosted on your server are at threat of being attacked, you are at risk equally.
The negligence of others could quickly put your website in trouble too. WordPress hosting gives you more choices for security. If you select the managed WordPress hosting packages, your website's data is automatically saved. Your website is continually checked, secured by firewalls and malware scans, and much more.
In the event that something happens to your data, WordPress security has got your back and allows you to restore your data at the push of one button.
Cloud Hosting and WordPress hosting each offer a range of essential security. Your site is secure by both web hosting plans, and each of them has enough security features. However, it is true that WordPress-managed hosting provides greater security options; it's an advantage in favor of WordPress hosting over cloud-hosted.
Ease of Use and Management
If you decide to use a web hosting provider for your site, the management options should be thoroughly analyzed.
If you have your own website, there are plenty of important aspects you have to be focusing on instead of just sitting and making changes and resolving issues.
Cloud Hosting is a fully controlled web hosting service. The host is responsible for all technical aspects.
For instance, if your website requires updates, you don't have to keep all other tasks in the background while you relax and continue up-to-date with your website regularly.
Cloud hosting will take care of everything on your behalf, from ensuring the safety of your site to fixing minor issues.
When it comes to WordPress hosting services, you have two options: managed and unmanaged web hosting. Managed WordPress hosting fully allows for greater flexibility as it a team of experts is in charge of all aspects of your site.
The two Cloud Hosting and WordPress Hosting provide equally well-managed hosting solutions. The choice of which is the most efficient managed hosting service is a difficult task.
Pricing، Which One to Go With – Cloud Hosting or WordPress Hosting?
Pricing is a crucial factor in nearly everything. The entire world is centered around money nowadays, and an unstable and rising cost can cause a major problem.
Whatever your host has to offer, if it doesn't meet the needs of the client's budget, they are likely to leave. In addition to higher costs, having more frequent renewals and hidden costs are a problem.
Cloud hosting uses the pay-as-you-go method. It is your responsibility to pay for the services you use in a single month. This can be a downside but a positive in the same way.
It's great because it's more user-friendly for certain users, but it has an inconvenience because it's impossible to determine the exact amount you'll cost. To put it in general terms, the cost starts at $5 per month and can increase to $300 per month based on the resources you make use of.
Managed WordPress hosting is different based on the hosting service provider. The average cost of WordPress hosting is between $23/month and up to $76/month.
WordPress hosting is more costly than Cloud hosting due to the fact that it provides greater security options and complete control of your site.
One of the advantages that come with WordPress hosting packages is that they don't need to be concerned about your budget since you are able to choose the plan you wish to use and then spend the money accordingly.
Read More: Best Tips to Increase WordPress Website Speed
How to Choose Between Cloud Hosting vs WordPress Hosting?
Now that you know the distinctions of cloud hosting in comparison to WordPress hosting options, your primary concern that's weighing on your brain currently is, which one should I pick?
Considering that both kinds of hosting have equally excellent features, picking one of them is a difficult choice. In the first place, when security is concerned, they both offer the best solution for your website. If your site has a large amount of information from customers, you're already at risk of being attacked.
A website owner with a large number of visitors will require more security features for their site. If you're among them, then you must go to WordPress hosting because it comes with the best security features.
Secondly, it's easy to exclude the possibility of management. If you opt for WordPress hosted by the managed host, then you will not have to think about technical issues or require someone on your payroll to oversee any technical aspect of your website.
The hosting company manages all of the details. This will save you lots of time, effort, and also money. The primary factor in picking one is the performance. The performance shouldn't be a concern since both are just fine in their own right. Although the managed WordPress hosting is designed for only WordPress websites, you are most likely to profit from WordPress hosting with respect to performance.
In short, Cloud hosting is the ideal choice for an organization that can be available to you throughout your growth and requires a flexible service that is affordable in terms of pricing. WordPress hosting is designed exclusively for WordPress websites. If you've employed a different platform to create your site, WordPress hosting might not be the best choice for you.
If you're using a WordPress site, you'll be amazed at the quick speed as well as top-of-the-line security and features WordPress provides.
Cloud Hosting vs. WordPress Hosting: The Final Verdict
You're aware of which web hosting service is best for your site and what hosting service you should choose. But let's quickly review what we have read.
Cloud Hosting is a great solution for growing and small websites which require a flexible host. WordPress hosting is a complete solution for both large and small business owners. It allows for a single-click installation of WordPress and automated WordPress updates that help keep your website operating smoothly and gives you better performance.
Your information is protected, as are other security measures to ensure your website and users are safe. If you've built your site on WordPress, It is not an issue to invest a few dollars to get the most output from your site.
There is no way to be wrong when you use WordPress hosting, as your website achieves maximum speed and efficiency, which will boost your SEO rankings above all others.
But, picking one is based on your personal preferences and the design of your website. The choice of one or the other hosting options isn't going to disappoint you; even if you have cloud hosting, it still can run WordPress smoothly, but there may be a few key features of WordPress hosting that you won't be getting.