cPanel vs Plesk vs hpanel vs Directadmin vs WHM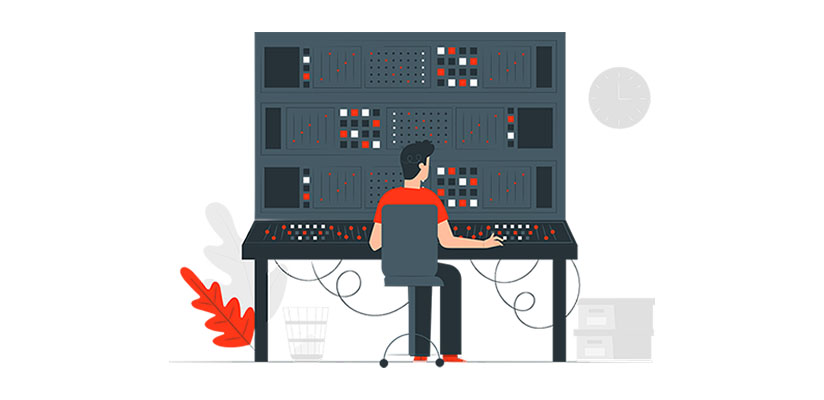 Nowadays, it's about managing your domains or email accounts or installing new applications using a control panel, it can make it easier to handle even the most difficult tasks of managing servers. This is why we are looking at Plesk vs cPanel vs DirectAdmin the three most popular hosting control panels that you can use for a managed WordPress hosting. The top three hosting control panels are available today. This article will assist you in choosing the most suitable web hosting panel to suit your company.
If you're purchasing an online hosting service and would like to manage it on your own, then selecting the correct control panel is what you require. Especially, if you are planning to run a reseller business. In that case, there are cPanel reseller hosting solutions that can help you. Other than that, there are many options available. Particularly three web management tools namely cPanel, Plesk, and DirectAdmin are in the lead or rapidly developing in the current market.
While cPanel is by far the most loved Linux-based platform and typically you may know it for cPanel shared hosting or cPanel WordPress hosting. However, Plesk has turned out to be a formidable power, also supporting both Windows and Linux. In terms of the third control panel on our list of choices, DirectAdmin has been gaining popularity due to its ease of use.
Without further ado let's go into detail about the cPanel vs. Plesk Vs. DirectAdmin to make it easier to make your decisions.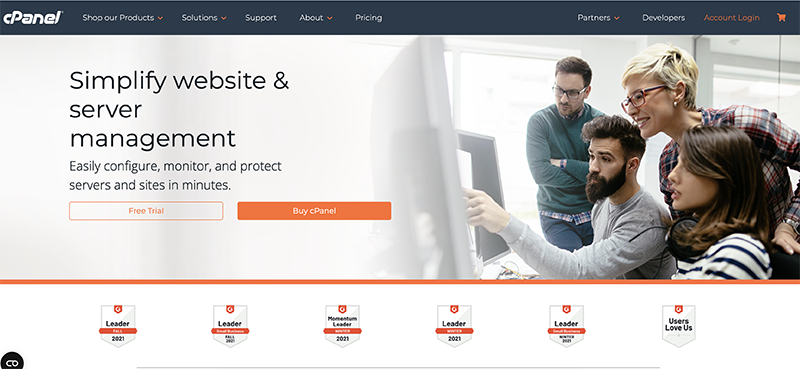 The most popular among the three is the web hosting service cPanel usually manages servers that run on Linux. The interface and functions provided by cPanel are so simple for even the most novice users, they are able to control the whole server without technical experience. This is one of the main reasons why cPanel VPS hosting is the top option for many.
cPanel lets you perform more complex tasks, in which you are able to manage your website as well as other aspects of hosting.
Features of cPanel
It's simple to install and use, and comes with an easy-to-use GUI that lets users handle their day-to-day tasks with little effort.

The features of cPanel can be divided into sections that are accessible simply by scrolling down. There are also a number of customizable options to get things done faster.

cPanel is fully connected to Softaculous which is a feature that allows for one-click application installation. You can install any software such as WordPress, Joomla, Drupal, or Magento with just one click.

cPanel is a highly mobile solution that lets you move your website from one hosting service to another swiftly and easily.

Secure and stronger maintenance of your site through extensions as well as a myriad of inbuilt secure solutions (SSL Certificates).

With cPanel you have the flexibility of managing your database. You can build an individual MySQL database and utilize the system to accomplish nearly anything you need to do

cPanel recently introduced the cPanel SEO feature in its user interface. It allows webmasters to improve their website ranking in search results.

The interface for backup restoration of cPanel allows for the restoration of cPanel accounts using local backups or backups to remote FTP destinations much easier.
Plesk
If you're among the people looking for a stylish hosting platform that works with Windows, Plesk is the best choice. It has plenty to offer developers and webmasters, helping them achieve an efficient and stable hosting solution. Plesk is most well-known for its easy-to-use interface and a variety of features that allow administrators to manage their websites more effectively.
The latest version of Plesk is available on Windows or Linux. It was designed to control performance without causing any disturbance. The Plesk panel is available in several versions, each of which is customized to suit specific hosting needs.
Features o
f Plesk Web Hosting?
The reality that Plesk is host-agnostic, and is able to be run on any platform, regardless of whether it's Linux or Windows is what makes it a very popular tool for managing servers today. The best part is that it is possible to run Plesk within the Docker container, which is accessible on the Docker Hub.

Plesk also has Docker integration that includes more than 200,000 distinct Docker images. It allows website owners and developers to run Docker images directly through Plesk without a command line.

Plesk provides excellent support to users who require integration with Git the most popular software for managing versions. Plesk versions 12.5 and higher include support for the Gitman extension, which includes complete Git integration into its main functionality.

With Plesk users can plan complete and incremental backups, allowing simple roll-back of changes made to their website or database.

It lets you define usage limits for various system resources like RAM as well as disk I/O and CPU as well as usage of system resources for the server. The utilization is monitored by the server health monitor on a regular basis.

Plesk control panel is available with separate licenses for 10-30 sites. It's a more affordable alternative if you are running fewer websites.

Plesk offers its own marketplace, where you can build your extension with its SDK along with the Open API and sell it to potential buyers.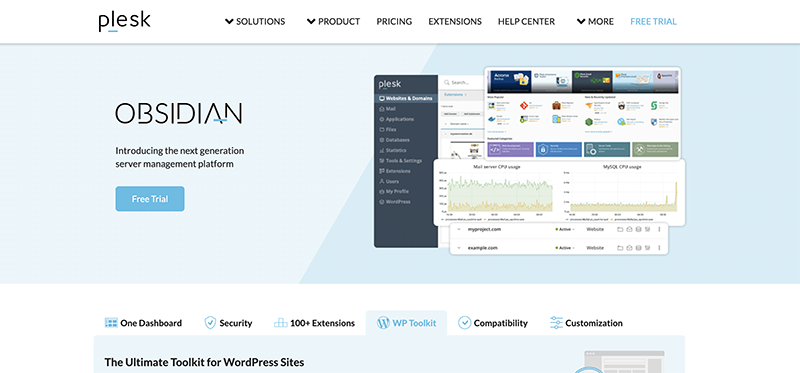 A simple and user-friendly control panel designed for Linux, DirectAdmin is the lowest cost of the three tools for managing servers. One of the most distinctive features of DirectAdmin website hosting software is the straightforward interface that makes it suitable for even novices much like cPanel.
While DirectAdmin isn't as well-known as its counterparts, however, it's an excellent option for those trying to establish and have a limited budget. Additionally, it has the most essential features that every control panel needs including multi-customer configurations, support for, DNS management, and reseller account creation.
Features
o
f DirectAdmin Web Hosting?
The most user-friendly and fast Linux hosting control panels.

It gives you a variety of administration access views.

In-built tools for managing spam.

Friendly interface and highly affordable pricing model.

Provides advanced tools to set up SSH keys and cron jobs, as well as customized error pages, etc.
Plesk vs Cpanel vs DirectAdmin
1. OS Compatibility
The primary criterion for choosing a control panel for hosting is the kind of operating system you'd like to use for your server.
Of the most popular host control panel options, cPanel and DirectAdmin have Linux-based support, and Plesk is compatible with both Linux as well as Windows. For anyone who is comfortable with a Windows server, utilizing the cPanel control panel as well as DirectAdmin requires them to improve their understanding of Linux. Linux environment.
While cPanel is available on Cloud Linux, CentOS, and RedHat, DirectAdmin is compatible with Red Hat, Debian, FreeBSD, and CentOs. However, Plesk is supported by 14 different Linux options, as well as Windows servers.
2. Performance
After you've made a decision on the OS you want to use on the server the next step is you must assess the performance of all of the options available to you.
In the test of performance Plesk compares to cPanel and DirectAdmin, cPanel wins. cPanel is quicker because it requires a tiny amount of memory for execution. Therefore, developers can increase loading times and enjoy faster loading of their servers and applications.
3. User Interface
Each Plesk along with DirectAdmin is thought to have a cleaner and simpler GUI in comparison to cPanel. This is the reason why Plesk, as well as DirectAdmin, are perfect for those who are just beginning and those who aren't tech-savvy.
Plesk puts its features in an array that expands by adding more options once you click. The interface is similar to that of the WordPress CMS. But, it's not like cPanel. However, the cPanel user interface appears overwhelming for the majority of users. Furthermore, cPanel, along with WHM provides a variety of options, along with front-end and back-end options, which makes the interface complex and more difficult to manage as compared to DirectAdmin as well as Plesk.
4. Functionality
Due to the integration of WHM, cPanel is different in comparison to Plesk & DirectAdmin. cPanel and WHM are the perfect combinations to improve the management of your server especially when it comes down to cPanel reseller hosting and improved efficiency. Additionally, the two combined can help improve the administration of sites and management.
In contrast, when used in conjunction with Plesk vs cPanel vs DirectAdmin requires permission to complete difficult tasks. When comparing the capabilities of the three panels they all come with various language packs, customizable reseller hosting services, phpMyAdmin integration, availability to manage MySQL databases, customizable spam filtering, and more.
Of the three tools, Plesk stands out as the sole one that can provide multiple IPs for domains as well as external file servers and external MySQL servers.
5. Security
Plesk includes security options like fail2ban to block active directory integration, intrusions, and spam protection for emails. In contrast, cPanel provides security features that include the automatic setting up of SSL certificates as well as IP address denials and directories that have password security.
DirectAdmin combines with UpGuard an antivirus suite that safeguards web applications by using its Commercial WAF and malware scanner.
6. Price
cPanel, as well as Plesk, is licensed for dedicated and cloud servers. So, the price for both control panels will vary based on the type of access. For instance, the cost of cPanel and Plesk in the cloud typically is around $15 monthly. Furthermore, cPanel, as well as Plesk, have regular charges for the entire duration.
On the other hand, DirectAdmin is the only control panel that permits webmasters to buy licenses, and get unlimited updates and functions.
Conclusion
The two cPanel and Plesk have more options than DirectAdmin regarding security and user interface. Therefore, when you have to choose between cPanel and DirectAdmin for your Linux system, cPanel is the winner. If you're new to the game and your budget constraints are a factor it is possible to consider DirectAdmin.
In the fight, Plesk vs cPanel for Linux systems you will get a more user-friendly interface as well as over 100 additional extensions with Plesk. Additionally, Plesk seems a better alternative if you run several servers and wish to stick with the same control panel. If you own multiple websites, cPanel may be more affordable.
Additionally, cPanel is an even larger community on the marketplace, so getting support personnel and developers might be simpler than Plesk.
In a nutshell: choosing the correct control panel will depend on a variety of elements.