cPanel vs DirectAdmin Comparison – Best Control Panel for VPS?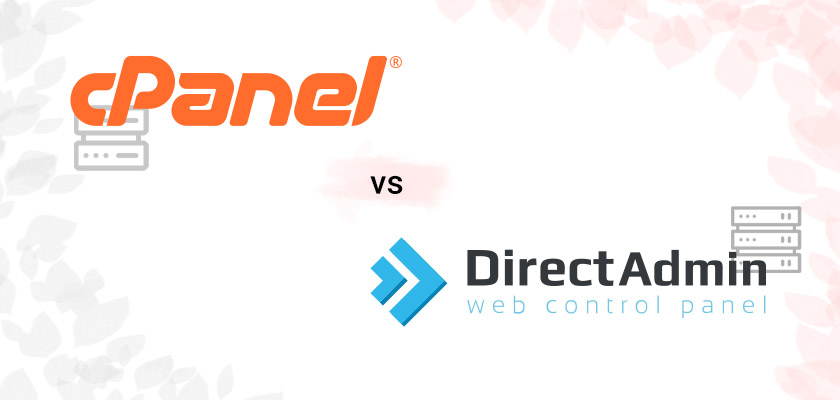 Your web control panel can have a huge impact on your server configuration and the experience you have with hosting accounts. It is important to choose the best one. It's easy to narrow it down to the two most popular options in the industry, DirectAdmin and cPanel. It can be difficult to decide between the two.
There are many factors that can influence your decision. Understanding the differences and unique features of each control panel can help you make an informed decision and simplify your decision-making process.
In this article, we'll go over DirectAdmin vs cPanel and also we'll explain the main features, drawbacks, and advantages of each and compare them in three key areas. Hopefully by the end of this article, you'll make up your mind about the best VPS control panel – cPanel vs DirectAdmin.
But first, what is a VPS hosting control panel?
What Is a VPS Hosting Control Panel
The web hosting control panels are often overlooked in Virtual Private Server (VPS). It can make all the difference between a user-friendly GUI interface and a blank screen that allows you to input commands.
What Is cPanel?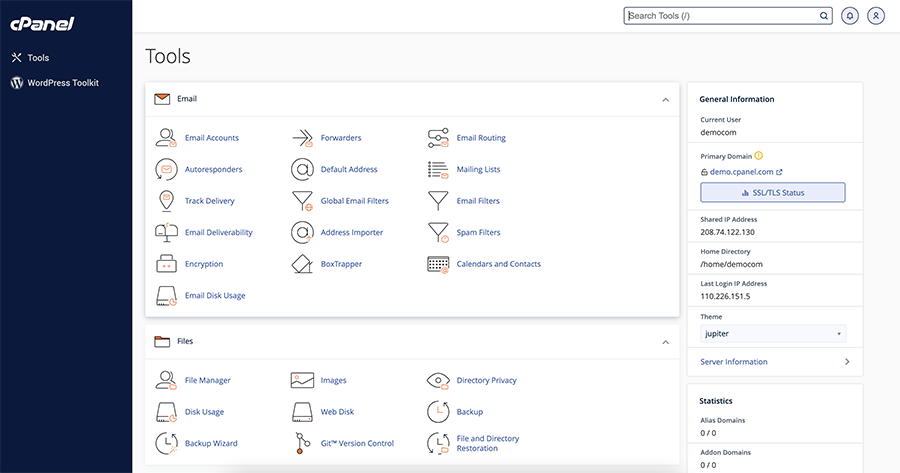 cPanel has the best web control panel on the market. It is a paid control panel that most hosting companies offer with their accounts. This is a great choice for both beginners and experts alike because of its features and ease-of-use.
cPanel is very user-friendly for beginners. Unlike DirectAdmin, cPanel breaks down the features into categories which makes it easier to find them. cPanel has more plugins and features than DirectAdmin. cPanel is not for those with technical backgrounds.
Some of the best and most respected hosting companies use it. It is easy to use, so it's beneficial for all, no matter what level of experience. cPanel can only be used on Linux. cPanel supports Apache (with a paid licence) and LiteSpeed web servers.
Benefits of cPanel
          SSL Certificates Free of Charge
You can whitelist or blacklist IP addresses or countries with brute force protection tools
Domain management and External DNS Synchronization
Monitoring tools for servers
Remote Assistance Secure
What Is DirectAdmin?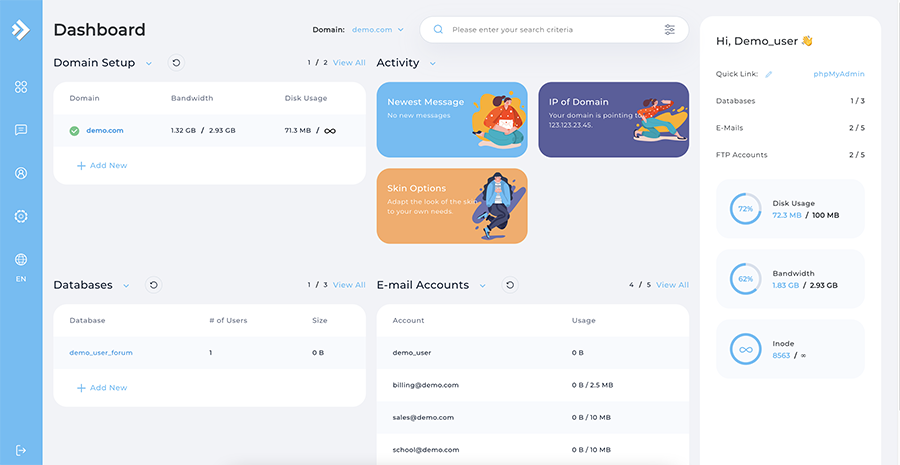 DirectAdmin, a paid control panel that requires a license to use, is one of your best options. A paid control panel is required (most hosting companies offer one), as free panels don't provide the necessary security or features for most projects.
This control panel is the most intuitive and allows you to access webmail, admin options and your file manager. Logging in will show you that everything is on one screen. It's easy to find the information you need in the administrative area. DirectAdmin users need to have minimal technical knowledge.
This lightweight control panel supports Linux as well as offers SSL certificates for free (via Let's Encrypt).
Benefits of DirectAdmin
Clustering and DNS administration
IP Manager
Reseller packages
Multilingual interface
Flexible licensing options
Integration of ticketed support
Options for customization
Automatic recovery after crashes
DirectAdmin supports Open LiteSpeed, Nginx Reverse Proxy and Apache in addition to the web server support by cPanel.
cPanel vs DirectAdmin
cPanel vs DirectAdmin VPS control panel have many similarities including Linux support and free SSL. Both offer server configuration frameworks and a GUI (graphical user interface). This isn't all. Let's explore their differences further.
Functionality
Although cPanel may look similar to DirectAdmin, they are quite different. While they both provide a server configuration framework and UI, DirectAdmin requires that you use the command line to do a lot of work. cPanel, on the other hand, provides almost all functionality and configuration within its UI. This makes it more intuitive and easier to use for different levels of users. Advanced users may find it more difficult to use these manual changes using cPanel.
cPanel is not only feature-rich but also offers many online tutorials, forums discussions, how to guides, and other helpful resources. It is a very popular choice so you will find many helpful resources online.
Expandability
Adding plugins or modules to cPanel is easy and free of cost. Advanced users have the ability to modify the code options within the system, allowing for expansion and extension of the control panel's functionality. DirectAdmin can also be expanded by using a variety of plugins, but you will need to pay more for additional functionality.
User Interface
DirectAdmin offers many menu options and it is easier to use than cPanel when you log in for the first. Using cPanel is easier to find what you need and you have many direct accesses. It may seem overwhelming to a new user but it is easy to see how everything is categorized.
Files
Mail
Logs
Domains
Preferences
Security
More
All categories can be expanded and collapsed for customizing your front page design. The search function can also be used to find any option in the DirectAdmin or cPanel only has three main sections: Email Management, Your Account and Advanced Features. Although DirectAdmin might seem easier at first, it can become difficult if you don't know what you need in the admin area. cPanel is easy to use and suits all users, while DirectAdmin only suits a few.
Pricing
When choosing the right control panel for your VPS hosting needs, price is an important consideration. Until 2019, cPanel was preferred by most hosting providers, with prices significantly increasing in 2019. Some people have switched to another hosting provider because of this. DirectAdmin offers fewer options than cPanel, but it is also less expensive.
DirectAdmin Control Panel is $5 per Month.
The number of accounts in your WHM will determine the price of the cPanel licence. The lowest plan supports 5 accounts and costs $12 each month. Up to 50 accounts are $25 per month. Up to 100 accounts are $32 per monthly. Plans that can support up to 1000 cPanel account are available. Our prices are very competitive and when you buy VPS hosting or WordPress VPS hosting plan from us, you'll get cPanel for free and automatically installed on your server.
Why You Might Consider Switching from cPanel to DirectAdmin?
When we think of web control panels, cPanel comes to mind. They are the industry leader for over 20 years and provide a powerful platform that is suitable for all sizes of companies.
It may not be cost-effective due to the high cost of licensing. DirectAdmin is a cost-effective alternative that offers almost everything one might need from a control panel.
Conclusion
Control panel selection plays an important role in managing the hosting account. It is important to thoroughly research each option before you make a decision. We have discussed the main differences between the most popular control panels, DirectAdmin and cPanel, in order to show how they compare in key areas.
cPanel, aside from its high price tag, is the best control panel overall. If you are willing to pay more for this powerful control panel, cPanel will be the right choice. Its ease-of-use and features make it suitable for advanced and novice users.
DirectAdmin is an affordable option for hosting if you are tight on budget. It is however better for more advanced users. DirectAdmin is a good choice if your skills are limited and you need to configure a server. However, cPanel can be used for hosting client websites.