Common Server Issues that Affects your Website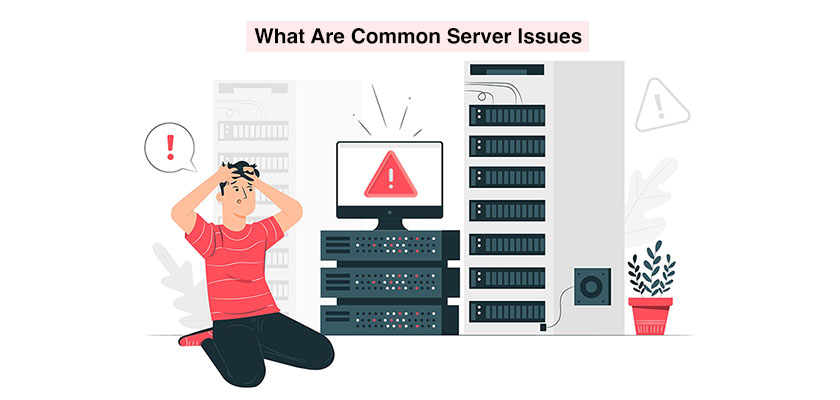 High-performance servers that are optimized and efficient are crucial to any business that is successful. When a business begins having server problems, this can negatively impact activities for both customers and employees and may reflect badly on the company overall. However, a functioning business server and knowing how to solve server down problems in other words, having the knowledge over server problems and solutions can help you to avoid loss of productivity and help you stay ahead of your other companies.
This article will explore the most frequent errors encountered by servers for business. Many reasons can cause an inefficient or even a failed server. It's crucial to recognize that there's an important distinction between server problems that are technical and issues with the hardware of servers. Keep in mind, it is always a good solution to buy VPS server or look for the best VPS server hosting company that offers good services and can help you with server problems and provide you with solutions that you may need.
What Is a Server Issue?
If you discover that your server is not functioning and is unable to access the Internet, or your website pages load slowly, there are numerous factors that could be causing server problems. A server is a combination composed of software and hardware that can respond to requests over networks of computers to provide network services. They can be run on specific computers but can also be run on computer networks.
Why Am I Having Server Issues?
The server could be down due to a variety of reasons. Perhaps a physical device goes out of power, or your operating system, network card, or even the computer encounters an issue. Many factors can lead to server failure.
How Do I Fix Server Problems?
So, how to solve server down problems? Every server troubleshooting suggestion starts by establishing a regular troubleshooting process. Since it can be a bit complicated in its configuration, particularly when there are multiple devices involved, it can require more time and patience away from those who prefer to concentrate on their roles and responsibilities in the organization. While some issues can be resolved with troubleshooting techniques, the most efficient solution for any server issue is to call an experienced team of IT professionals to help you with your issues.
A server with the appropriate hardware and software, as well as efficient IT processes, can boost productivity, increase opportunities, secure brand image, and preserve company data; each of these is extremely crucial for the success of a company.
What Are Common Server Issues?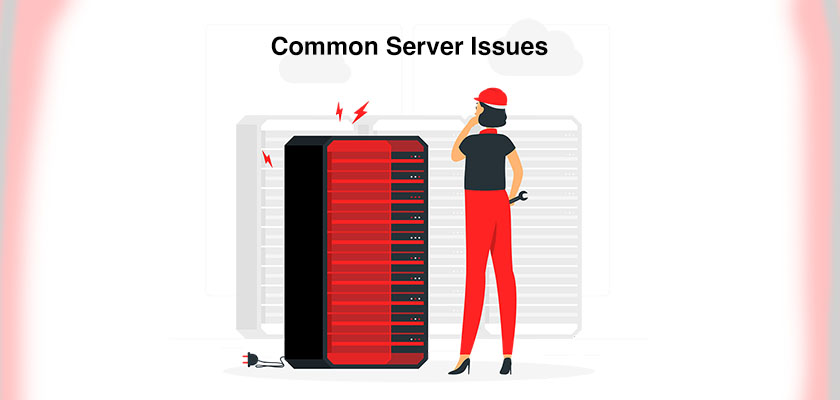 It's possible to believe that there's an issue with your server until you realize that the cable is not connected, unplugged, or lost. Network cables can be difficult to spot but are actually one of the main reasons for a server to be "down". Cables might not be a problem for laptops or different wireless gadgets. If you do observe a server being down at your workstation, then you may be able to determine whether you've turned off the Wifi connection by accident.
Common Server Issues
What are the common server problems? How to solve server down problems? Many reasons could be responsible for server issues because of hardware, for example:
1. Power Outages
Power outages and surges immediately impact the performance of your server. This frequently causes complete disruption of workflow and access to files.
In certain situations, even after power has been restored, it will take an extended time to allow the server's reboot; if you don't have one, consider the installation of a backup power source that is at least enough to supply the power to your server. This is crucial for businesses that are located in a region that has unpredictable weather conditions or unstable power sources.
2. Natural Element Interference
When it comes to the storage of equipment, some companies choose to store server equipment in less frequently used areas. This is because dust, moisture accumulation, or heat can cause slowdowns. In addition to downtime, If the server has been overloaded due to excessive moisture or heat, this can pose a risk to the security of the employees in case the server is short-circuited.
In the event that your computer is located in an isolated space or space in your office, be sure to address concerns that are related to this problem. Is the temperature in space maintained? Are there cooling and heating systems installed? Do you have someone who is able to conduct periodic maintenance or even light clean on servers?
3. Outdated Firmware
The technology we utilize daily excels due to regular and frequent updates to physical models. This holds true for servers, too. Server hardware that is older models is more difficult to fix since the physical components wear out with time and function less efficiently. In the end, poor and slow performance is a common occurrence.
If you're not certain of the lifespan of your server, we suggest reaching for a reliable and responsive IT solutions provider to conduct an evaluation and offer information on the best way to proceed from an old server. Perhaps you need to buy VPS server that is updated and upgraded with the latest technology.
4. Damage to Hardware
The storage space that some companies use to have to store their servers can be an issue due to natural elements that can cause issues. This could be the case here in the context of physical harm by the server. If your business is in a busy area or in close proximity to a construction site, vibrations from the noise outside may cause the server to be sluggish or even break away from its position.
Another thing to take into consideration is the state of the server's wiring or cables. To ensure its safety, the server must be placed in an area that is safe and structurally sound, and its parts remain out of the way and arranged in a secure way.
In this case, you could be able to identify scenarios that are known to your business and could be causing problems for your server. If none of these above reasons resonate with you, continue reading to determine if your server's issue is more technological than physical.
5. Cybersecurity Issues
Technology advancements increase trust among consumers and make it easier for them to submit financial or personal data. This has led to an increase in cyber-attacks which are carried out by hackers who aim to disrupt the business system of an online company to steal data or steal the transaction online. It is crucial to use reliable and trusted software to counterattack to guard against potential security breaches caused by unscrupulous users.
6. System Overload
If you are in an office that has several colleagues, it's likely that the server will get overwhelmed with the devices. A low server capacity can be observed by performance freezes and slow responses from devices. The problem is repeated until the device is able to take on an easier load.
This is clearly not optimal for productivity, and it's recommended to seek out an IT solutions expert for an assessment of your server. The expert can determine whether or not the server can manage all the devices that are required.
7. Configuration Settings
Another frequent technical issue that causes disruptions to servers in the business sector is incorrect configuration settings. In the majority, if not all situations, servers require precise and precise settings. Even if a small setting is not correct, this could result in the entire system going off. The configuration settings must be frequently reviewed to ensure that all settings, such as hosting settings for servers, have been verified as being correct.
8. Network Glitches
Internet connectivity issues can be a source of frustration; however, they remain one of the most frequent errors companies face in server issues. Investing in a reliable web service supplier (ISP) will remove the issue from your server. It will also lessen the frustration caused by seeing an alert that indicates an issue connecting to the server.