Bigbluebutton vs. Zoom Meetings Comparison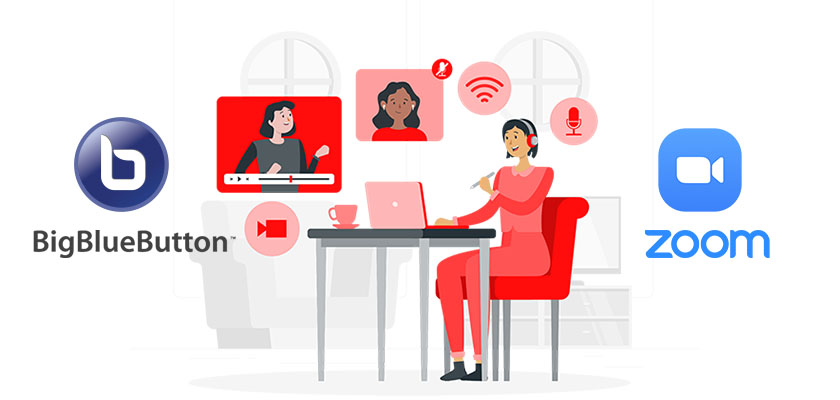 The necessity to connect with people from all over the globe via video and audio is increasing in a rapidly changing digital age. In this article, We are going to compare BigBlueButton vs. Zoom, which are the two most used video conferencing sites around the world.
What Is BigBlueButton?
BigBlueButton is a widely used solution that is installed on over 7000 Moodle sites across the globe, and over half of those installations have been made recently on the latest version of Moodle (3.5 and up). BigBlueButton was a big project launched in 2008, and the first plugin was released in Moodle version 1.9, which demonstrated their commitment to the Moodle project.
The BigBlueButton name is derived due to the fact that it shares a fundamental conviction with Moodle in regards to keeping the program open source.
With its dedicated team that includes developers, BigBlueButton is constantly evolving and launching new features because of its open-source existence. Live whiteboard slides, as well as built-in polls, are just a few of the many awesome features that come with this BigBlueButton hosting provider.
BigBlueButton is an international educational website. It was created in a classroom and not the boardroom. It's the first and only classroom that is interactive and specially designed for students.
It's available in over 65 languages, and teachers from around the world have contributed to its development. BigBlueButton continues to grow to meet the ever-changing needs of teachers around the world through a wide community of developers and companies providing market assistance.
What Is Zoom?
We also recommend that you try the Zoom video conferencing software. Zoom was created to host online conferences, product demonstrations, and team catch-ups.
In simple terms, Zoom can be used to organize web-based gatherings that can accommodate up to 300 guests and offers a range of helpful features like group chat and simultaneous screen sharing, and vivid backgrounds.
Zoom is a well-known video chatting platform frequently utilized to create technical configurations. The content of the screen will naturally be shared with other participants.
Zoom also includes a chat feature, whiteboard as well as breakout spaces, and waiting rooms. The basic version that is free of Zoom can only be used for an amount of 40 minutes of usage; this is a small negative. Furthermore, you must have an account created in order to utilize the service.
There are alternative models accessible for a cost. If you pay for the models, it is possible to invite up to 500 or 1000 people and have unlimited cloud storage. Zoom shared data with Facebook each when they released the iOS application until the end of March, according to heise.de; however, the Zoom user didn't have an account on Facebook. We're unable to judge the outcomes.
BigBlueButton Features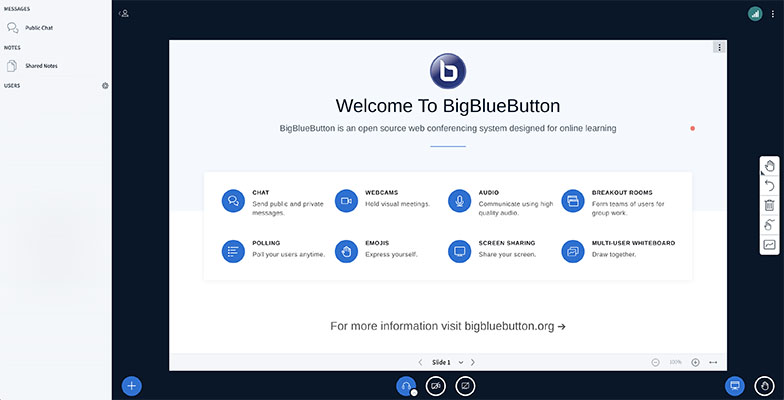 Here are the most important advantages of BigBlueButton, which will help you conduct effective online classes that are focused on learning outcomes and collaboration:
Real-time Streaming of Video and Audio
High-quality and reliable video and audio will enhance your students' experience taking part in your online classes. The requirement that your students be able to watch their videos during online classes creates an exciting and enjoyable seminar-like setting.
Private and Public Chat
Your students can make use of both chat rooms in your online classes. It can be used for a variety of applications, including asking a follow-up question or giving immediate feedback without interrupting the speaker, giving examples, or even presenting an alternative idea. You may also utilize private chat to test the understanding of a particular student without drawing the attention of the entire class to that individual student.
Multi-user Interactive Whiteboard
Whiteboards can be used, for instance, to solve math-related problems. You could also ask pupils to sketch on your whiteboard, which will increase the possibility of collaboration in your online class.
Slide Slides
Slides are the most basic and standard tool for guiding students in online classes. It is possible to annotate your slides to make certain points clear.
Screen sharing
You can supplement your presentation by sharing the laptop screen in order to show additional details.
Rooms for Break-outs
Break-out rooms during your online course allow students to collaborate with your students. Typically, you will break your students up into smaller sections and then assign them specific break-out spaces to facilitate discussions with students or activities for problem-solving.
Polls
Students can take part in polls at any moment with the pre-built poll responses. The answers and questions to the poll following the completion of polls are instantly displayed on the screens of users.
Emojis
Users can make use of Emojis to express their feelings. For instance, your student could raise his hand to attract your attention and the speaker.
Notes Shared with Others
Class notes act as a space shared by your students, as well as you are able to write down the most important points that are discussed in the class.
Recording Lectures
The option to take a recording of your online classes to allow your students to listen to them later.
Zoom Features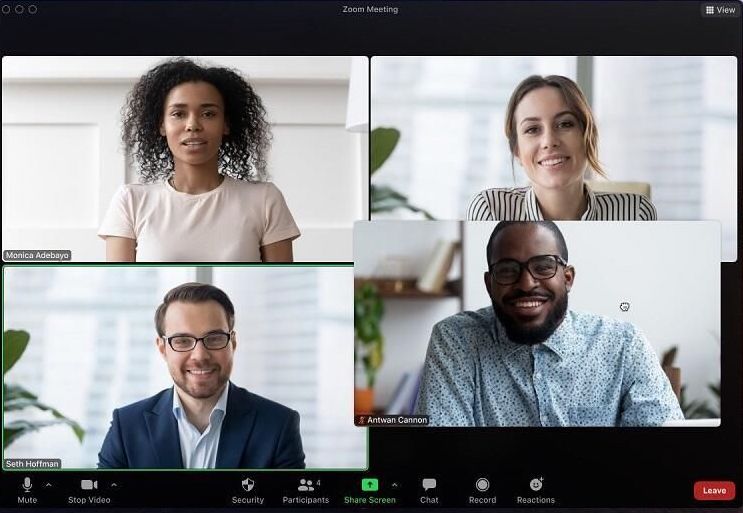 Zoom has established itself as a top player in the field of video conferencing due to reasons that include numerous useful features. Here are some features of Zoom that we are in love with.
Availability
Zoom is compatible with any workflow, and it is available in a browser, desktop, or mobile app. This flexibility is ideal for teams that work remotely because everyone can work from any location in the manner that best suits their needs.
And the best part is that users don't be forced to compromise features when they choose to use Zoom on their phones instead of laptops or reverse the situation. The features we'll discuss below, such as virtual backgrounds as well as screen sharing, are available from any device. Perhaps this is one of the features that you can think of in the case of BigBlueButton vs. Zoom meetings.
If you're in search of an adaptable solution, Zoom has you covered.
One-On-One Meetings
Meetings in person, one-on-one currently, is not an option due to the ongoing pandemic around the world and the possibility of remote working. Fortunately, these types of gatherings are easy to host using Zoom, and that comes with HD audio and video quality, connectivity with calendars such as Outlook, iCal, and Gmail, as well as encryption for absolute security.
The fact that your employees and/or colleagues work in a different area than you doesn't mean you won't be able to meet with them. Zoom makes meetings that are one-on-one personal and sociable, which allows participants to work well and perform their best with each other.
Group Video Conferences
Zoom isn't just for one-on-one meetings. Gatherings for groups of more than 100 participants (depending on the plan you choose to sign up for) can be held using the application as well. Similar to what we've mentioned earlier, the group meetings are equipped with high-quality audio and video as well as calendar sync and total confidentiality.
It also lets you benefit from integrated collaboration tools such as co-annotations as well as public and private chat groups as well as files sharing, virtual hand-raising, and polling with Q&A tools. In the end, meetings for groups that are hosted by Zoom look and feel like real-life gatherings.
Screen Sharing
Video conferencing can be difficult if the remote team is unable to view the work you're doing. If you've ever attempted to move your camera around to better capture the screen of your computer, you're aware of the issue. That's the reason Zoom offers screen-sharing capabilities.
Share your screen instantly with all of your remote team members so they are able to see exactly what you want to display. This is a great method to explain complex workflows as well as how to use particular software features.
Zoom Chat
In the year 2019, Zoom launched a new business messaging tool named Zoom Chat, a handy messaging solution that is included in every Zoom license. Consider it an alternative to Slack.
Video conferences with full-length videos aren't always essential. In these scenarios, Zoomers can make use of chat to send short messages that are text-based to their coworkers. Chat has channels that assist users in organizing their conversations, a private space for reminders to be placed as well as a searchable history.
Zoom Chat is a different option in the remote workers' tool belt.
Video Call Recording
Have you ever left an event and thought, "Wait, what did the boss ask me to do again?" If yes, then you're in good company. Zoom has video recording capabilities, which means that every meeting held through the platform, whether it's private or public, is recorded for later reference. The upgraded plans can even let you get your meetings transcribed.
Recording videos is helpful for recollecting important details, making video tutorials that you can show new team members, as well as creating marketing material that is targeted to your intended viewers.
Change Your Background
Some of the features offered in Zoom aren't absolutely necessary; they're enjoyable. Background manipulation for users is just one of them.
Make use of Zoom to create the illusion of background behind you. The options include cutting-edge cities and offices. You can upload your own pictures as backgrounds or download professionally designed ones from companies such as Zoom Virtual Backgrounds.
This feature is more about having fun than function, and your coworkers will be grateful for not having to check your home office in a messy state every time they call you in a conference room.
Touch Up Appearances
You're trying to work from the comfort of your home office. However, you weren't sleeping well the night before. You've been so busy working on your latest project that you didn't remember to brush your hair. You're exhausted since your children are in the house and fighting with one another over the remote for the TV. All of these factors are a lot, and you don't appear to be at the best when it's time to sign in to your next virtual team meeting. What's the best strategy there?
If you're using Zoom, you can simply make a few adjustments to your appearance! It gives your face an airbrushed appearance and ensures that you appear at your best when you meet your supervisor or team members.
Set Up Breakout Rooms
If you're in an organization that is mid-sized to large that has remote employees; you might like Zoom's breakout rooms. It lets you divide your corporate meeting into smaller virtual rooms so that each team can better collaborate and perform more effectively.
This is also a great feature for online training seminars. For instance, you could hold keynote talks within the central Zoom gathering room and then divide attendees into various breakout rooms according to the specific sessions they registered for.
Launching BigBlueButton Requirements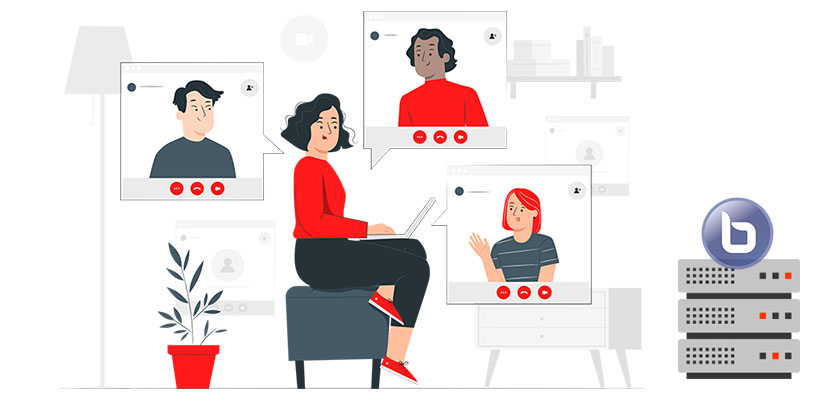 If you're considering self-hosting BigBlueButton, here are the requirements that your server needs to comply with in accordance with the BigBlueButton installation guide:
Ubuntu 16.04 64-bit Operating System operating Linux kernel 4x
8GB of memory that can be swapped (16 more GB is more efficient)
4-core CPU (8 is more efficient)
Ports 80 and 443 on TCP are available.
UDP ports 32768 – 16384 are accessible
Port 80 is not in use by any other application (so an unclean Ubuntu server is advised)
Keep in mind that this video conferring software is best when hosted on a BigBlueButton VPS hosting that has a minimum of 4 core CPUs, 8 GBs of RAM, and at least 60 GBs of space.
Is BigBlueButton better than Zoom?
There are many reasons why people prefer the BigBlueButton server over Zoom and, in some situations, vice versa.
Here are a few of the most important reasons you may want to consider when choosing either of them.
In contrast to ZOOM, BigBlueButton is tightly linked to the learning systems (LMS )
If an online classroom system is fully integrated into an education management program, it can make it easier for you to save energy and time.
Additionally, BigBlueButton can be used in conjunction with any LMS that is compatible with the Learning Tools Interoperability (LTI) standard.
Cloud recording is a solution that works with BigBlueButton after the recording has been completed, it is made available to the course immediately. This makes it easier to view the replay as easily as possible. And most importantly, it doesn't require any additional work. The recordings will be made at the appropriate time.
For BigBlueButton, it is possible to modify a range of settings to meet your specific needs.
Such as,
Download the pdf for this lesson
The system is set to block every user's mic and video to prevent them from using the microphone and video, with the exception of the presenter
Chat-only sessions are a great way to spend time with friends
Configure recording options
BigBlueButton includes more features to help online learners
Zoom software is designed to be used for meetings, while BigBlueButton is designed with learning online in mind. This influences the functions it can accomplish.
Here's a list of the BigBlueButton beneficial features that aren't available in Zoom and other tools for videoconferencing.
Whiteboards are a common and essential tool for the education curriculum. If you are teaching via the internet, having similar devices or even better ones such as whiteboards could be helpful.
BigBlueButton is a good choice. It is also possible to make use of the whiteboard as an educational tool, as you would with a traditional whiteboard. Everything can be written or drawn on the whiteboard effortlessly. You can also prepare an outline, and this can be extremely beneficial for your instructor.
Plus, they come with an interactive whiteboard for multiple users. This means that you can connect with your students both within the classroom as well as using the whiteboard. This could be helpful when working on homework or adding additional students to the class discussion.
In addition, It is vital to understand how your students are developing or the feedback they've received in order to instruct effectively. You can instantly get an assessment of the performance of your student while they are participating in an online class with BigBlueButton.
The report may include many details like when they leave and come back regardless of whether they speak and whether or not they speak for a long time, how long they talk and how often they go to an election…
It actually improved the instructor's performance as well as provided the benefits of online learning
In addition to the standard methods of control to ensure the high quality of your online classroom – like restricting students from accessing specific audios, features, or videos, as well as chat rooms – there are additional ways to boost the effectiveness of your online class. One of the greatest benefits of BigBlueButton is the fact that the moderator is able to require all students to use the same layout.
For instance, if you want your student to pay more attention to your presentation instead of watching videos or engaging in conversation, choose focus mode. Then you can apply this mode to all students.
BigBlueButton provides more freedom and flexibility in regard to customizing
BigBlueButton is an open-source application, and you are able to modify the code if you'd like. You can also alter the BigBlueButton to your preference regardless of the look and feel or even some of the options.
You can quickly make the changes you want,
Choose a domain name as well as a URL of your choice to connect with your online class
Utilize your own designs and colors to create an online classroom
You can turn on or off features according to your preferences
Bigbluebutton allows you to expand the function
You could create your own integration system and then be able to seamlessly integrate it with your current LMS and other systems of IT
There are no limitations to the number of hosts or rooms that can be used using BigBlueButton
The limitations in the number of licenses available caused two main drawbacks when making use of Zoom for an online classroom solution.
You will need to purchase various licenses depending on the number of educators you've. If you plan to share licenses with other teachers, it is important to take into consideration how many classes are to be running simultaneously. It is also important to consider the number of students who will be joining simultaneously.
Zoom is a plugin that works with the most popular Learning Management Systems (LMS) or Content Management Systems (CMS). However, when you add classes to your existing ones, it is important to ensure that the licenses match; otherwise, the student could be sent to classes that are not appropriate. If you are only running a few classes, it's okay to add the rooms and then match your licenses by hand. However, if you've got several classes that are running every day, it's an enormous task to manually add them.
If you're using BigBlueButton, it isn't an issue. You can make unlimited hosts and rooms without having to worry about licensing.
How many students are at your institution is not the sole aspect you must consider before purchasing a BigBlueButton VPS hosting server or cloud BigBlueButton hosting provider services. In particular, is it the highest number of students at your school that is online simultaneously?
Making a class activity available to the system for learning management is simple when you use BigBlueButton. You can add any number of classes you'd like and don't have to worry about licensing.
What Is BigBlueButton used for?
BigBlueButton delivers quality audio, video, and screen sharing through BigBlueButton's integrated support to WebRTC (WebRTC) software.
WebRTC is a standard that is supported by all major browsers, including Chrome, Firefox, Safari as well as Safari Mobile. BigBlueButton is typically used for online classrooms that have hundreds of students and schools that need to host multiple classes at a time. In some cases, BigBlueButton is also used for online meetings in a remote environment for employees around the world.
Is BigBlueButton Reliable?
Bigbluebutton is powerful and durable server software that comes with all the features necessary to facilitate online learning, meetings, and collaboration.
BigBlueButton Demo
Want to try out BigBlueButton? Visit the demo server at https://demo.bigbluebutton.org and set up a free account. The demo server is running Greenlight, which is a user-friendly front-end to create rooms, launch meetings, invite guests, and record. Greenlight is open-source too.
How Much Does BigBlueButton Cost?
There are many solutions when it comes down to purchasing a BigBlueButton server. We offer a BigBlueButton VPS hosting solution that is optimized for this awesome software and can host multiple rooms with hundreds of students at any given time. Typically, BigBlueButton hosting providers start their services at just 12 dollars for a month, and users are able to easily hold an online course with as many as 50 participants.
Additionally, you can move to Cloud Plan to host more students. You may also select dedicated servers that have your own domain and customize them or choose a Virtual Private Server.