15 Top Ecommerce Platforms to Build Your Online Store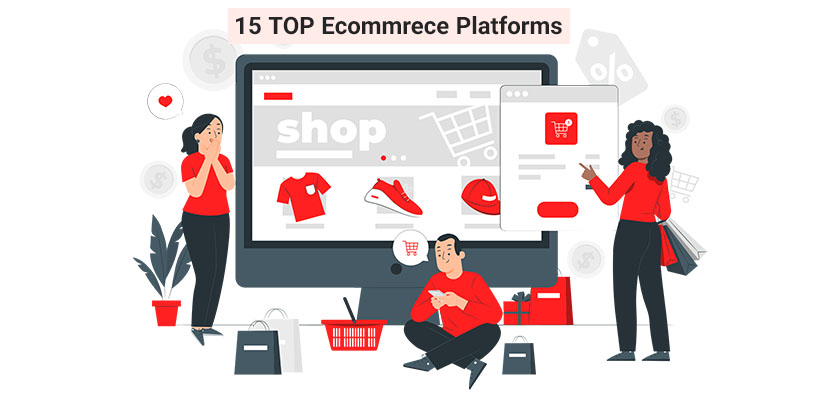 Making an online store takes enormous work; however, it is possible to make it simpler. If you're using eCommerce platforms, you don't have to develop the website from beginning to finish. It can help you establish an online store in a short time and manage its operations and enhance the customer shopping experience.
Many eCommerce platforms are available, making it difficult to select the best platform that will work for your business. It should fit your requirements, objectives, goals, or budget well. Moreover, it should be scalable to support your business expansion in the future.
To assist you in finding the perfect eCommerce platform to build your online store, we've put together an eCommerce platforms list that you can use as a reference to find your eCommerce platform.
We'll review each platform's pros and cons and its features. We'll also discuss why choosing an eCommerce platform can be beneficial to your web-based business and if you need to buy eCommerce VPS hosting that goes along with the best eCommerce platforms mentioned on this list.
eCommerce Platforms for Small Businesses
Selecting the best eCommerce amongst the best eCommerce platforms for small businesses can be a difficult task. There are many factors to consider, including the website's reputation and the type of support you can expect when bringing your company to the next level.
For some businesses choosing the right platform could be the one that enables users to create something unique for their e-commerce store. For example, you could require an open-source website builder with a user-friendly back-end, where you can play with the management of inventory as well as abandoned cart recovery, and various types of website hosting.
However, if you're still a novice in eCommerce business management, it might be a good idea to switch your open-source platform for managed eCommerce platforms with managed eCommerce hosting. These tools for users are typically easier for novices to use because they have built-in tools, including drag-and-drop-based themes for free and the ability to support unlimited products. To help you decide between some of the best eCommerce platforms, we'll be listing them below. Let us provide a few crucial points to be aware of. But first, let's discuss what is an eCommerce CMS. What are the different types of eCommerce?
What Is an eCommerce CMS?
An eCommerce CMS can allow eCommerce store owners to develop updates, publish and create content using the eCommerce platform without the need to write code. It makes it easier for eCommerce web development, allowing even people who are not developers to run eCommerce platforms. With an eCommerce CMS, you can modify every aspect of your online stores, like the layout of your product, navigation, the shopping cart's settings, and more. This allows anyone, regardless of their skills in programming to create the perfect eCommerce store that is reflective of its core values and offers customers a pleasant shopping experience.
Types of eCommerce CMS
A CMS for eCommerce software is a great way to manage all the features of the store's backend. It is classified into two categories: open-source CMS and SaaS CMS.
Open-Source CMS
Open-source CMS comes with no upfront costs and is available for download. They offer total freedom and complete control over the website's functionality to users. They're usually self-hosted; this means hosting the website and server maintenance, and software updates are handled by the store administrators. Certain open-source CMS offer cloud hosting; however, for these, too, the store administrator remains responsible for maintenance.
Examples: Magento, WooCommerce.
SaaS CMS
The other type, SaaS CMS, is hosted on the cloud and does not need separate servers; in other words, you don't have to buy eCommerce VPS hosting to host the store. The software provider will take care of server hosting, maintenance, and updates. Users pay software vendors for their services. Subscription model payment is typically employed to pay for SaaS CMS. In this model, companies also offer support for customers.
Examples: BigCommerce, Shopify
You may have heard of Shopify as one of the biggest eCommerce CMS out there. Later on in this article, we'll introduce eCommerce platforms like Shopify that you can use.
What Features Should You Look for in an eCommerce Platform?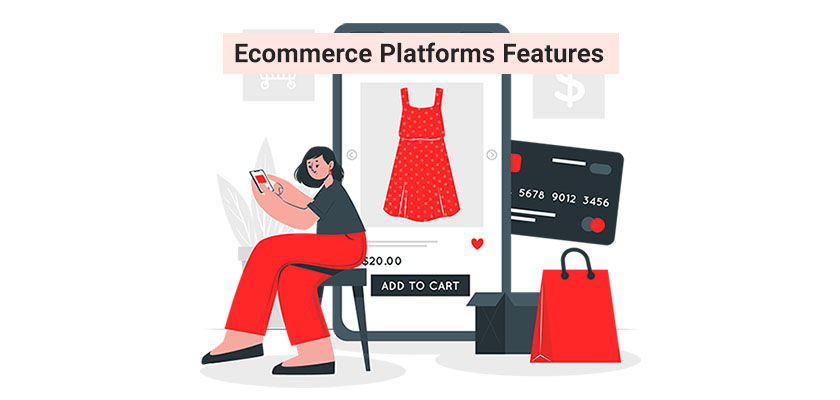 eCommerce platforms let you build an online store with no hassle. When choosing a platform for your company, there are certain essential features you need to consider.
In the next section, we will go over the most important aspects to take into consideration when evaluating various eCommerce platforms.
Ease of Use
Managing an online store can be an extremely challenging job. So, it is essential to select the best eCommerce platform that can make the process easy.
You should look for an interface that is user-friendly to make it easy to list items in the store and accept online payment and keep track of your inventory.
If you decide to go with the SaaS platform, all you need to do is sign up for an account, select the plan you want to use, and then begin creating your website. This kind of platform will handle security and updates on your behalf.
If you decide to use an open-source eCommerce platform first, you'll need to locate a hosting service and the plan. After that, you'll need to start downloading and installing the application. You'll also be in charge of updating features and implementing security protocols.
Features of eCommerce
As a default, all eCommerce platforms allow online purchases and accept payments via the internet, so you are able to look at other options.
A key element is the variety of products that you can put on your list. Certain eCommerce platforms restrict the number of items they can list that they can list in their lower-cost plans. Be sure to select one that permits you to offer all or, at a minimum, the required number of items in your store.
Additionally, you should look for features that will improve the experience of customers, like personal suggestions and a tracking system for shipping.
Here are some important eCommerce features that the platform should provide to assist you in managing your online store:
Filtering and categorization of products:

Help customers locate the items they are looking for, particularly if the shop provides a broad selection of products.

Variations of products:

For instance, when you offer t-shirts that come in different colours and sizes, the platform should allow you to manage and add every variation of your product.

Promotions, discounts and coupons:

Promoting promotions can bring in more sales, especially during the holiday seasons.

Management of inventory:

Tracks your inventory in real-time to keep up with demand.

Carts abandoned and refunded:

Customers can put items in their shopping carts but abandon the site without finishing their purchase. Send them emails to remind them of the carts they have placed in and help them recover sales lost.

Payments and checkout:

offer a variety of options for shipping and payment to ensure that your customers enjoy a seamless checkout experience as well as reduce abandonment rates of carts.
Design and Customizability
Web design plays a crucial part in improving the customer's purchasing experience, which makes them remain longer on your store, thereby increasing sales. 38% of shoppers will abandon your online store when they find the website's layout or content to be uninteresting.
An eCommerce platform that is reliable should offer appealing and custom-designed templates for websites so that users don't need to build the website from scratch. Users can choose the template they like and then modify it to fit their branding and business, thereby saving time and energy.
Certain eCommerce platforms restrict the number of images of products that you can show, so it's essential to verify that the platform you've picked is suitable for your needs.
A number of eCommerce platforms have a visual drag-and-drop feature. It's an excellent option for people who are new to the field and don't have prior experience with designing and developing websites. This kind of editor will help you create a website quickly and easily.
Payments and Third-Party Integrations
The ability to offer your customers multiple payment options online will enhance their shopping experience, particularly in the event that you provide local payment options.
Some eCommerce platforms come with integrated payment gateways. However, the number of third-party payment service providers is equally important.
Also, make sure to determine additional transaction costs to be considered when creating a pricing policy.
Marketing and SEO
The features of eCommerce marketing are essential to increase the number of customers you have and promote your brand and boost your eCommerce business.
Here are a few marketing tools that you must look for in the eCommerce marketplace:
Tools for SEO:

Help boost the organic traffic to your eCommerce website by optimizing your site for SEO. These tools should have the capability of adding meta descriptions and making SEO-friendly URLs.

Integrate social media:

Integration of your social media accounts to improve your connection with your customers, expand your following, and possibly sell your products. 57% of your customers are likely to follow your company on social media to get updates on new services and products.

Subscribe to a mailing list

: Make emails for marketing and subscription lists to increase communication. Include sign-up buttons or banners and send out newsletters regarding current promotions, new products or any other important information.

Tools for analysis:

To analyze your customers' behaviour and sources of traffic to improve the layout of your website content, content, and marketing strategy to increase sales.
It's also a good idea to know if the eCommerce platform you choose includes blogging tools since it's a different way to enhance your marketing strategy for eCommerce as well as your SEO plan. Publishing informative content about your company will aid in making your site more recognizable and trustworthy.
An Ecommerce VPS hosting with best configuration for online shop help you improve your website SEO. A website speed of loading pages is the most important standard for Google crawling bots.
Value for Money
If you are looking for the most effective online platform to run your company, be sure to consider the long-term cost that comes with it.
Choose a few options for eCommerce or a plan that fits your needs. Then, compare the features they offer and their costs.
If you decide to use a SaaS eCommerce solution, you'll need to pay either monthly or annual subscription charges. If you choose to go for an open-source and free platform, you'll just require hosting services and create your domain name.
Be aware that there could be additional charges for themes extension, integrations, or extensions.
All in all, be sure to choose a reliable and flexible eCommerce platform that can support the expansion of your business.
Customer Support
There are many issues to be faced while creating and maintaining your site. Make sure you select the eCommerce platform that offers solid customer support and documentation to help resolve any issues.
It is important to note that eCommerce platforms come with various levels of support – certain platforms may offer chat support and ticket assistance, while others offer 24/7 support via phone.
Supporting all sorts is great, but you must reflect on your experience and requirements. For instance, if you have previous experience in creating and managing websites and you are able to see that 24/7 support for your site is not necessary.
15 Top eCommerce Platforms
After we've discussed the essential features to be looking for in an e-commerce platform, now is the time to evaluate the most popular platforms available.
While evaluating options, keep in mind that each platform has its advantages and flaws — the most effective thing you can do is pick the one that's best suited to your particular needs and use scenarios.
1. BigCommerce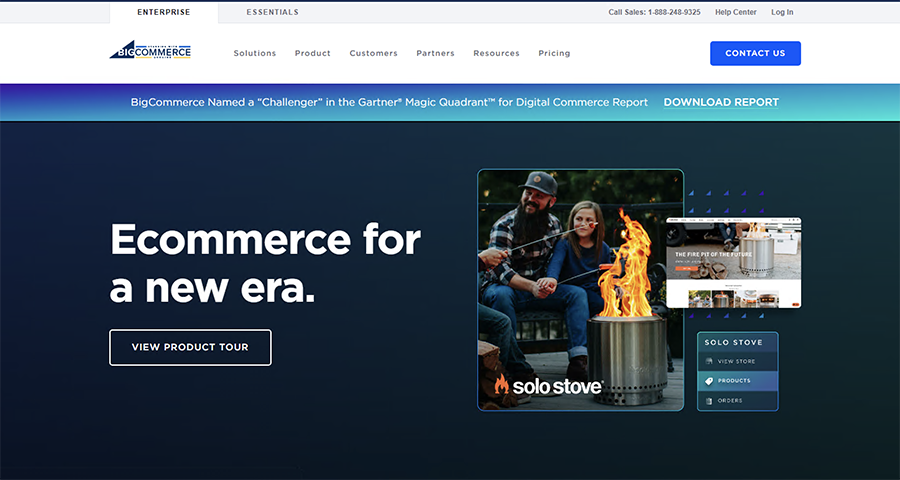 BigCommerce offers a wide range of tools ranging from marketing to analytics, premium designs and plenty of assistance from experts in the industry. BigCommerce is regarded as the most open SaaS eCommerce platform that is suitable for businesses that are of any size, and small businesses can gain from the services BigCommerce can offer.
With the benefits of the advantages of a SaaS platform and the flexibility offered by an open-source platform, BigCommerce will meet a range of business requirements regardless of whether you're looking to gain greater or lesser control over the platform you use.
Pros
   

Intuitive, built-in features.

   

It offers greater than 65 payment options with 600 app partners, unlimited bandwidth, and zero transaction charges.

   

24/7 customer service.
Cons
   

Platform lock-in with the cost of migration and export.

   

A small app market.

   

A vast inventory and product management system could lead to an overload of data.
2. Magento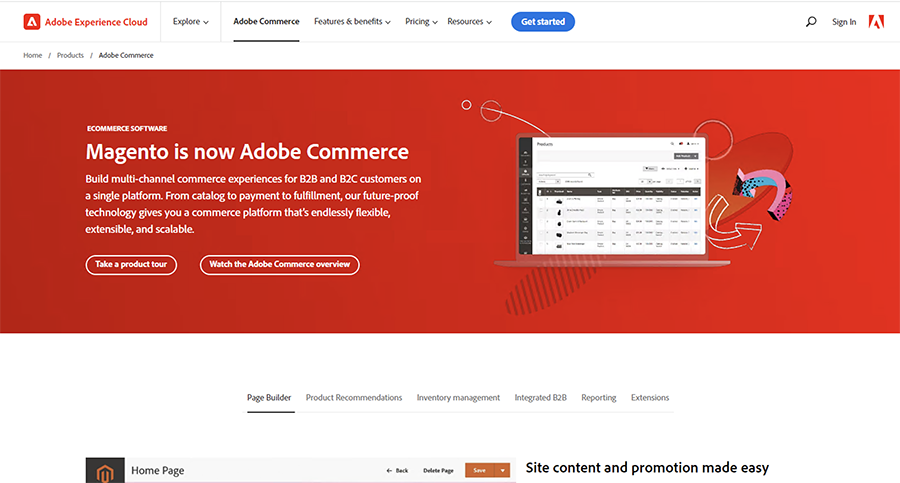 Previously named Magento, Adobe Commerce offers real-time inventory control SEO tools for marketing automation and multi-store capabilities.
If you decide to use Adobe Commerce, you will probably rely on developers and designers along with costly maintenance and support. This makes it difficult to estimate the costs of total ownership.
Pros
   

Integrations pre-built for Adobe software.

   

There are thousands of extensions available on its marketplace, and they range from the smallest amount of $0 to $15,000.

   

Supports Progressive Web Applications.
Cons
   

It isn't automatic and does not provide version updates.

   

A very complex setup can result in cost-intensive constructions.

   

This platform is known for its long history of security breaches and weaknesses.
3. Commercetools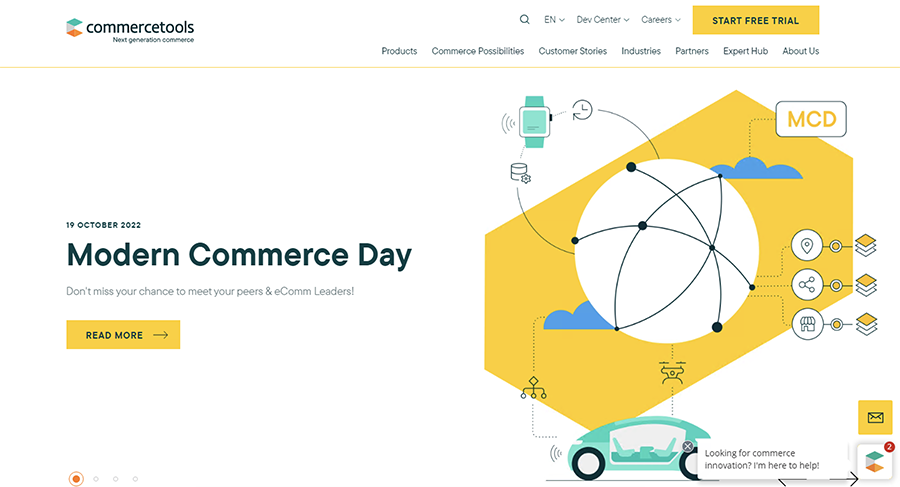 A SaaS-based e-commerce platform that is headless and has grown internationally. Commercetools platform is built upon the powerful MACH architecture, which includes microservices, API-first, Cloud-native, and Headless.
Pros
   

Offers B2B services as well as B2C and D2C.

   

It has a variety of developer tools that enable the user to make changes.

   

Simple maintenance, scaling and adding features.
Cons
   

The service only offers examples of code and architectural insights for email, and the email service needs to be developed by the retailer.

   

A small network of partners.

   

The majority of integrations are built from scratch.
4. Shopify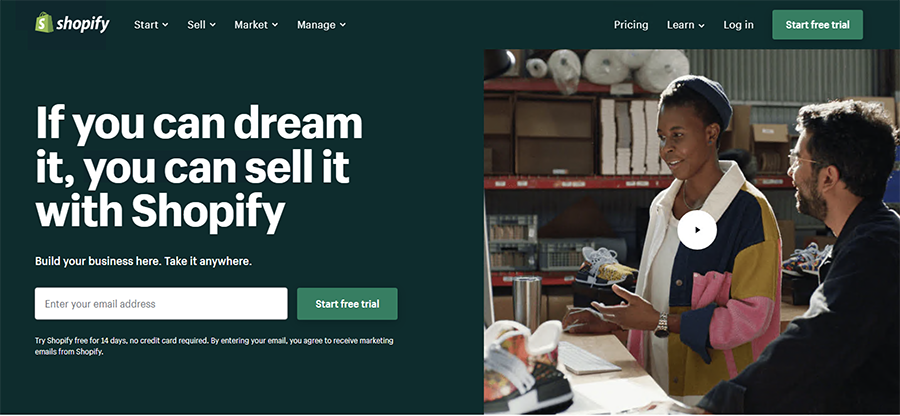 Shopify is a market leader with a solid presence in the online eCommerce industry, and it was in the year 2014 that they introduced Shopify Plus as their solution for business customers.
As a SaaS solution, the Shopify platform has the advantages of managing PCI conformance and safety, as well as excellent uptime statistics. The platform is simple to use and offers a mobile-friendly design and a custom checkout.
Pros
   

An industry leader with extensive experience, with more than a million stores across the globe.

   

More than 4,100 apps are integrated to allow you to add more functions and features to your website store.

   

More than 70 professionally designed and responsive themes can be used to design your site.
Cons
   

Made for smaller catalogues with 100 SKUs per product maximum.

   

Insufficient scalability and the built-in limit of 3 options per product.

   

Modifications are limited to pages for content and product.
5. Salesforce Commerce Cloud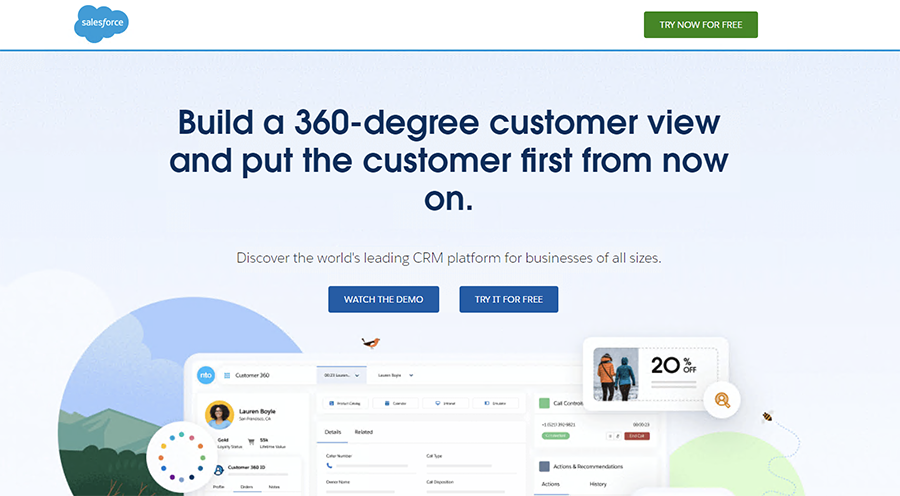 Previously called Demandware, Salesforce Commerce Cloud is a flexible SaaS solution that allows businesses to control their sales through physical and digital channels using one integrated solution.
It offers a range of related services that could be used to complement the e-commerce offerings. However, it could require prior programming and web development experience.
Pros
   

Provides options for B2B business, B2C, and B2B2C.

   

Offers seamless, automatic upgrades without disrupting the business process.

   

Modern AI technology allows for accurate, detailed data.
Cons
   

The cost of implementation is often high. implementation can exceed $250,000.

   

Merchants will face additional hurdles and additional costs if they decide to use an alternative provider instead of Salesforce's add-on services.

   

It is a bit complicated, making it difficult to implement and can be difficult for novices.
6. PrestaShop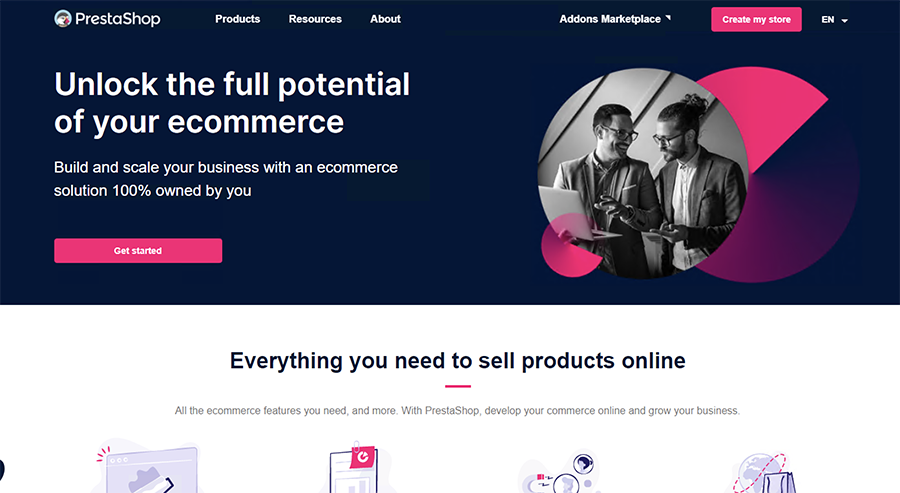 PrestaShop is a no-cost open-source platform that offers premium options for add-ons and plugins. PrestaShop is developed using PHP, which is the PHP programming language and has compatibility with MySQL database management software.
Pros
   

It is free to download and use.

   

Highly customizable.

   

International capabilities.
Cons
   

Merchants must install and manage their own patches, including security.

   

There is no support staff included in the initial package (you must pay an additional fee to get dedicated support).

   

The learning curve is steep, with the development skills required to be successful.
7. Shift4Shop
Formerly called 3dcart, Shift4Shop is a free e-commerce platform designed specifically for businesses that operate online. It offers customization and features to its customers, including SEO tracking, to templates for websites.
Shift4Shop is known as one of the oldest and longest-running companies in the marketplace.
Pros
   

Set up and run your own online store absolutely free.

   

Quick and easy end-to-end payments system that is fast and convenient.

   

24/7 customer support is available, including Live chat support, emails, and phone.
Cons
   

The version that is free is only available for US customers.

   

Not able to process transactions that are high-risk.

   

Certain sales channel integrations are available only through paid plans, which include Amazon along with eBay.
8. Big Cartel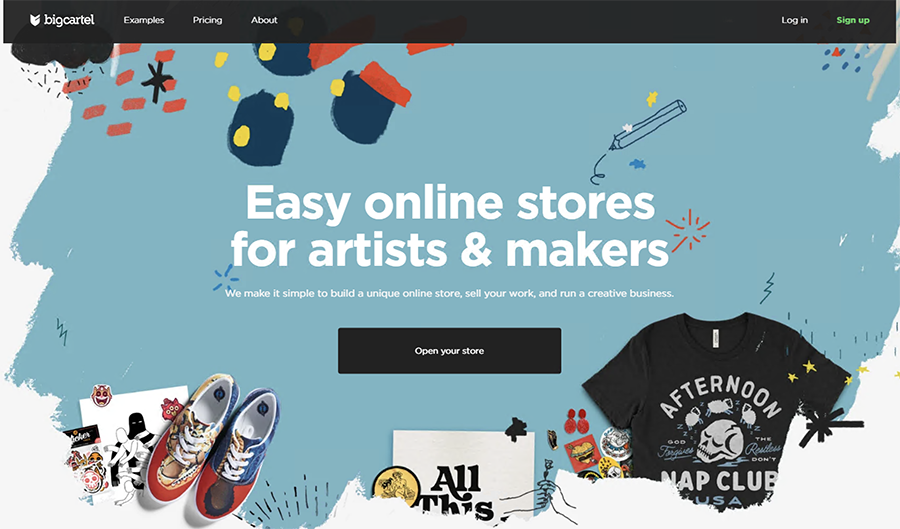 Big Cartel was founded in 2005 to assist makers, artists and small-scale brands market their products. They offer custom-designed templates for domain name registration as well as marketing and sales tools.
Pros
   

The design is geared towards creatives and artists.

   

It is relatively inexpensive when compared with competitors.

   

Simple to use and put into place without any setup or configuration.
Cons
   

The site isn't scalable, as it was designed to handle small catalogues as well as business.

   

The templates are limited in number and themes, with only 18 available.

   

Live chat is not available 24/7, and there is no telephone support.
9. Open Cart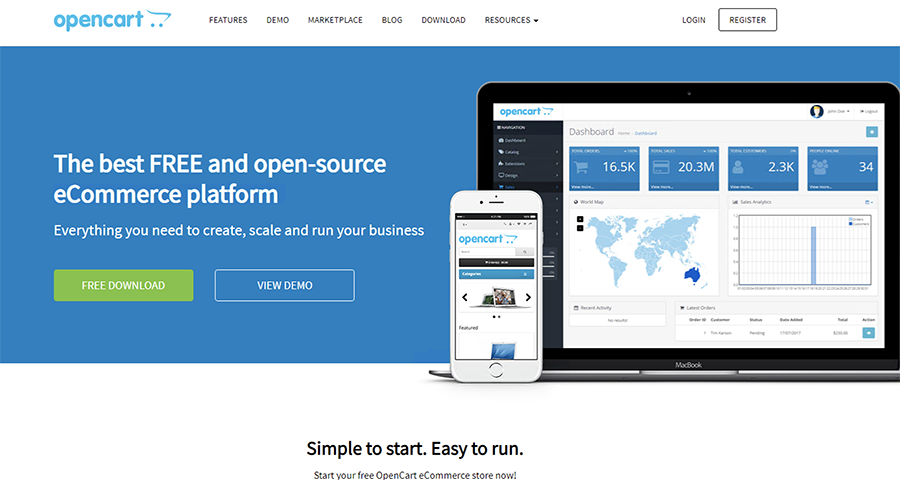 Open Cart is an open-source store management software that does not have more than 400,000 active websites listed on its list. It utilizes a MySQL database as well as HTML components and connects to several payment gateways, as well as shipping methods.
Open Cart is a no-cost platform, but it also offers premium themes, plugins, and dedicated assistance.
Pros
   

Free and open source platform.

   

A wide range of customization options allows customers to design their stores according to their preferences.

   

Open Cart Marketplace offers more than 13,000 themes and modules to utilize.
Cons
   

A limited free support plan.

   

Updates to the platform version are a manual procedure.

   

Merchants need to host their stores using their server or a third-party server.
10. Volusion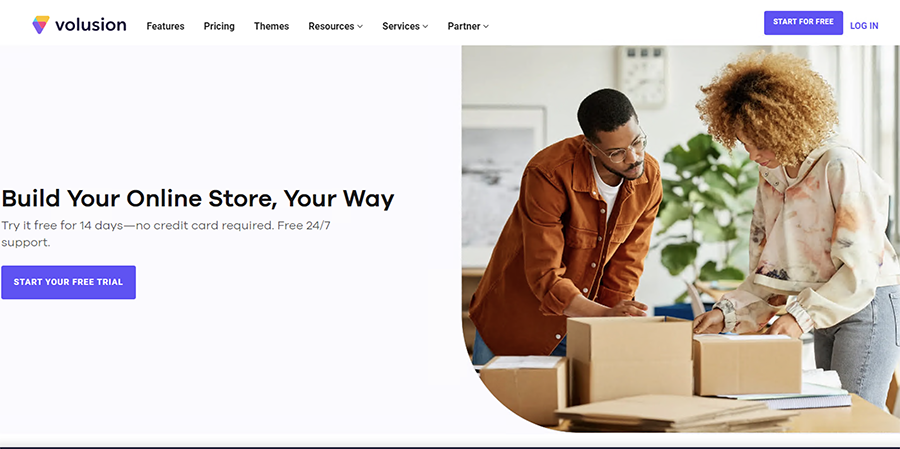 Established in 1999 as a Web design agency, Volusion was one of the first SaaS E-commerce platforms launched at the beginning of 2000. It has built-in SEO features that can help improve your page's visibility and make sure that you ensure that your website is noticed and also offers affordable prices.
Pros
   

24/7 customer support is available in conjunction with an easy onboarding procedure.

   

It allows for integrations with third-party payments.

   

A straightforward, intuitive dashboard allows for fast implementation.
Cons
   

SSL certificates can be purchased at an extra cost.

   

There is no faceted search or filters for products.

   

Blogging features are only accessible via Element, an API provided by a third party.
11. Squarespace
Squarespace is a SaaS provider that is mostly utilized by entrepreneurs and creatives. Many of their templates display videos, artwork, or other products.
If you want to sell digital or physical items, Squarespace Commerce offers more specific features, such as high-end templates and automated email, as well as integration into social media platforms.
Pros
   

An extensive selection of design and template options.

   

Provides 24/7 customer service and Live chat as well as email ticketing.

   

Hosting is part of the monthly fee and is hosted by Squarespace software.
Cons
   

Limited payment gateways.

   

A tiny app marketplace.

   

Technical and customer support is limited.
12. Weebly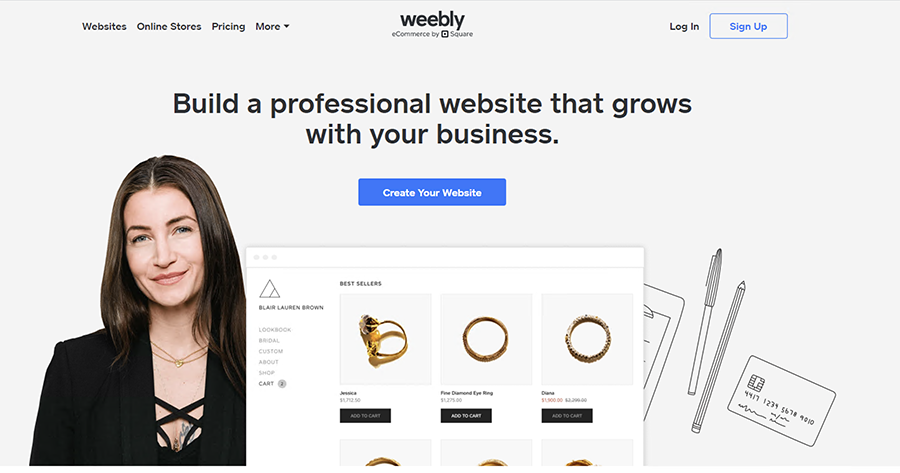 Weebly is a site builder based out of San Francisco. It has a user-friendly interface as well as a simple setup; Weebly is designed for entrepreneurs with limited knowledge of web development.
In the year 2018, Weebly was purchased by Square, Inc. -one of the competitors in the online retail space.
Pros
   

They host all the websites that are built upon their platform.

   

Drag and drop web page editor makes building websites quick and efficient.

   

It comes with a variety of built-in features extensions, as well as third-party integrations.
Cons
   

New accounts that sign up with Weebly require Square Online for eCommerce functionality.

   

Support for customer service is contingent upon the price you are paying.

   

A poor Backup and Restore system.
13. WooCommerce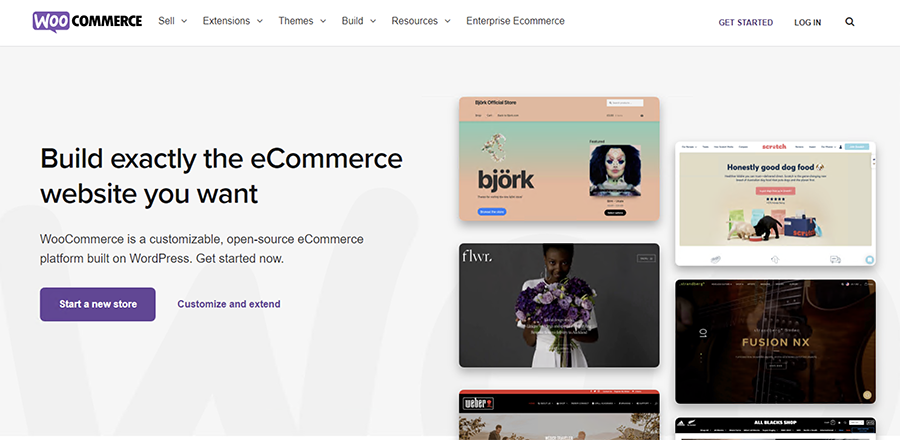 WooCommerce is an open-source, adaptable WordPress plugin that retailers can utilize to turn their blogs and websites into online stores. It comes with SEO options, payment gateways of various types and multichannel options.
Pros
   

Free to download and use.

   

Fully integrated Integration with WordPress.

   

A growing and extensive application and extensions store.
Cons
   

Store owners are accountable for ensuring their PCI compliance.

   

Abandoned Cart Recovery (ACR), coupons and discounts, as well as single-page Checkouts, require additional cost and administration.

   

As it is a WordPress plugin, it relies on their system.
14. Wix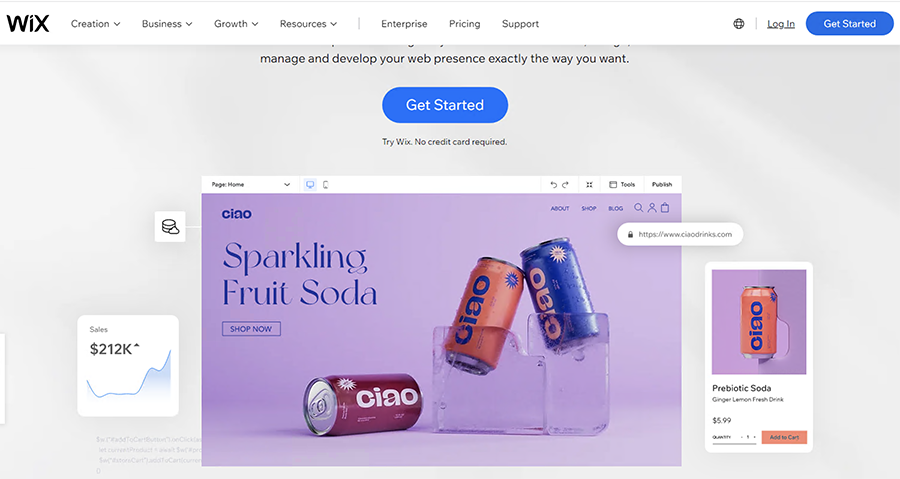 Wix is a web-based website builder and an e-commerce platform that is used by entrepreneurs as well as small business owners. It offers multichannel selling capabilities, including abandoned carts recovery and dropshipping, and more.
Pros
Offers a surprisingly extensive app marketplace featuring more than 300 apps.

Extensive, modern design templates.

Every one of the Wix sites is stored on Wix's own server. This allows for increased speed and security.
Cons
A support system is limited.

The software is a website building tool first and an eCommerce platform second and leaves merchants with limitations on storage space, API limit on calls

It doesn't support sellers selling items in large quantities/wholesales.
15. Square
Square is a payment platform that is designed specifically for small and medium companies. It gives its customers a customized, hosted point-of-sale (POS) platform.
Square provides real-time shipping rates coupons, gift cards and coupons, SEO tools and many more.
Pros
   

It is part of Square's wider financial ecosystem that is already in place.

   

Design a roster that is flexible and comprehensive.

   

A quick implementation will make stores operational in a short time.
Cons
   

The features are usually plan-dependent and with a limited number of lower-cost accounts.

   

Design and customization options are limited.

   

Problems with the stability of accounts can occur and can cause the withholding of funds.
Conclusion
When it comes to it, there's no single platform that is universally applicable. There's only one solution that best fits your business. Each of the best eCommerce platforms has its own set of priorities in terms of e-commerce features, such as more than one payment option, dropshipping features and real-time inventory control or an easy-to-use interface; therefore, choosing the best eCommerce platform for startups for you is one that best meets your requirements.
Consider your options carefully. Don't hesitate to avail yourself of free trials to check out the various platforms' distinct features and benefits. Remember, to make the best of a platform; we recommend you buy an eCommerce VPS hosting that is compatible with your chosen eCommerce platform.